OnePlus Nord 2 Review: do you even need a flagship?
18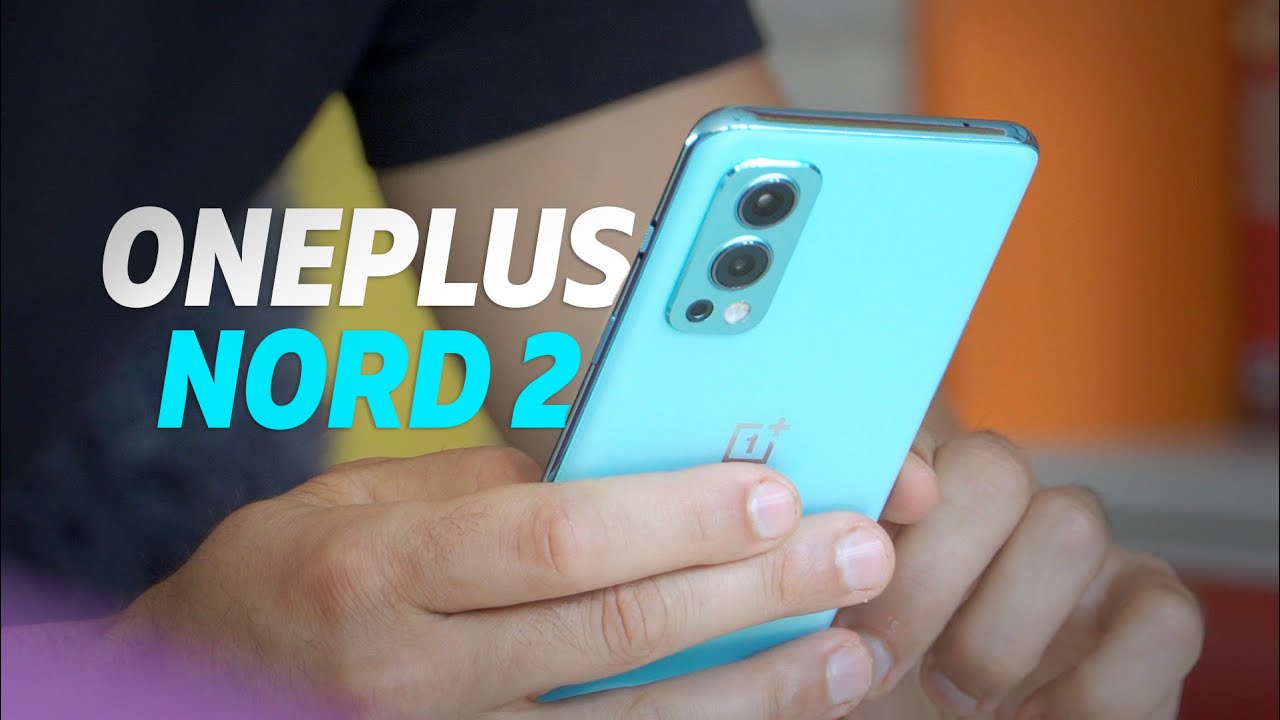 The OnePlus Nord 2 is the company's
FE moment
. And if you ever wondered about what happened to OnePlus flagship killers, well... they're back. Unfortunately, the Nord 2 might first slaughter OnePlus flagships before killing others. Let me explain.
Beginning last year, OnePlus changed the way it makes phones: from just one flagship phone at a time, it expanded with budget models, the Nord, the N series, in fact so many, even we are confused about the differences. But there was one budget device that started this movement and that was the OnePlus Nord. It was a runaway success: a $400 phone to beat other $400 phones, and it was quickly selling out.
One year after its launch, we now have the sequel: the OnePlus Nord 2. This one has got to be better, but also has to leave some exclusive features for the money-making flagships. After using it for a while, we're not sure it leaves much for the flagships, as this phone outlives expectations easily. OnePlus made a gamble by using a different chip inside this phone, not made by Qualcomm like most others, but a MediaTek one, and this gamble might just be what defines the Nord 2. It also improved the camera, the speakers, all without changing the looks and styling. It is much like what Samsung did with the popular Galaxy S20 FE, a phone similar to the flagship ones, equipped with a top-notch processor, all at an affordable price. That's kind of what the Nord 2 is as well.
There are two models of the phone: the base version has 8GB of RAM and 128 gigs of on board storage and costs 400 euro, and then you can also step up to 12GB of RAM and 256GB storage for 500 euro. There is also a cheaper model with 6GB RAM/128GB storage for India, but it is not likely to arrive to other markets. Also, OnePlus does not plan on releasing any version of the Nord 2 in the US, ever. We don't really know why, but consumers in the US will only get the cheaper N series.
Read more:
Nord 2 vs Nord 1: what is new and different?
Design, Colors and Size
Ideal size for most people and a premium feel thanks to the glass back
The Nord 2 is right in that sweet spot of not being too small, nor too gigantic. With a 6.4-inch screen, tiny bezels and a modern look, this is a phone that most people can work with.
As for build quality, there really aren't that many compromises as you might expect on a budget phone: the back is made of glass, only the frame and the sides of the phone are plastic, but it all feels solidly put together. It is a phone that feels substantial. At 189g (6.5oz) of weight, it is about the same size and weight as the original. We just recently reviewed its cheaper sibling, the Nord CE, and that one was an all-plastic true light-weight at 170g (6oz), while the Nord 2 does feel a bit hefty.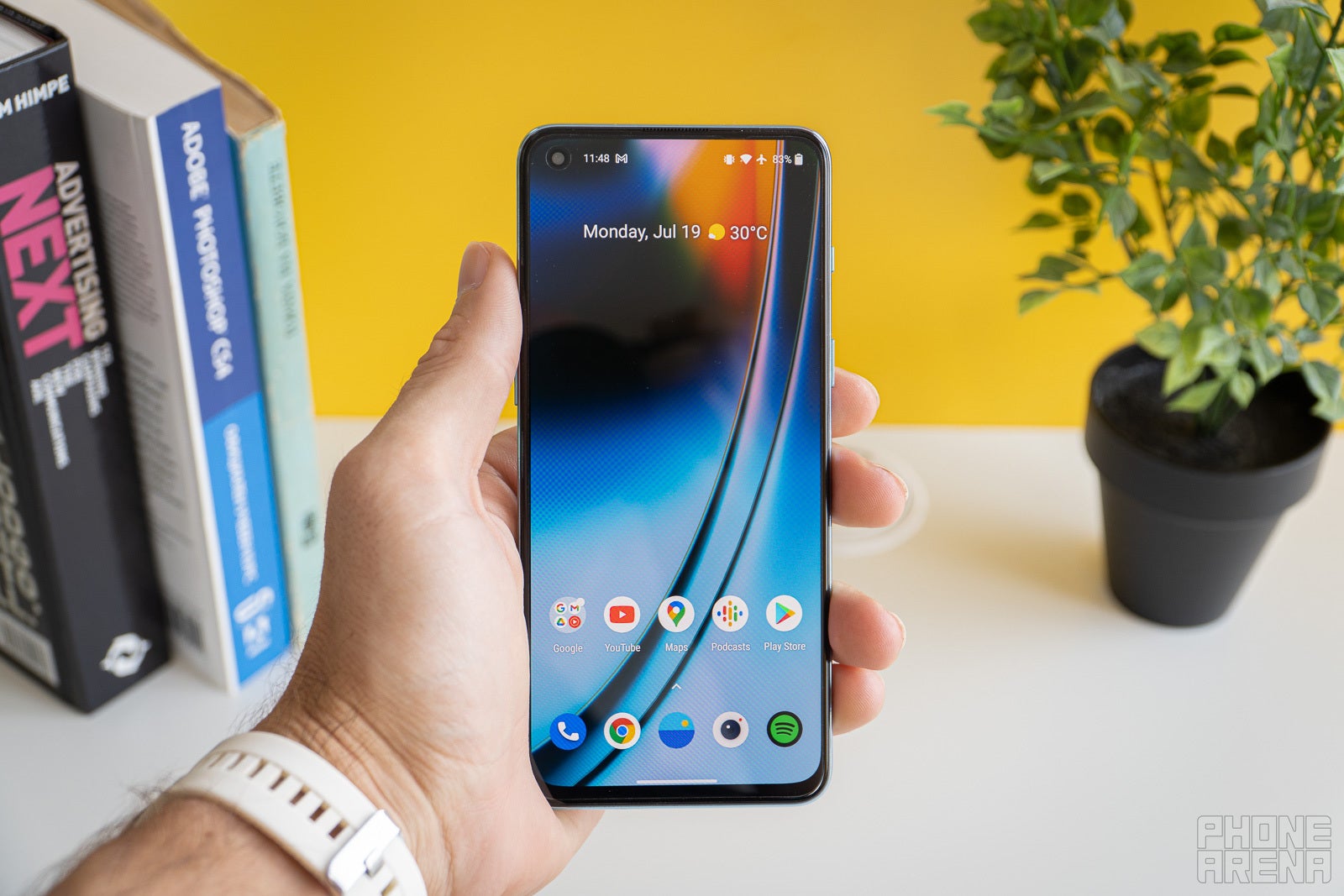 You also get 3 fresh looking colorways, our favorite is the smooth Blue Haze model, but the others also look interesting:
Gray Sierra — inspired by the shiny chassis of luxury sports cars, 3D anti-glare glass that feels thinner and with a more rounded shape
Blue Haze — porcelain-like finish that bends and reflects light for a visual appearance that sparkles
Green Wood — cool and leathery pine-tree look
All of the colors look and feel premium, and having the same camera styling as the flagship OnePlus 9 series adds to that. The only thing missing here is the Hasselblad branding, but we'll see if that actually matters a bit later in the image section.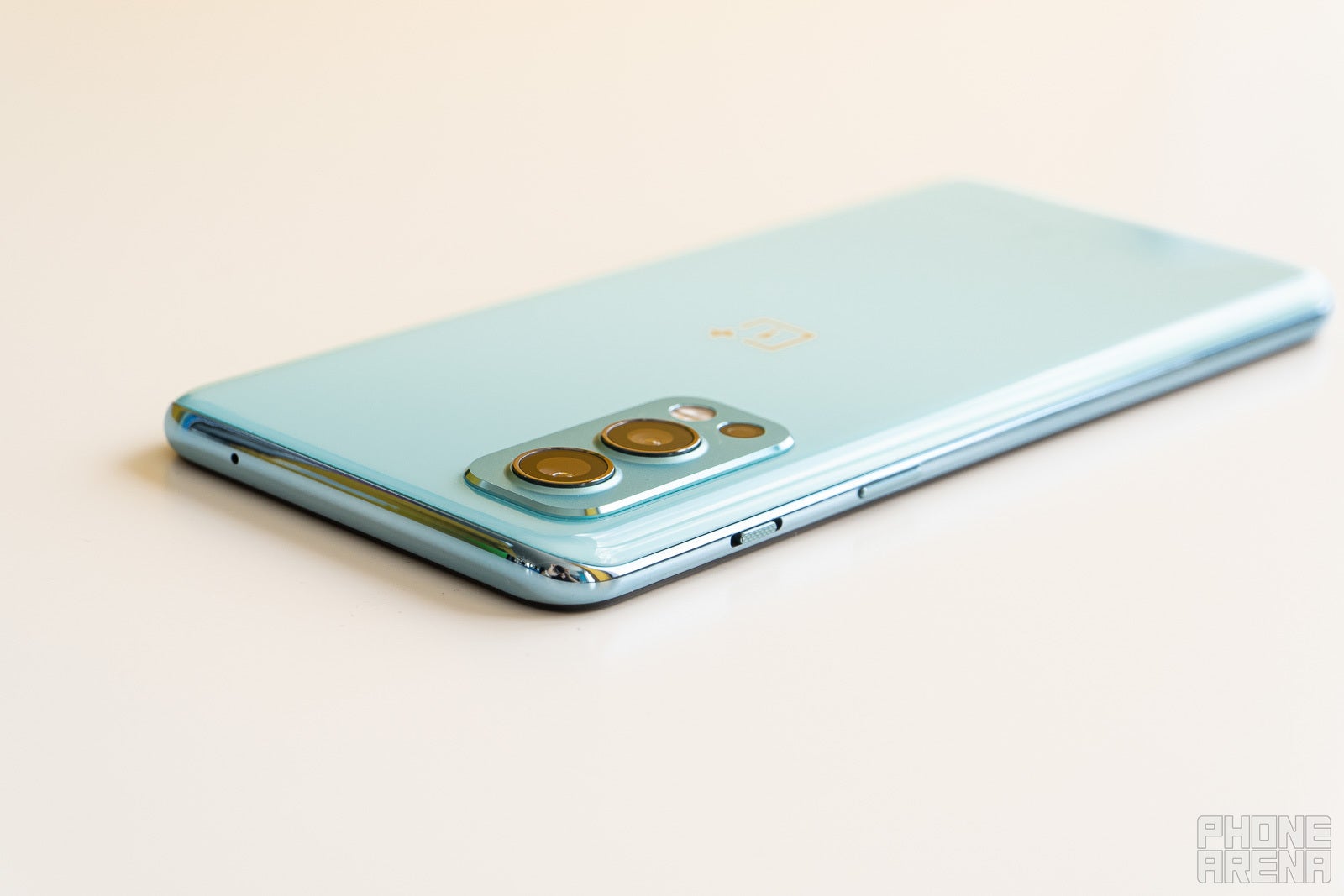 What you also get is the signature for OnePlus 3-way physical mute key, so you can easily slide it to switch between ring, vibrate and silent modes. There is no headphone jack here, in case you were wondering. You also don't get any special water protection rating. OnePlus phones are usually well engineered not to let water in, but no official IP rating here so don't get too adventurous and definitely don't try intentionally dunking this phone in water.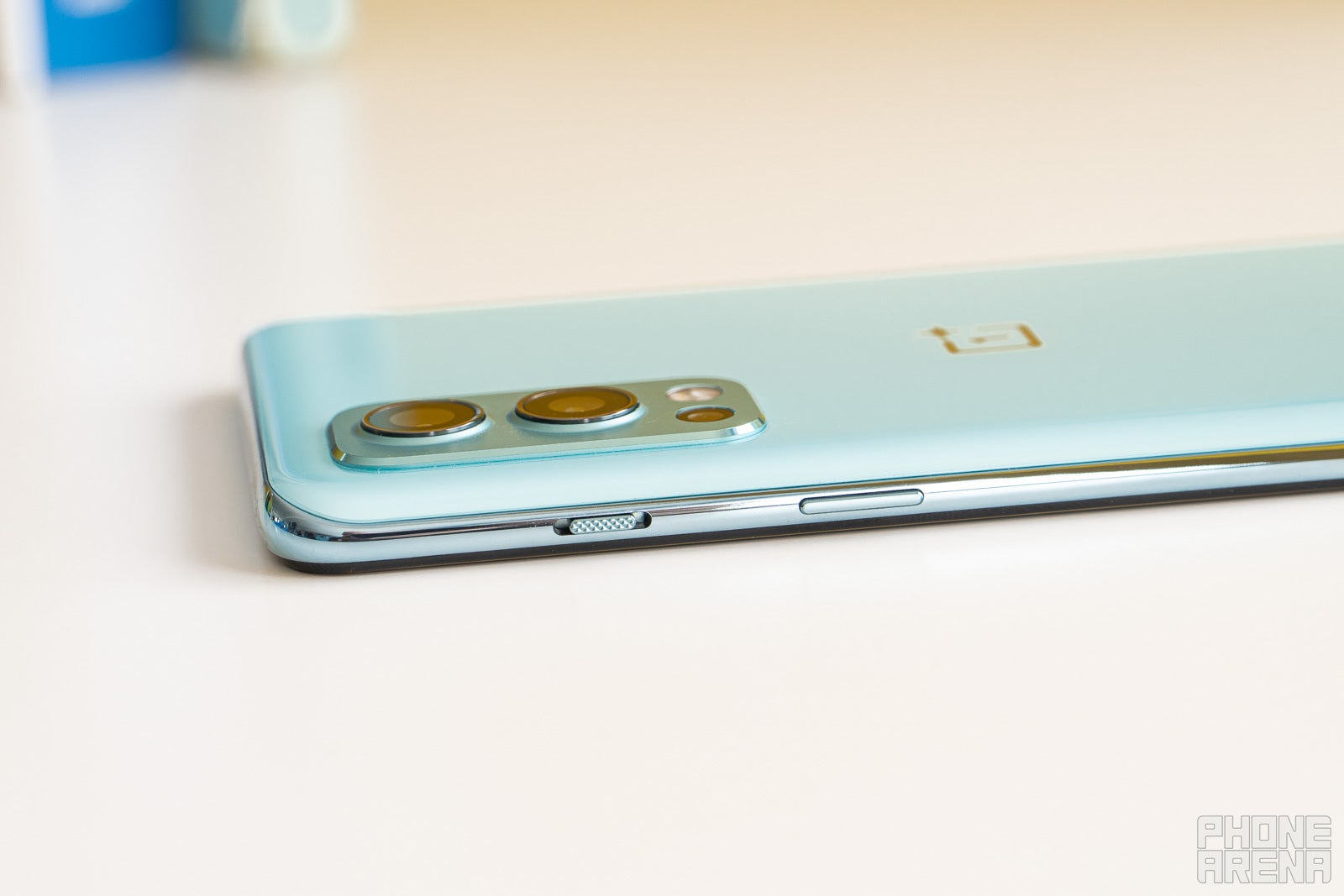 Finally, we love that while other phone makers remove items from the box, OnePlus gives you a lovely see-through case for free. How many other manufacturers do that? Kudos to OnePlus for that! It is those little details that OnePlus always gets right and that are all the more impressive in the context of a budget phone.
Display
6.4" 90Hz AMOLED for pretty colors and smooth scrolling
While the Nord 2 brings upgrades in a few key areas, the display seems to have remained mostly the same as on the original. You get a 6.4-inch AMOLED screen with 1080p resolution and 90Hz refresh rate. It's a flat screen, with no curves, which we honestly prefer. But it's also an all-around excellent screen with the typical for OLED deep blacks, excellent contrast and great viewing angles.
The only two areas where it falls slightly behind screens on more expensive flagships is the lack of support for HDR and the lower peak brightness, so a more expensive phone usually gets brighter and a bit easier to use outdoors. However, when you're outdoors, a new Smart Ambient Display mode kicks in to improve readability.
We should also mention the 90Hz, a welcome feature, but again it is limited a bit by the processor. Everything scrolls smoothly on a simple webpage, but if you scroll around Twitter or the 'Gram you'll notice a bit of a micro-stutter, it's one of those little things that feel a bit better on a flagship.
We also do appreciate that you get a pre-applied plastic screen protector which protects from scratches.
Display measurements and quality
OnePlus advertizes an AI Color Boost mode compatible with YouTube, MX Player Pro, and VLC, as well as AI Resolution Boost compatible with YouTube, SnapChat, and Instagram, that are meant to improve the colors and sharpness of content, but in our testing we did not find a huge difference when enabling these modes (you can test them by opening Settings > Display, and you will find them under the Video Enhancement Engine section there).
Performance
How good is the new MediaTek chip?
Of course, you cannot have everything on a budget phone... or can you? The Nord 2 is equipped with a processor you probably haven't used before: the MediaTek 1200 rather than a chip made by Qualcomm (last year's Nord ran the Qualcomm Snapdragon 765G processor).
We were incredibly curious about this chip: we know that it's made on TSMC's 6nm process and OnePlus promises up to 65% faster CPU performance and 125% GPU performance compared to the first-gen Nord. Those are some big numbers.
And it seems that this OnePlus' gamble has paid off handsomely. The phone feels incredibly fast in daily use, but also crushes the benchmarks, here is how it compares against other phones of the same price range, it is almost out of their league (the iPhone SE is still more powerful, though).
In fact, it might be worth comparing this chip to flagships rather than mid-range phones. That's crazy because the performance of the Nord 2 is actually on par with another super popular mid-range phone, but one that costs nearly 50% more, the Galaxy S20 FE. The S20 FE is powered by the Qualcomm Snaprdagon 865 processor, the fastest Android chip for last year. Take a look at the numbers for these two below, it really is a tiny difference:
Looking closer at the performance over time, we can see that the MediaTek 1200 chip does throttle after about 10 minutes of gaming in the quite intense 3D Mark Wildlife Extreme Stress Test, but it still keeps a pretty high base number and the difference over last year's Nord is massive.
OnePlus made a gamble by using a processor from a company different than Qualcomm, but it was a great call: the phone beats most of the rivals at the same price range handsomely, and competes with way costlier devices. While it doesn't overheat, it does tend to warm up a bit under load, so that's one one thing that we ought to mention.
Cameras
Can it finally compete?
We loved the original Nord for its speed, but the cameras were... just fine, not quite the best in class. So we were excited to hear OnePlus is moving to a brand new 50MP Sony sensor for the main camera, and dropping the gimmicky depth sensor and macro cameras of the original. Plus, that new camera styling looks so good!
OnePlus says that you get a triple camera system on the back, but you really have only two of them that count: the main one and the ultra-wide. The third one is a monochrome sensor for black and white photos… and hear us out, OnePlus, every app out there has a black-and-white filter that does the same job! This third camera simply doesn't make any sense.
Main 50MP Sony IMX 766 camera with OIS, f/1.88 aperture
8MP ultra-wide camera
2MP mono camera
What we want to highlight here is the sensor for the main camera that just so happens to be the same one that OnePlus uses in its much more expensive OnePlus 9 flagship series. Promising, right?
For selfie shooters, the second generation Nord drops the dual front camera setup in favor of just a single, wide lens:
32MP front camera with Sony IMX615 sensor, 1080p front video
Photo Quality
Enough with the specs, take a look at the photos above. Most of them look great! OnePlus has improved the dynamic range, the color science, and also the night photos are a huge step up from the original Nord. We have a detailed camera comparison between the Nord 2 and the Nord 1, but let us just tease it with the below photo:
The warmer colors on the Nord 2 represent the sunset better in this picture, you get better gradient in the skies, the blacks are not crushed that badly as on the first-gen phone, and the image as a whole looks gentler, more balanced and more likable.
In low-light, the Nord 2 again captures richer colors and more light in dim environments. There were less blurry photos too and the camera app felt faster.
Is this the best camera in this price range? Not quite: we noticed a few issues with the photos, the one that bothered us the most has to be a yellow/green tint to most of the photos, so you don't get enough color contrast, colors are just not as rich as they should be, and in low light, photos often come out with a very noticeable orange tint, especially when there's incandescent light involved.
Video Quality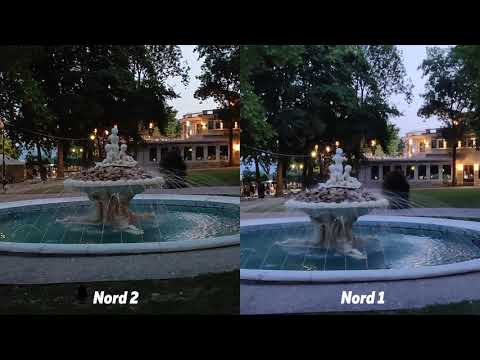 If we had to pin-point one area where the original Nord fell a bit short, that was video recording. Apart from the mediocre footage, it had severe limitations: you couldn't switch to the ultra-wide camera once you had started recording with the main one, for example. We also noticed that continuous auto-focus was sluggish in video. So… we were really curious to see if OnePlus actually fixed those issues with the Nord 2.
Good news is that video overall is vastly improved on the Nord 2: it has a much higher dynamic range, beautiful colors and very good image stabilization, with recordings that are among the best in class. We shot a comparison video with the popular Samsung Galaxy A52 and Apple iPhone SE, and the Nord 2 beat the Galaxy A52 easily with higher dynamic range and better video stabilization. The Nord 2 also captured the cleanest and best looking video in low light. It fell a bit short of the amazing dynamic range that you get on an iPhone SE, and the iPhone has slightly better video stabilization (there is a bit of a jitter in the footage on the Nord). However, the iPhone SE has a couple of issues of its own like significant flare and it gets the white balance wrong indoors, so it really is a close call between the two for the lead.
Unfortunately, that one problem we mentioned earlier hasn't been fixed and you still cannot pinch to zoom out to the ultra-wide camera once you've started a 4K recording with the main one, which is a bit frustrating.

The Nord 2 also has a few tricks up its sleeve like the new Dual View video mode where you can have footage from the rear and front cameras all at once, great if you are trying to explain something.
Audio Quality and Haptics
Speaking of fixing things, the original Nord came with a single bottom firing speaker that just didn't keep up with the no-compromise approach everywhere else. It was loud, sure, but lacked any depth and sounded annoyingly tinny.
Thankfully, the Nord 2 improves that as it adopts a pair of stereo speakers that deliver richer sound, with more bass to it. It's still not a great speaker, in case you're wondering, but it's a big improvement. What it lacks is still a bit of definition and clarity, but it is loud enough and gets the job done way better than the original.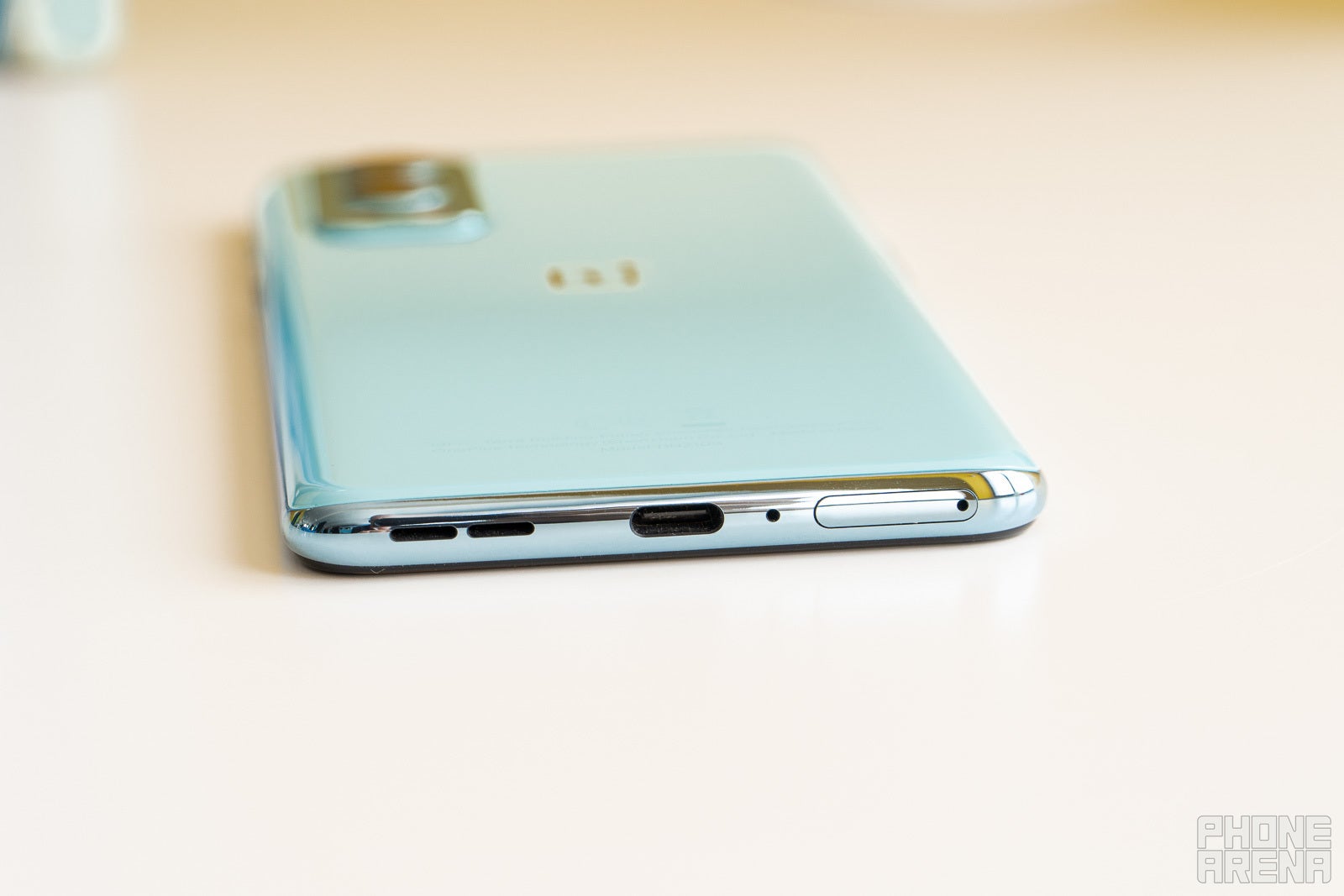 Haptics 2.0 are also here to give the Nord 2 a better tactile experience. The original Nord also had good haptics, but here you get a more pronounced vibration feedback which will not let you miss notifications, but also is discrete enough to help you typing faster.
Battery Life
4,500mAh battery keeps the lights on longer
One of the most appreciated upgrades coming with the Nord 2 is a bigger battery. While the original had a 4,115mAh battery inside, the second-gen jumps to a 4,500mAh capacity.
This nearly 10% boost in battery capacity to the already pretty long-lasting original Nord is another example of OnePlus listening to what customers want improved and doing exactly that.
In our experience this phone easily lasts through even those longer days, and to confirm that, we ran a few of our proprietary battery tests, take a look at the results below:
It also upgrades the charging speeds from 30W on the original to 65W on the newer phone (yes, the charger is included in the box for free, just like it should be).
That means a full 0 to 100 charge in just around 30 minutes, a feature that even the most expensive Samsung and Apple devices don't have. And that is hugely impressive. OnePlus pulls this off with one clever trick: it uses a Dual Cell battery, basically meaning that you have two tiny batteries that charge simultaneously splitting the 65W power input from the charger. We did not quite get a full charge in 30 minutes in our testing, but it was close.
Nord 2 charging times:
5 mins -- 8%
15 mins - 30%
30 mins - 71%
40 mins - 93%
44 mins - full charge
Conclusion, Software Updates and Alternatives

At the end of the day, the Nord 2 takes the excellent first-gen Nord and delivers improvements in almost every aspect, perfecting an already great formula. The gamble to use a MediaTek chip has paid off big time: this phone is impressively fast, much faster than others in its price bucket.




OnePlus has been known for making impressive budget phones, and this one might just be its best. It has an all-around polish that we rarely see on budget phones: the premium design, the beautiful screen, the improvements in the camera, even the haptics and the improved loudspeakers just make me wonder if the Nord 2 is actually not a bit

too good

: if I personally had to pick between the $700 OnePlus 9 and the $400 Nord 2, well… let's just say that the $300 price difference is hardly justified.


On the topic of longevity, OnePlus promises two major updates, and since the phone ships with Android 11, that means you will get Android 12 in 2022, and Android 13 in 2023, oso that's compromise compared to flagship phones that get 3 years of major updates.



If you are looking for alternatives, the

Galaxy A52 5G

is the big name in this segment, but despite being more expensive, it is slower, not as stylish and feels less refined (but it might still have a bit of a camera advantage).

Interestingly, the Nord 2 might also be a direct competitor to the costlier

Galaxy S20 FE

. The Nord 2 with its impressively fast processor is almost on par with that phone, and the only major feature missing on the Nord is a zoom camera, but the Galaxy lacks the fast charging and a few other OnePlus tricks.




Finally, if you are really after the very best camera experience, it might be worth waiting a bit until the expected August launch of the

Google Pixel 5a

before pulling the trigger, but if you just want an all-around great budget phone, the OnePlus Nord 2 ticks pretty much all the boxes and is among the finest, if not our top choice.



Recommended Stories