Nokia Lumia 920 vs Samsung Galaxy S III
99+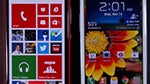 Introduction:
Windows Phone 8 ushered Microsoft's mobile OS in the era of dual-core phones and HD screens that Android and iOS have been inhabiting for a while, and
Nokia Lumia 920
is the handset best suited to take on those other flagships.
Naturally, we are going to compare it with Android's most popular high-end, the
Samsung Galaxy S III
, which offers a quad- or dual-core processor, depending on the region, and a high-res AMOLED display, flaunting camera of the same resolution as the Lumia 920.
We get a number of mobile firsts with Nokia's phone in terms of hardware, though, such as optical image stabilization and supersensitive touchscreen, to pit against Android's formidable UI customization advantage, so which phone will prevail? Read on our comparison to find out...
Design:
The Lumia 920 is rather thick and hefty, and not only in comparison with the slim Galaxy S III, yet is surprisingly ergonomic to handle, thanks to its tapered unibody design, and feels solid, with even weight distribution. You get used to the Lumia 920 thickness and weight, but it is by no means pleasant this anorexic smartphone day and age, especially when operated with one hand. Both phones are made of deep-colored polycarbonate, and the Galaxy S III has the advantage of a removable back cover that lets you add more memory or swap the battery.
The thin Galaxy S III with a big 4.8" display feels way more elegant but more fragile in the hand than Lumia 920's chubby tank-like physique, which is also proven by plenty of drop tests, where the fatty escaped unscathed unless you hurl it into a concrete wall, whereas a Galaxy S III drop at shoulder height often cracks the screen. Case or caution are hence recommended with Samsung's phone, whereas the Lumia 920 would fare better with sloppier owners.
Despite the heavy-armor weight of Nokia's chassis, the durable zirconium lock, volume and camera keys on the right side somewhat contribute to a more premium exterior, which is enhanced by the same camera plate material on the back, whereas the Galaxy S III faux chrome camera area and paper-thin back cover look less sophisticated in comparison. The glossy finish of our Lumia 920 unit attracted more tiny lint and thread pieces in our pocket than the S III, making us wipe the back often, which should not be an issue with the matte cyan and black versions.
The side buttons on both devices are very well placed for easy manipulation, and have deep tactile feedback to them. There is a physical home key in the slim bezel area below the Galaxy S III display, whereas we have capacitive keys only on the Lumia 920 there, but which method is better would be up to your personal preference, as both are sensitive enough.
Display:
We have a
4.8" HD Super AMOLED display
on the
Galaxy S III
, with
720x1280 pixels of resolution
, while the
Lumia 920
sports a
4.5" 768x1280 PureMotion HD+ LCD screen
with Nokia's ClearBlack filter. This gives the pixel density round to the Lumia 920, at 332ppi, against the 306ppi of the Galaxy S III. Samsung has on top of that used the PenTile pixel matrix that looks unorthodox compared to the regular RGB stripe when solid colors are examined closely, yet you'd have to be a real screen purist to notice even then.
The
colors
on the Lumia 920 are vivid, yet are still a far cry from the oversaturation present with Samsung's AMOLED screen, which also tends to display various cold color casts at all times.
The ClearBlack filter of the Lumia 920 and the much higher brightness of its display are definitely an advantage when it comes to comparing outdoor visibility with the Galaxy S III. Even with the sun shining directly on the display, it can be observed fine, whereas the Galaxy S III looks dimmer in comparison.
Nokia touts the record fast refresh rate of its PureMotion HD+ screen, yet in reality the only advantage can be observed with enlarged text or contact lists being slightly less blurry than on the S III while flipping them quickly up and down.
Finally, when we consider the supersensitive Synaptics layer of the screen on the Lumia 920, which allows you to use the display with gloves, pens, and other objects, the phone suddenly becomes much more suited for dirty jobs or adverse weather conditions. This feature can be turned off in the settings, but we didn't once experience the screen getting unlocked and operating inadvertently in our pocket, so that worry turns out to be a non-issue.
Nokia Lumia 920 360-degrees View:
Samsung Galaxy S III 360-degrees View
Recommended Stories