Samsung Galaxy S4 vs Nokia Lumia 920
93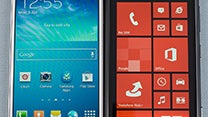 Introduction
Let's face it – Nokia has been struggling to become relevant again for the last few years, and even with Windows Phone 8, it's still having a lot of trouble gaining any real traction. Meanwhile, Samsung has been enjoying increasingly bigger profits thanks to its efforts in the Android market. The two companies have recently switched their places, as Samsung has become the biggest cell phone maker, and Nokia has been left licking its wounds and trying to come up with a comeback plan. Well, that plan was Windows Phone and the best Nokia has managed to do with it is the
Lumia 920
. As Samsung has just introduced its newest flagship, though, the
Galaxy S4
, we think it'll be more than interesting to see how the biggest phone makers by volume stack up against each other.
Design
Could the Galaxy S4 and Lumia 920 be more different as far as design is concerned? Hardly! Samsung's device is made from a somewhat flimsy feeling plastic, although in theory, it should be polycarbonate, which is the same as what the Lumia 920 uses for its construction. However, Nokia's handset feels much sturdier and more durable than its opponent. This has come at a price, though, as the Galaxy S4 is definitely the slimmer, lighter and more compact smartphone of the two, which is a big deal, considering that it also has a larger screen.
Display
And by larger, we mean 0.5" larger, which is not a small thing. Not only that, but the GS4 also has a higher resolution display – 1080p vs 768p, so it's a lot sharper too, although image quality with the Lumia 920's display is also very good.
The Lumia 920 sticks to the tried and true LCD IPS technology, while Samsung is counting on its Super AMOLED, but don't worry, that's not the oversaturated and cold AMOLED that we once had in Samsung's phones. Well, it could be, but it can also look a lot more natural now thanks to a couple of screen profiles that Samsung has built in. Even then, the screen of the Lumia 920 is just superior in terms of overall quality.
The Lumia 920 is not super-bright, but it's still a bit brighter than the GS4, and that makes it a bit easier to view outdoors. Meanwhile, its colors appear more natural-looking, as they have that warm and balanced appearance. The GS4 is not far behind, though, and it also has its 1080p resolution to make up for the areas where it loses.
Display measurements and quality