LG V10 Review
99+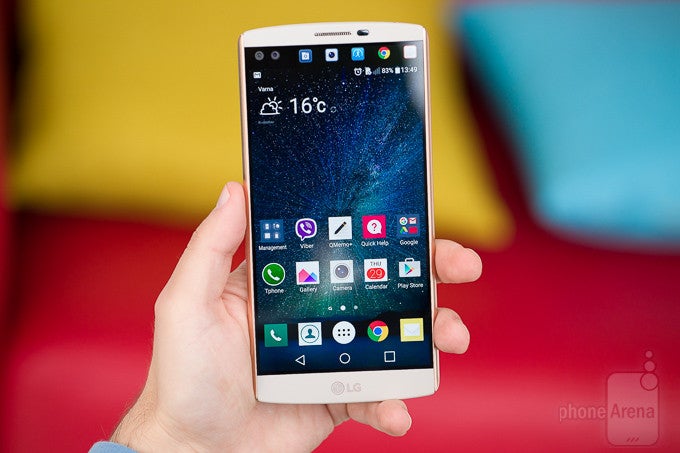 Update

: Read our LG V20 review!
For the last couple of years, the G Pro line has been LG's answer to Samsung's Galaxy Note phablets. Unlike Samsung's Notes, however, LG's G Pro phones just didn't seem to strike a chord with consumers who were on the lookout for a super-sized smartphone. Perhaps, it was the lack of any major distinguishing features that prevented the G Pro from being noticed by the wider audience. Maybe, simply having an extra-large display was no longer enough to secure the win in the phablet category. Maybe, LG needed to come up with its own S-Pen-kind-of-feature that would make its device stand out from the hordes of Note-wannabes. You know what? It might have come up with just that.
While initially it might appear to be just another experimental device from LG, the new V10 jumbo smartphone might very well take the place of the uninspiring G Pro line for good. Here's the deal: the
LG V10
may have just a marginally larger screen than that of the
LG G4
, but it comes with a unique trick of its own: a secondary display that's always on to show you the time and date, notifications, or next calendar event. Could this be the special ingredient to make phablets work for LG?
Note: We're reviewing the South Korean model of the LG V10. It's basically identical to the global one, though some minor aspects of the experience might vary from region to region.

In the box:


LG V10
Wall charger (5V or 9V, 1.8A)
USB cable
Quad Beat 3 earphones
Papers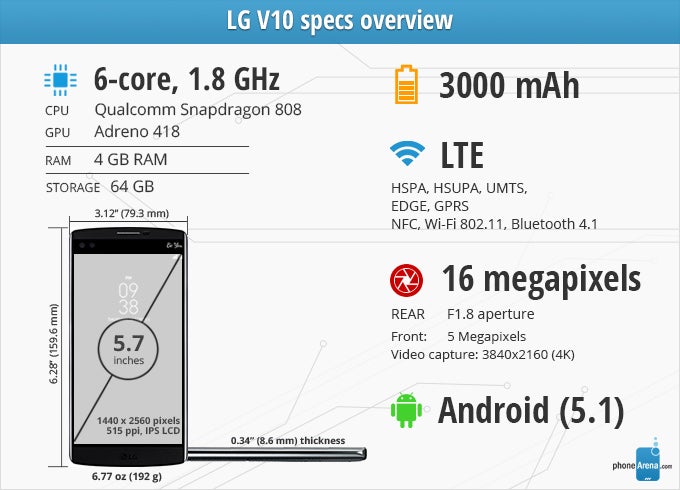 Design
A bunch of good ideas, marred by materials that are too ordinary, and boring colors

The LG V10 feels like a very different smartphone from the G4. While LG's top device is gently curved, compact and soft (especially if it's outfitted with any of the leather back options), the V10 is flat, large and sturdy. This is, unmistakably, the phablet in LG's line-up. It bears some of the company's typical design characteristics, like the minimal top and bottom bezels, as well as the power and volume buttons situated on the rear, but it's by no means a larger version of the G4.

The V10's exterior design is a mixed bag. It's thoughtfully shaped, good-looking even, but the materials and colors that finish off the package are rather bland. Worst is the back side, which looks and feels surprisingly rough. After the delicate, sophisticated leather designs that LG introduced with the G4, it's strange to see it revert to a cheapo, rubbery plastic for the V10. The available color variants also fail to hit the right notes, not least because they are boring.

But the shape of the phone is appealing, while the unique stainless steel bars on the flanks add a much-needed element of elegance to the body. They are a really cool idea, because 1) they look good and different from what's out there, and 2) they aren't as slippery as the rest of the phone, due to their smooth, glossy finish. The V10 has a well-balanced appearance, but sadly, the same cannot be said about its weight, as this overly large phone ultimately comes off as a bit top-heavy. It's not the most comfortable handset to hold and work with, but it's tolerable.

LG is staying true to its 'rear keys' concept, and that's OK, because getting used to their offbeat positioning isn't so difficult. What we can't get used to, however, is the unpleasant wobbliness of the power/lock key, which doesn't feel particularly well crafted. The good news is that it now doubles as a fingerprint scanner, which works well. There's the odd failed reading attempt at times, but the success rate is still high enough.

Display
The LG V10's secondary display is a neat idea that needs better execution.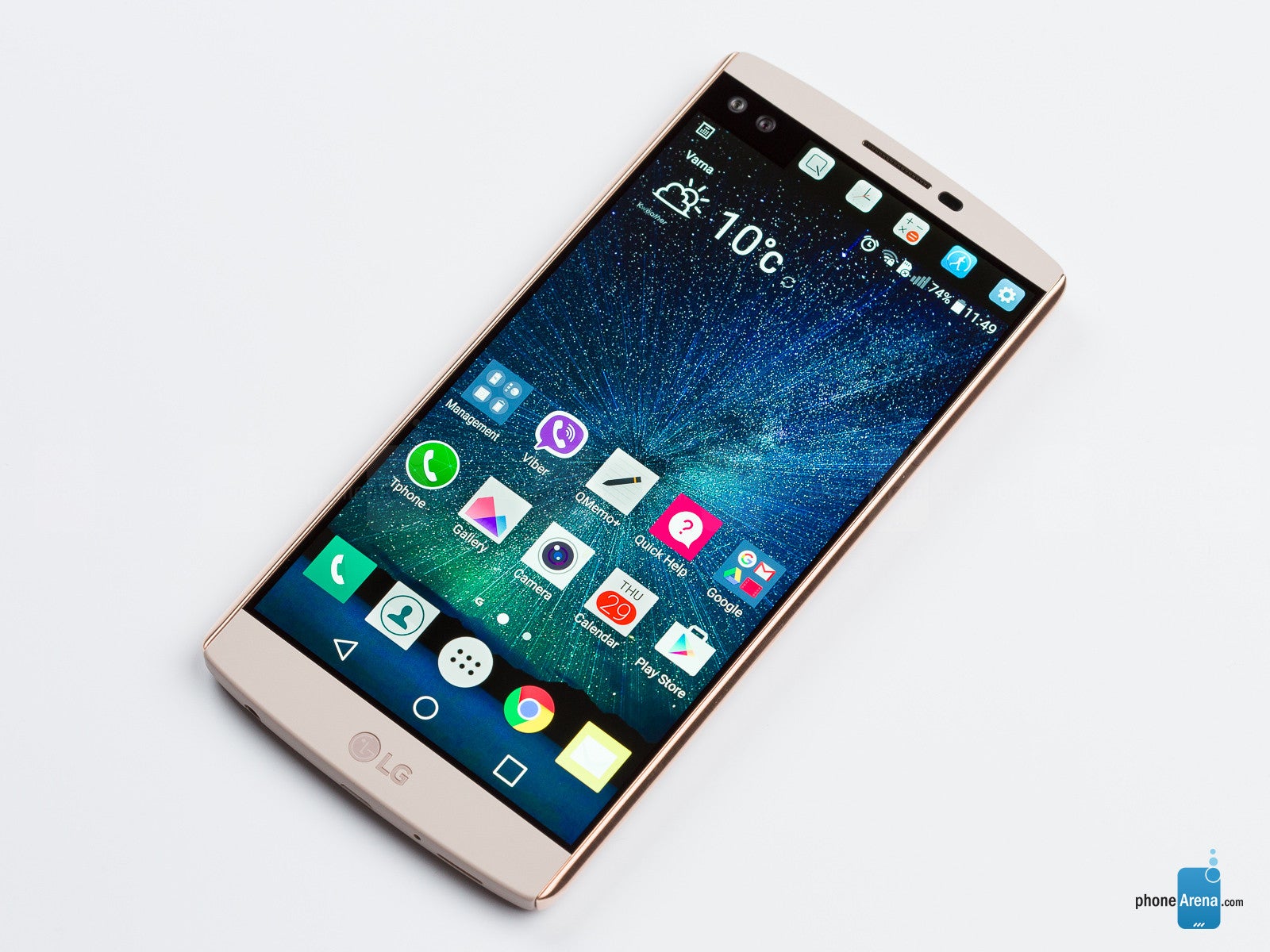 Equipped with a 5.7" panel, the V10 is undoubtedly for the fans of extra-large screens. Resolution is extremely high, at 1440 x 2560 pixels, which tastes like an overkill even for this screen size, but we'd rather not take part in them specs wars. Bottom line is that legibility is great.
The IPS LCD screen LG has used looks good, but is too contrasty – it doesn't appear all that natural. The same goes for the color balance: it suffers from a desperate need of red, but this is a need we know will never be fulfilled, so the V10's screen will remain as it is for the remaining time of its lifespan: cold and blue. By itself, it doesn't necessarily come off as lifeless, but once you compare it against a quality screen that has even the faintest respect for colors, you'll immediately notice its disadvantage. Check out the measurements we've done in the chart below: the high color temperature, high gamma, and high delta E values all corroborate our observations.
But it's not all bad: outside visibility is good enough, while reading in the dark won't destroy your vision, thanks to the satisfying minimum brightness level.
Up to this point, everything sounded fairly ordinary. This is where it gets interesting.
These days, everyone's looking to have some sort of gimmick – something to produce hype and draw interest towards the product. Samsung's Galaxy Note has the S Pen, Apple's iPhone 6s Plus has Live Photos, HTC used to put two rear cameras in its phones...
Now, LG has one in the V10 as well: a secondary screen! It's a short LCD panel strip that's fitted right above the main display. Yeah, right next to the duo of selfie cameras... If this is getting a bit weird, don't worry – there's nothing too complex to wrap your head around here. It's all fairly simple, actually.
Apparently, the 5.7" display of the V10 does not provide enough screen space for LG's software designers to fit everything they want, so a second panel is in order. Users who aren't into the idea of it can turn it off, because it provides only auxiliary functions, but why would you buy a V10 if you're going to avoid its standout feature? Anyway, the small, second display is always-on. When the phone is sleeping, the second display continues to work, displaying the time and date, as well as any notifications that may arrive. It's a fun, useful concept, but also one that feels severely compromised.
The second display is LCD, meaning there's a back-light that's always working to make it visible. This tends to consume more power than an OLED display used in the same manner, because OLED displays can light up only certain pixels, leaving the rest completely off, saving power. Because of this, LG is keeping the back-light of the second LCD screen relatively low, because it's not supposed to waste too much battery power. The end-result is this: when the phone is in sleep, the secondary display is so dim, it's hardly visible with the phone lying on a table, not least because LCD screens lose brightness and contrast when looked from an angle, unlike OLEDs, which experience color shifts, but stay bright and easily visible. So, LG's decision to use an LCD panel for the secondary screen is perplexing, to say the least. It also makes for an awkward appearance in the dark, when the dedicated and not so even back-light becomes evident. It's not a big issue, but one that takes away from the V10's already limited stock of "elegance" points.
Display measurements and quality
User experience and secondary screen
LG's software lets you tweak almost everything, but its default state isn't particularly smart.

The LG-made Android 5.1 software running on the V10 is incredibly flexible, customizable, versatile, powerful even. In short, it's a mess.

It looks like LG wants to let you tweak each and every single aspect of the user interface and its behavior. At first, this may be a fun game to play, but it quickly gets tiring and tedious. Giving the user access to such overwhelming levels of customization has become LG's way of escaping responsibility for its design decisions. You don't like the size of the on-screen keyboard? Well, simply change it! Not a fan of the default sounds for calls and notifications? Choose others then! The Email app isn't formatted clearly? There's got to be a few options in there that will let you tweak things a bit...

Our point is, the default state of a big chunk of the LG V10's software isn't particularly smart, or tasteful. The portrait keyboard is tolerable, but the landscape keyboard's design and positioning are terrible. The list of keyboard settings is like an endless labyrinth – they never end! Sooner or later, you'll want to just hit the home button and escape from the horror of it. At least it has a Swype-type input built in, which works well.

Once you set your email account up in the Email application, it defaults to manual refresh. After a few missed messages, we felt something wasn't right, thus finding out this weird default setting. And don't get us started on the design of the Email app itself – it's mind-bogglingly amateurish, lacking simply formatting touches to make browsing through the list of messages easier, let alone pleasant. What's even worse is that you can't adjust server directories – something that you DO want to have a setting for. For people who's work duties involve regular email usage, this client is no good.

There are other nuisances we can talk about, like the extremely poor choice of wallpapers the LG V10 offers, but we'd rather not. The main takeaway, as far as LG's software experience goes, is that more often than not, you can get it to act well enough, but it'll take time and effort on the user's side, which isn't a price we're looking to pay.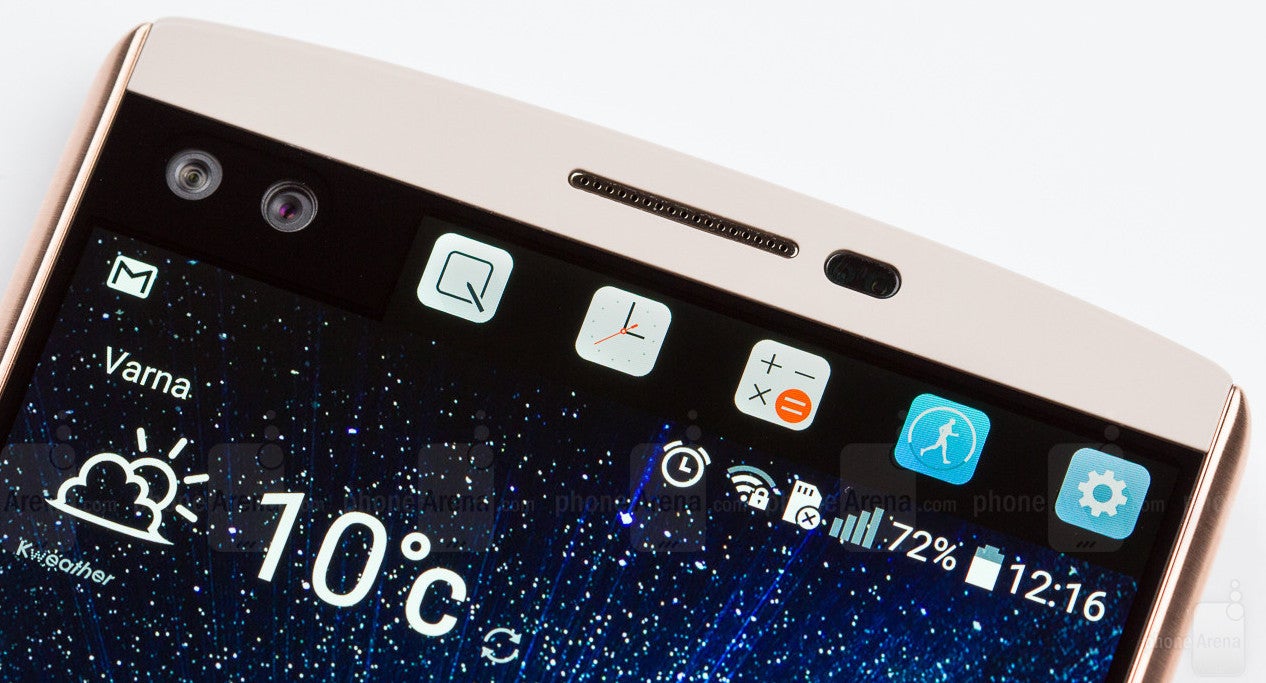 This doesn't necessarily apply to the way the secondary screen functions. Most of the time, it gets its job done pretty well without requiring too much input from the user. It is designed to complement whatever is on screen with extra functionality or quick shortcuts to various other features, which is cool. You can hold a bunch of things there, like some of your favorite contacts, or favorite apps, or next calendar event, but our favorite function is the recent apps pane. With it, it's like you constantly have an app switcher on hand – it'll be very practical for heavy users.

During the time we spent with the V10, found the secondary display to be a handy little tool. However, we aren't sure if the added functionality warrants the need for an additional display. 5.7 inches are a lot of screen space, maybe LG should have worked on utilizing it in a smarter way with its software, rather than put a second screen. At the very least, apps like QMemo+ (that's the notes app, by the way), don't need to use such gigantic font sizes, especially on a 5.7" QHD display. Seriously, with the on-screen keyboard drawn out, you can see just a few lines of text – considerably less than what you see in the iPhone's Notes app, where the screen is smaller, and the resolution is lower. And don't even think about working with notes in landscape – you'll be left with 2-3 lines of gigantic text on the screen. It's pretty bad design.


System performance
LG's fastest smartphone to date.
The LG V10 is a high-end smartphone, but the chipset powering it is not the strongest one around. Same as on the G4, it's the Qualcomm Snapdragon 808 – a six-core CPU configuration that strikes a good balance between performance and efficiency. The weak element here is the Adreno 418 GPU, which has traditionally provided decent, but not great results.
First, before most, though, we're concerned with the system interface performance, and here, we want to congratulate LG for the huge improvement over the G4. Granted that the hardware is the same on both, it has to be the software that LG has worked to optimize, and the result is commendable. The LG V10 impresses with very fast response times and minimal lag, which makes it one of the fastest Android phones around. There's the occasional delay, but those seem to be few and far between, so they don't hamper the experience at all. In that sense, using the V10 is a pleasure.
Had LG been more level-headed and gone with 1080 x 1920, we can imagine that 3D games would have performed pretty well too, but at 1440 x 2560, the Adreno 418 GPU is starting to show its limitations. Not that anything's unplayable, it's just that frame rates could have been considerably better in more demanding titles like the new Order & Chaos 2, or Angry Birds 2. When it comes to popular apps, such as Facebook, YouTube, or Viber, the V10 doesn't leave you wanting for performance.