Samsung Galaxy S7 Edge vs LG V10
24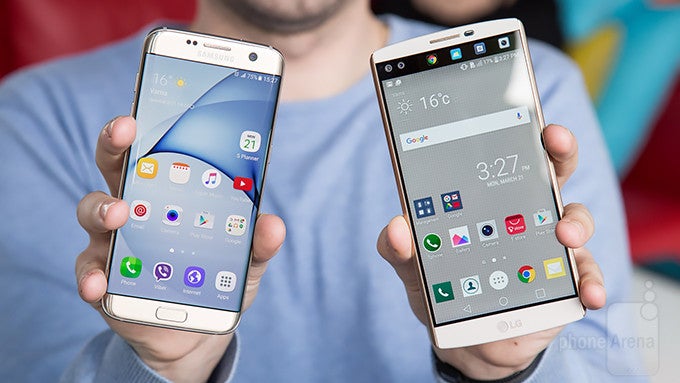 Introduction
In the world of Android devices, Samsung and LG stand tall. The two companies make some of the most popular and arguably the best Android phones.
Samsung's newest trendy phone is the
Galaxy S7 Edge
, a 5.5" device that does not feel as big as other devices with the same size screen, and that has a futuristic dual-curved display and a polished, stylish design.
How can LG counter this alluring new phone? Well, it's got an ace up its sleeve as well: the 5.7"
LG V10
is not as new, but it's the latest phablet from LG and it is lauded for having one of the finest cameras you can find on a phone. It's also got a fancy secondary screen and an interesting dual front camera system.
So does the LG V10 stand any chance against the shiny and new S7 Edge? Let's find out.
Design
Beauty and the beast: the Galaxy S7 Edge is stylish and extremely well made, while the LG V10 feels like a crude prototype in comparison
Despite the very minimal difference in screen size, the Galaxy S7 Edge feels vastly more compact than the LG V10. Samsung has done some truly amazing work designing the S7 Edge: its screen curves towards both sides, and while that is cool, it also comes with the benefit of minimizing the bezel on the side. In fact, the S7 Edge has more the feel of your common 5.2-incher than that of a 5.5" phablet. The V10, in stark contrast, has a fairly big footprint (or should we say, handprint): its shiny metal sides stick out and make it appear super wide, much harder to use with one hand.
Here are the exact dimensions, the difference is really very clear:
S7 Edge (x, y, z, weight): 5.94 x 2.86 x 0.30 inches (150.9 x 72.6 x 7.7 mm), 5.54 oz (157 g)
LG V10: 6.28 x 3.12 x 0.34 inches (159.6 x 79.3 x 8.6 mm), 5.3 oz (152 g) 6.77 oz (192 g)
There is also big difference in the feel of the two: the S7 Edge with its tapered back lays naturally in the hand, as there are no sharp edges. And it feels better-made, the glass back and metal frame carry an exquisite, premium feel. The V10 with its rigged, rubbery plastic… well, let's put it this way: it looks as elegant as a truck driver at work. It's utilitarian and feels sturdy, but it's not a design marvel by any stretch of the imagination. That practical approach has one benefit: you don't need to worry about maintaining it clean and good-looking, while the S7 Edge is an absolute fingerprint magnet and if you use it without a case, you'd have to wipe it clean very, very often.
Another thing we're left scratching our heads with is the color selection on the LG V10: the black one is nice, but Verizon's opal blue and the international beige model appear a bit muted and bland, and feature questionable looks. The Galaxy S7 Edge comes in a choice of black, gold and silver, and those seem like a more suitable color options.
Then, there is the button feel: the very clicky and responsive buttons on the S7 Edge are in contrast with the okayish, but wobbly power/lock key on the V10.
Last, but not least: water protection! Yes, the Galaxy S7 Edge has it and it's awesome. Samsung has magically made this possible with no annoying plugs. We sit it aside playing music while in the shower and never worry about water damage. Technically, it has IP68 certification, which means that it is safe to submerge it in up to 5 feet deep water for as long as half an hour, but Samsung says it's not meant to be used for underwater photography, but rather is there to ensure your phone won't die on you when you accidentally drop it in water or spill something on it. The V10 lacks such water protection, hence, it's less cool.
Display
The S7 Edge's Super AMOLED screen looks great, while the V10 display is not bad, but colors on it appear unnaturally oversaturated.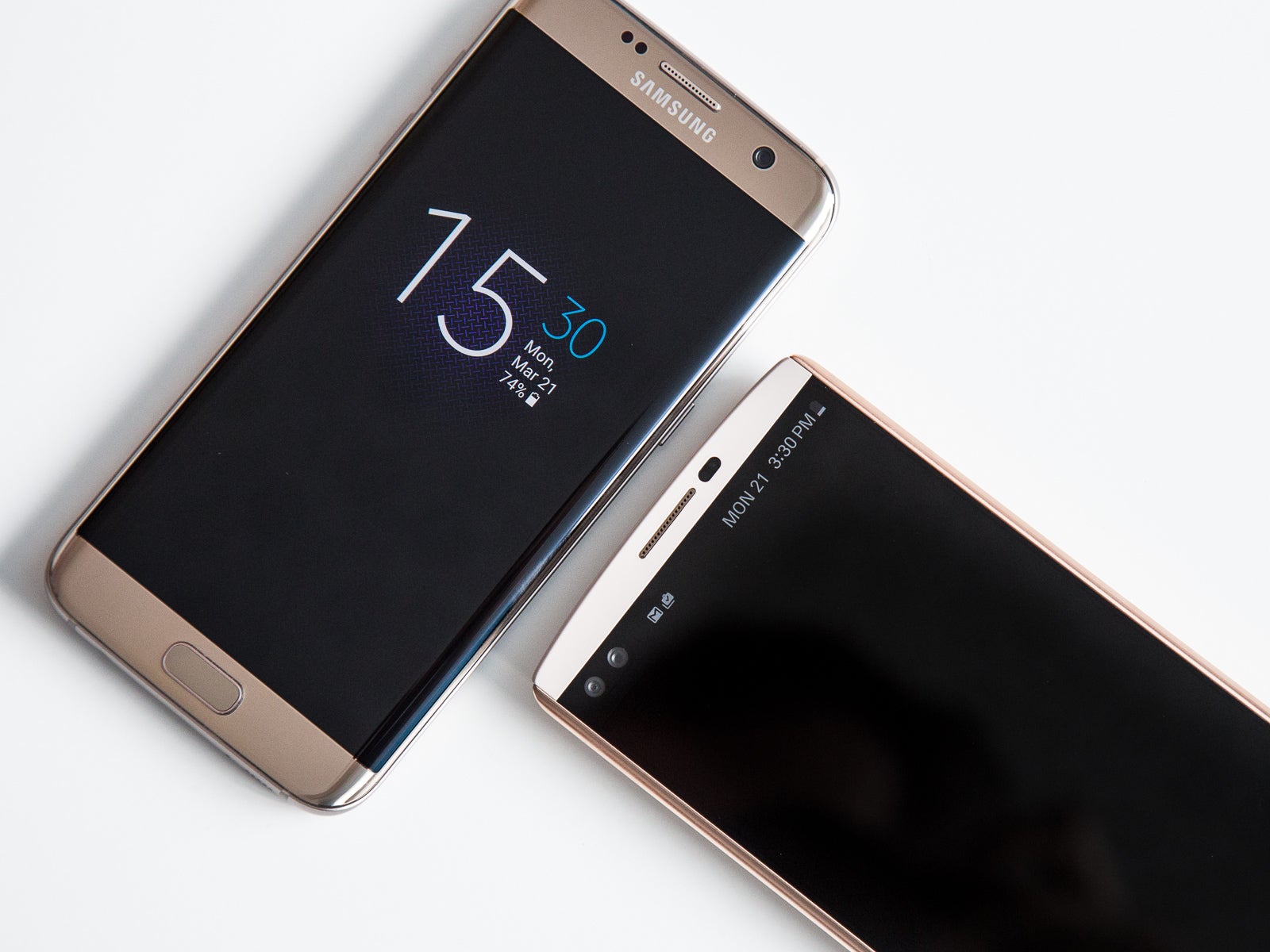 Always-on displays
The obvious difference between the two is in the way the screen is shaped: the 5.5" S7 Edge has that very slight signature curve towards the sides, while the V10 is perfectly flat. Wait, look right above the 5.7" screen and you'll see a tiny secondary screen that's always on! More on it later.
First, the main screen story: 5.5" Super AMOLED on the S7 Edge meets 5.7" IPS LCD on the LG V10. Both are Quad HD panels, both are super sharp at pixel densities above 400ppi, so you won't see jagged edges or pixelization on either. Our V10 unit has an annoying light spill coming from the top area where the dual front cameras are: it's not a huge deal, but it's noticeable and annoying.
Since most phones these days have sharp screens, what you really should want to know more about is how they show colors. That's the big difference. You can find our detailed measurements below and see exactly how well balanced the colors are. The LG V10, for instance, has very unnaturally punchy, overly vivid colors that might please some, but do not conform to any popular standard. The Galaxy S7 Edge, on the other hand, is much closer to perfection. And what is perfection? Well, that's a philosophical question, but when we speak about displays, it's relatively well defined: the sRGB color standard, the one that is used for practically all photography and video on the web. The S7 Edge colors are well balanced, but only when you switch to the Basic screen mode (go into Settings > Display > Screen mode to do so). It has slight niggles even then with whites being a bit greenish, but it's better than the LG V10.
The great thing about Samsung's phones and AMOLED displays is also that they allow you to customize colors: if you like those punchy colors on the V10, you can use the adaptive screen mode on the Galaxy S7 Edge for a similar effect.
Viewing angles are very good on both devices: colors turn a bit different on the S7 Edge when you look at it from the sides, but brightness is retained very well.
Display measurements and quality