LG G4 vs Samsung Galaxy S6
38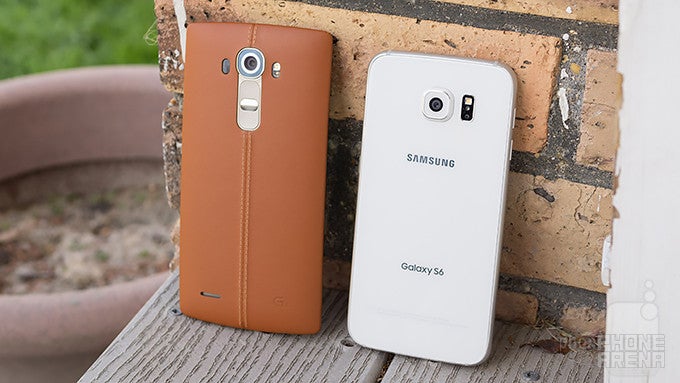 Introduction
With Pantech gone, South Korea is left with just two notable smartphone manufacturers — LG and Samsung. Many of you will know that the cross-town rivalry between the two has been going on for a long time, as the two chaebols regularly clash in a number of industries, most notably smartphones.
Whether as a function of size — LG is half as big as its competitor — or strategy and talent, Samsung has consistently outdone the former in terms of phone sales. But while volumes are indicative of financial success, it doesn't mean that Samsung necessarily has the better handset at every corner. That, at least, is the way we approach this or any other comparison.
With the
Galaxy S6
, Samsung had a ton to prove. Not only are sales slumping, but consumers have been consistently questioning the company's design choices and heavy software. It took a decisive step forward with the S6, though, addressing both these overarching concerns. LG, too, has been keeping itself busy, for the
G4
has also addressed similar issues and put a greater-than-ever emphasis on camera performance and screen quality.
Which one, if either, has the upper hand, then? This will be a real tough one, so continue on reading and don't skim through!
Design
Retro-chic leather, or the slightly colder embrace of modernistic metal-and-glass?
We probably will never know for sure whether LG had it planned all along or was simply responding to a more premium Galaxy S flagship, but it definitely upped its game with the G4. Sure, the 'normal' model still has a plastic bod (with an off-beat, diamond pattern at the back, mind you), but the more premium, leather version is definitely up to snuff and a very adequate answer to the S6.
Speaking of Samsung's new flagship, the company has heard consumers' feedback, and has encased the S6 within a glass-and-metal body for an added appeal. The combination ensures both a desirable exterior and a pleasurable grip.
Turning to ergonomics, there's no contest — being the considerably smaller device, the Galaxy S6 is easily the more comfortable phone to use single-handedly. This is mostly attributable to the G4's larger screen, which we'll touch on in a bit, though the fact that LG's new flagship is actually bulkier than its predecessor is not helping matters, either. The most shocking difference between the two heavy hitters, however, is thickness — the Galaxy S6 is significantly thinner than the G4.
The G4 is not without its merits, though. Sure, it is larger, and sure, it is thicker, but that doesn't mean that it's uncomfortable to hold — its curved back helps with that — nor does it make essential controls, such as the volume rocker, any harder to access.
In the end, these are 'only' the facts. It's up to you to decide which one is more in tune with your own design tastes, though we have to admit that we're pretty much split and don't have an absolute favorite between the two.
Display
Empty promises from LG — the G4's screen is far from perfect, especially when compared with the Galaxy S6's.
Both companies decided to stick to their guns, and refused to tweak the size of the display panels they chose for their respective flagships. So, like with the Galaxy S5 and LG G3 last year, we again have a 5.1-inch screen facing a larger, 5.5-inch unit. There's only one change here — Samsung upped the ante and ushered the Galaxy S6 into the Quad HD resolution club, where it'll keep the G4 company. The two configs work out to a pixel pitch of 577 ppi for the Galaxy S6 and 538 ppi for the LG G4. It's more than you really need.
But you could have gathered as much by just looking at the specs sheet of both devices. So what about the actual quality of the two panels?
With the G4, LG wanted to impress upon us the myriad of improvements that its new, 'Quantum Display' IPS screen brings to the table, including higher contrast and brightness, and better color quality. Of course, we seldom have a flagship announcement that isn't accompanied by such claims. The real thing, however, doesn't always live up to these promises, and the G4 is a good example.
For starters, LG's flagship features a screen that is overly cold (bluish-looking whites and grays), with a measured color temperature of 8000K. Compare that with the almost perfect, 6600K temperature of the Galaxy S6's Super AMOLED panel in its most color-accurate 'Basic' mode (6500K is optimal). This disparity extends to color reproduction, as well — the 5.5-incher of the G4 is consistently off target with the hues it renders, and colors such as red and green are visibly over-saturated at higher intensities. In contrast, the Galaxy S6 tends to stick to the sRGB color space and isn't a victim of as significant color errors.
Moving on, the Galaxy S6 is also ahead in terms of brightness output, with a measured luminance of 563 nits, which is a great figure. Meanwhile, the G4 peaks at 454, which is still decent, but chances are the coming summer will be harsher on G4 owners. As for minimum brightness, the two are tied at the excellent 2 nits, which will be appreciated by night owls.
Display measurements and quality
Recommended Stories