Samsung Galaxy S7 vs LG G4
17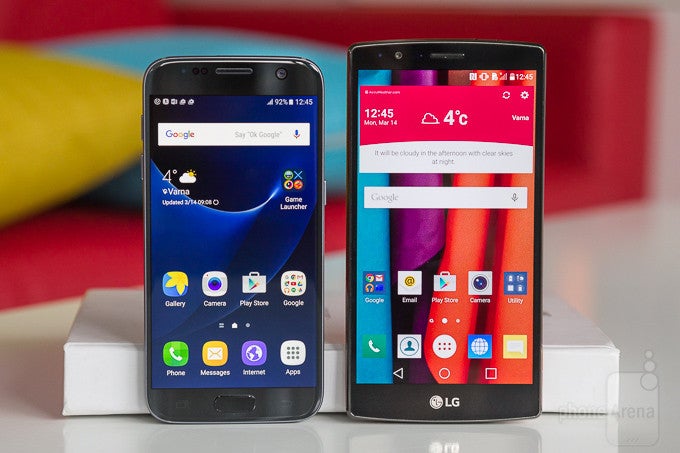 Introduction
For the second year in a row now, Samsung launches a duo of flagship smartphones clad in metal and glass. This time around, the "regular"
Galaxy S7
keeps the 5.1-inch screen, while its sibling, the
Galaxy S7 edge
, is better defined as a device for a whole other niche, thanks to its 5.5-inch display diagonal.
Ever since Samsung re-imagined its smartphone design ideals with the
Galaxy S6
and
S6 edge
in 2015, the manufacturer has been regaining a lot of customer recognition – something that had began to waver back in the
Galaxy S5
days.
LG also tried to set itself apart in 2015 by adding a slight curve to its flagship and dressing its back panel in genuine leather. Despite the
G4
's unique looks and great camera, however, it still couldn't outsell its main competitor – the Galaxy S6. Nonetheless, LG's top-class smartphone has its own strengths and certainly managed to garner its own number of enthusiastic fans.
So, how does Samsung's upgraded flagship compare to the LG's offering from last year? And is the latter still current, when clashing with the bleeding edge tech of today? Let's take a closer look!
Design
LG's response to the metal-and-glass trend of 2015 was to go and design something that uses different materials, yet is still associated with a "premium feel". Sure, the "regular" LG G4 actually has a plastic back, but by now, getting a leather cover for the device is pretty easy thanks to numerous promotions, bundle deals, and price drops — the plastic G4 has almost disappeared from our radar. That said, we find that the leather version definitely has a unique, stylish look and feel to it, and can stand up to the Galaxy S7's refined design.
Samsung built on top of the Galaxy S6's desirable looks by further fine-tuning its shape and fit. While the design materials are pretty much the same shiny metal and glass, the Galaxy S7 certainly fits better in the hand, with its back being elegantly curved on either side, and all of the phone's edges being even softer.
While we are on ergonomics, there's little contest here — the Galaxy S7 is smaller and, as mentioned, fits better in the palms of our hands, making it much easier to operate single-handed. The LG G4's 5.5-inch screen certainly forces the device to take up a bulkier shape, which can sometimes be troublesome for handling. It's worth noting that this wasn't such a big problem with the G3, which had much slimmer bezels and felt better in terms of one-hand operation, so, in that regard, the G4 feels like a bit of a downgrade. The LG G4 is also noticeably thicker than the Galaxy S7, measuring at 0.39 inches (9.8 mm) at its thickest point, whereas Samsung's handset is 0.31 inches (7.8 mm) thin.
The G4 still has its signature curve, though, which does help a lot with the way the phone rests in the user's hand, and also allows it to fit better in one's pocket, when placed with display towards the user's leg. It is still bulkier than the Galaxy S7, sure, but not unmanageable.
In the end, which design you will prefer comes down to two choices – do you favor metal-and-glass slabs, or do you like a unique, curvy, leather-clad handset? And, secondly, are you willing to work with a larger, still fairly ergonomic handset, which has a 5.5-inch display as a plus, or do you prefer a more compact, better fitting in the hand, 5.1-inch device?
Display
In terms of screens, the two smartphones are very different beasts. Starting from the most obvious — size — the Galaxy S7 sticks to the 5.1-inch display diagonal that Samsung chose way back with the Galaxy S5. The LG G4 follows a "more is always better" approach and offers a 5.5-inch screen to its users.
Both displays have a 1440 x 2560 pixel resolution, which gives them a pixel-per-inch density of 576 on the Galaxy S7 and 538 on the LG G4. Needless to day, both screens are very sharp and detailed, and it's impossible for one to spot individual pixels with a naked eye.
Samsung, naturally, uses its own Super AMOLED technology for the Galaxy S7. What this means is that we are treated to a beautiful, lively image representation, with true blacks and very accurate colors. Of course, if you are a fan of the more traditional, punchy and vivid color reproduction of the AMOLED screens, there are a few modes in the Galaxy S7's settings, which will give you just that.
The G4 carries LG's "Quantum Display" IPS display, which was advertised as a high-contrast, high-brightness screen, with lively colors. In reality, we have a cold-ish display that is consistently inaccurate with its colors, missing every target in the sRGB color space, and presenting us with oversaturated reds and greens.
In terms of brightness, both displays are pretty close to each other. The Galaxy S7 can go up to 484 nits, while the LG G4 stops at 454 nits. Both displays are easily viewable under the bright sunlight. Both go down to a minimum of 2 nits, which is great for night-time usage.
Display measurements and quality