Motorola DROID Turbo 2 vs Samsung Galaxy S6
21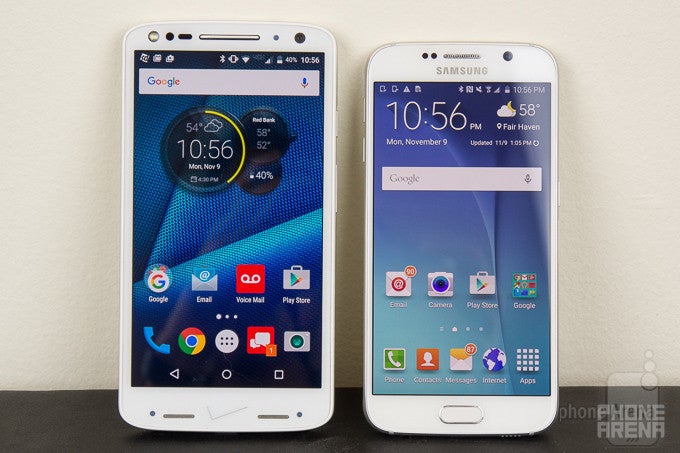 Introduction
Almost hard to believe, the
Samsung Galaxy S6
has been around for nearly 8 months now. That's a long time come to think of it, considering how rapidly things evolve in such a short period of time. Throughout 2015, the Galaxy S6 has remained relevant, which is an impressive feat for a handset that was released in the beginning of the year. Even with all the newcomers, Samsung's flagship is a force to be reckoned with.
Motorola on the other hand, now a Lenovo company, has been busier towards the latter portion of the year. After turning heads with the
Moto X Pure Edition
, it didn't take long before we got wind of its latest DROID. Capitalizing on the success of its predecessor, the
Motorola DROID Turbo 2
continues to do what it does best – and that's to deliver the best battery life around!
Two awesome Android powered smartphones, but there can only be one that reigns supreme.
Design
One favors a striking design, while the other opts for utility above everything else. The Samsung Galaxy S6 is, without question, the more visually appealing smartphone. Sporting that glass meeting metal design we've come to adore, it's undoubtedly exhibiting premium qualities worthy of its flagship status, but at the same time, it makes it fragile.
That's where the DROID Turbo 2 steps up to the plate with its tank-like construction. Sure, its design is subdued looking in comparison to its rival, but its near indestructible quality gives it added utility that few phones offer. Drops don't faze this phone, thanks in part to its ShatterShield display, which protects it from cracking in the event it's dropped – even onto solid pavement. Despite the bland design language of the phone, some folks will appreciate its customization via Moto Maker.
While the Galaxy S6 boasts the characteristics that capture the attention of onlookers with its premium tastes, the DROID Turbo 2 goes the opposite route with its rugged-like construction. Either one works, but it mainly hinges on your particular taste.
For the DROID Turbo 2, some of its notable design features include dual front-firing speakers, an LED flash for its front-facing camera, wireless charging, and expandable storage via its microSD card slot. Conversely, the Galaxy S6 counters with goodies such as a fingerprint sensor, wireless charging, IR blaster, and a heart rate sensor.
Display
The Samsung Galaxy S6 is remarkable for the fact that it's fashioned with one of the most detailed screens this year – a 5.1-inch Quad-HD Super AMOLED display. The DROID Turbo 2, however, is just as detailed with its 5.4-inch Quad-HD AMOLED screen and 544 ppi pixel density.
Beyond the details, everything else points to the obvious here – that the Galaxy S6 has the superior display. Not only does it procure a higher luminance of 563 nits and a warmer color temperature, it's also more color accurate in the sRGB color spectrum.
Display measurements and quality
Recommended Stories