Apple iPhone 6s Plus vs LG G4
22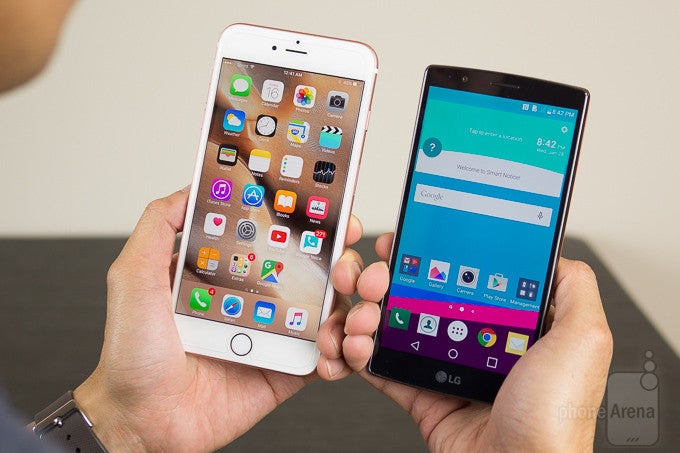 Introduction
To say that the
iPhone 6 Plus
, the predecessor of the
iPhone 6s Plus
, was a tremendous success would be a bit of an understatement. In the months after its launch last year, Apple's first 5.5-inch handset occupied a considerable portion of the market for large-screened smartphones. That's not because it was the best, or most fully-featured big screen phone out there. Mostly, it's because Apple offered the overall best solution for those in need of a phone of such caliber – a premium smartphone that's easy to use, takes great photos, has good battery life, and is also excellent for multimedia consumption. Being its direct successor, and an even better smartphone in many ways, the iPhone 6s Plus is put on the same path of success.
But that's not to say Android manufacturers have been slacking. Quite the contrary, they have profoundly stepped up their efforts! Some, like Samsung, gave it their best shot in imitating Apple's strategy without compromising their individuality — the
Galaxy S6 edge+
is the result. But others, like LG, attacked Apple's flagship with a rather unique arsenal of design and hardware ammo. Half a year later, the
LG G4
still stands out with its genuine leather back, elaborate camera setup, and sub-$500 price, among other things. If you happen to be cross-shopping between the two, here's everything you need to know to make an informed decision!
Design
Apple makes an example of aluminum unibody design, while LG gives plastic a rare leather charm.
The iPhone 6s Plus essentially recycles its predecessor's design, featuring the same smooth and symmetric aluminum unibody. But the smartphone is made of a different alloy this time around — 7000 Series aluminum — giving it greater strength and durability. The LG G4 couldn't have been any more different with its all-plastic build, optionally enriched with vegetable-tanned leather skin. In contrast, the only bits of plastic on the iPhone 6s Plus are the antenna bands on the back of the handset.
Unlike its competitors, LG isn't very enthusiastic about metal, and neither is thinness much of a concern. While the iPhone 6s Plus measures 6.23 x 3.07 x 0.29 inches (158.2 x 77.9 x 7.3 mm), the LG G4 is a tad smaller, but thicker at 5.86 x 3.00 x 0.39 inches (148.9 x 76.1 x 9.8 mm). The LG G4 is also a lighter handset at 5.47 oz (155 g), compared to the iPhone 6s Plus' weight of 6.77 oz (192g). But neither this, nor the ergonomic Arc Edge contour, which contrasts the iPhone 6s Plus' less palm-friendly flatness, can make a 5.5-inch screen device easy to operate with one hand.
The notable differences between the two don't stop with general design and build. While the iPhone 6s Plus has its volume and power keys positioned in a traditional side arrangement with the Home button sitting below the screen, the LG G4 breaks the convention by having its power and volume keys positioned on the back. This feels natural and it's easy to get used to, but we can't say it makes for a meaningful difference in usability. Moreover, this arrangement doesn't let the user operate the buttons while the LG G4 is laying flat on its back, although one is able to double-tap the screen to unlock it.
Another thing to watch out for is the absence of a fingerprint reader on the LG G4. LG's hero phone doesn't offer an immediate alternative to the iPhone 6s Plus' Touch ID system, and won't be able to take advantage of Android 6.0's fingerprint security and mobile payments possibilities. But the G4's Knock Code feature can compensate for the lack of fingerprint sensor as an additional option for unique security.
Also, consider that the LG G4 features an SD card slot and a removable battery, a polar opposite to the iPhone 6s Plus' tightly sealed body. And finally, the former uses micro-SIM cards, while the latter uses smaller nano-SIM ones. That about ends the general design differences between the two smartphones.
Display
Both devices have great 5.5-inch displays as their centerpieces, but Apple has the brighter and more color-accurate one.
Both the iPhone 6s Plus and the LG G4 have great 5.5-inch displays as their centerpieces. However, screen size and IPS LCD tech is about all they have in common. The iPhone 6s Plus has display with a resolution of 1080 by 1920 pixels, while the screen on the LG G4 has a resolution of 1440 by 2560 pixels. This makes for a difference in pixel density, as the former has 401 pixels per inch, and the latter stands at 538ppi. However, the iPhone 6s Plus' screen is plenty sharp already, and the perceived increase in sharpness on the LG G4 is only slight, if noticeable at all.
Sizing up the brightness levels, we measured 593 nits of maximum and 5 nits of minimum brightness from the iPhone 6s Plus' screen. These are excellent values, reassuring that Apple's handset is reliable both in bright light and in complete darkness. The LG G4's maximum brightness is a bit less impressive, at 454 nits, making the screen appear a little dim under direct sunlight. But its 2 nits of minimum brightness make for an even better bedreading experience than on the iPhone 6s Plus.
Color reproduction is where Apple and LG head in very different directions with their displays. The iPhone 6s Plus boasts a color temperature of around 7018K, which is fairly close to the 6500K reference mark, where whites appear neutral – neither warm, nor cold. As a result, the iPhone 6s only shows a hint of blue, while, at 8031 K, the LG G4 appears noticeably colder. Moreover, the iPhone 6s Plus has lower Delta E color and grayscale error values than the LG G4. And although both screens have a near-perfect gamma response, making for accurate contrast across the greyscale range, the Apple display is the more neutral and color-accurate of the two.
Given that both smartphones have IPS LCD screens and are of generally great quality, one would expect them to have outstanding viewing angles. The truth isn't as straightforward, for the iPhone 6s Plus exhibits lower contrast distortion, but the LG G4 gives off much less color error when viewed at a 45-degree angle. Then again, the G4's color reproduction is already far from the truth as it is, so the lower values don't really count here. Anyway, both displays remain very viewable and behave quite favorably at extreme angles, so there's that!
Display measurements and quality
Recommended Stories