Apple iPhone 6s vs LG G4
22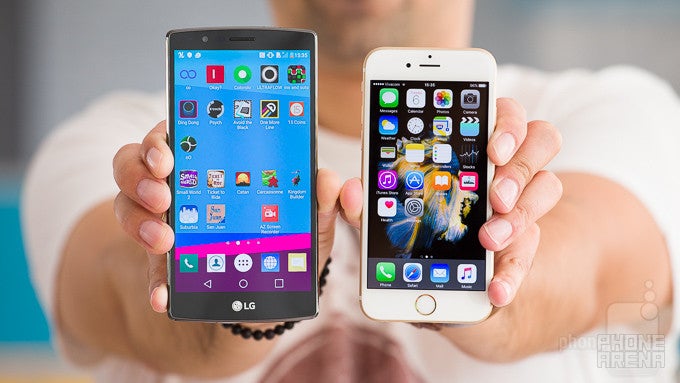 Introduction
The
iPhone 6s
is already out and it is a worthy successor to the
iPhone 6
. Although it is nearly identical on the outside, it represents what's possibly the biggest S-cycle upgrade in the device's history – the iPhone 6s is a major refinement with standout features such as the new 3D Touch technology built into the display, an upgrade to a 12-megapixel camera that's capable of recording 4K video, and a brand new Apple A9 system chip.
Looking at various Android alternatives to Apple's flagship, the
LG G4
certainly attracted our attention. LG's leather-clad smartphone may lack the metallic sheen of its rival, but it stands out with a unique design touch, a big 5.5-inch display, a 16MP rear cam with an arsenal of extras, and the increasingly rare removable battery.
Having these very interesting high-end devices in our hands, we'll go through a detailed comparison of the two to help you understand what makes Apple and LG's flagships so very interesting, but different nonetheless.
Design
Two starkly different design philosophies in action.
The iPhone 6s is a fancy smartphone, there's no second opinion about that. It has an aluminum unibody build, and the 7000 Series aluminum alloy in use is stronger than the kind of aluminum used for the previous iPhone generation. In addition, the glass covering the phone's LCD screen is strengthened by a dual ion-exchange process, making it resistant to scratching and cracking.
What does the LG G4 have to stand against that? Well, the smartphone either comes in plastic, or with a vegetable-tanned leather back (complete with tasteful stitching!) that makes for an interesting and rare look. While the iPhone 6s is completely flat, the LG G4 features a Slim Arc design that makes it feel good in the hand, despite its imposing dimensions. While plastic may look less sophisticated, the G4 certainly doesn't come off as cheap, especially if you have the leather back version. However, you should know that the G4's leather material has proven to suffer wear and tear as time goes by, so it should be handled with care.
The keys and switches of the iPhone 6s — the volume keys, power key, and mute switch — are located on the sides, while the home button is positioned on the front, below the display. This is in stark difference to the LG G4, which has the power and volume keys on its back side. The arrangement is easy to get used to, but it isn't superior, and it does not allow for operating the buttons while the phone is laying on its back. Although you can still wake its screen with a double tap.
Dimensions-wise, the iPhone 6s measures 5.44 x 2.64 x 0.28 inches (138.3 x 67.1 x 7.1 mm) and weighs 5.04 oz (143 g), making for a handset that's reasonably compact. The LG G4 is a fair bit bulkier at 5.86 x 3.00 x 0.39 inches (148.9 x 76.1 x 9.8 mm) and 5.47 oz (155 g) of weight. It goes without saying that the iPhone 6s is easier to hold and operate with one hand, being a smaller handset with less screen real estate than the LG G4. However, LG's behemoth is efficiently designed and doesn't come across as too big or heavy for a 5.5-incher.
A possible advantage that the LG G4 may have for a number of users out there are the abilities to pop in a microSD card to expand the storage and to replace the empty battery with a fully charged one on a whim. The iPhone 6s can't have its physical storage expanded and can't have its battery replaced on the fly, but it's up to you to decide whether that's such a big deal or not.
Display
The iPhone 6s has a finely tuned LCD screen with pretty accurate colors. The LG G4's is bigger and with more pixels per inch, but its otherwise vivid colors aren't as accurate.
Screen size is another area of difference between the iPhone 6s and the LG G4. The Apple flagship has a 4.7-inch IPS LCD screen with a resolution of 750 x 1334 pixels, which adds up to a pixel density of 326 pixels per inch. LG also used an IPS LCD panel, but a bigger one, with a lot more pixels on it. The LG G4's 5.5-inch screen has a resolution of 1440 x 2560 pixels, resulting in a pixel density of 538 pixels per inch. Despite the significant difference in pixel density, both displays are very sharp and deliver no-compromise detail, although the G4 does have a slight advantage in this respect.
Brightness response is an important characteristic to be aware of when using a smartphone under bright light or in the dark. We measured a very good maximum brightness output of 550 nits on the iPhone 6s, which makes its display visible and usable under bright light. The screen on the LG G4 exhibited a lower maximum brightness of 454 nits, which means things are good for the most part, but you may have troubles using it under bright light, as it will appear a little dim. On the other end, the minimum brightness levels we measured stand at 6 nits for the iPhone 6s and 2 nits for the LG G4. Comfy bed-reading is an option on both, but the iPhone 6s could have gone a little lower.
Moving on to white balance and color reproduction, the iPhone 6s boasts a color temperature of around 7050K, which is fairly close to the 6500K reference mark, where whites appear neutral – neither warm, nor cold. As a result, the iPhone 6s only shows a hint of blue, while, at 8031 K, the LG G4 appears noticeably colder. On a related note, the iPhone 6s exhibits lower Delta E color and grayscale error values than the LG G4 — simply put, the iPhone's display is the more neutral and more color-accurate among the two.
Gamma response is a metric we use to assess a display's contrast levels. Apple has been a gamma champ for a long time, so it's not surprising that the iPhone 6s' gamma stands at a near-perfect 2.23, meaning its luminance is very accurate. But LG G4's screen does not lag behind, judging by the 2.24 gamma value that we measured. In short, both screens' contrast response is excellent, but the iPhone 6s' gamma curve is still a bit closer to ideal.
Given that both smartphones have IPS LCD screens and are of generally great quality, one would expect them to have outstanding viewing angles. The truth isn't as straightforward, for the iPhone 6s exhibits lower contrast distortion, but the LG G4 gives off much less color error when viewed at a 45-degree angle. Then again, the G4's color reproduction is already far from the truth as it is, so the lower values don't really count here. Anyway, both displays remain very viewable and behave quite favorably at extreme angles, so there's that!
Display measurements and quality
Recommended Stories