Samsung Galaxy S7 vs Samsung Galaxy S6
28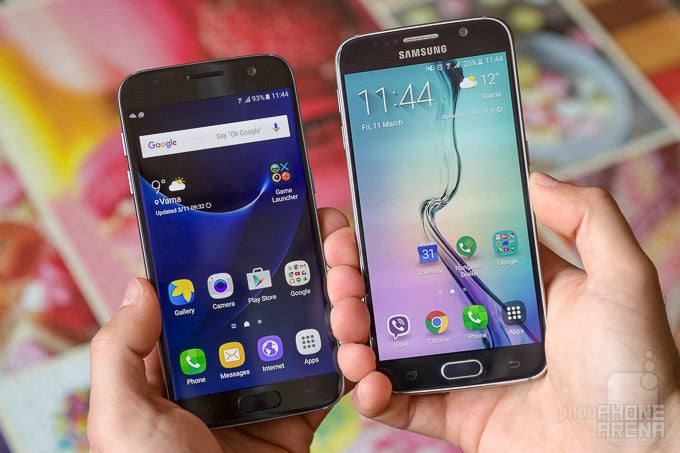 Introduction
With sales of its flagship S line going downhill ever since the
Galaxy S4
, Samsung opted for a change of pace with last year's
Galaxy S6
. Redesigning the handset from the ground up, the South Korean electronics giant finally delivered a phone it could be proud of when even in front of fashion-conscious buyers.
Still, sales of the Galaxy S6 have proven anything but record-setting, and so with the
Galaxy S7
Samsung is going for a sort of Hail Mary pass by combining what seems to be the best of both worlds: a utilitarian set of features, packaged into the same attractive shell. And from where we stand, it's been quite successful, begging the question of just how much of an improvement over its predecessor we're talking about.
Let's find out!
Design
Solid improvements on the design front, with better ergonomics, water resistance, and less bulk.
If you were keeping tabs on the Galaxy S7 prior to the unveiling of the phone, you'll know that rumors were spot on. Like, 100% spot on.
In other words, what we were promised by leaksters is what we received—a very Galaxy S6-esque device, with a metal frame encircling the phone, and Corning Gorilla glass on both sides. Interestingly, though, that doesn't mean improvements weren't made, and most of them are immediately apparent.
For starters, the Galaxy S7 adopts the back curvature of the Note 5, making it notably more comfortable to hold, though a dozen or so grams have been added to the bill (138 vs 152 grams, or 4.8 vs 5.4 ounces). The difference in weight is striking, and we felt it as soon as we held the Galaxy S7 for the first time. The phone is also just a tad bit smaller than the Galaxy S6, though it has grown thicker (7.9 vs 6.8 mm, or 0.31 vs 0.27 inches).
The increase in thickness is not random, though, for the Galaxy S7 is IP68-certified and therefore dust- and water-resistant—a feature that was ditched after the Galaxy S5, but is back in again. In addition to that, Samsung has managed to fit a considerably larger battery, but more on that later.
Finally, it's worth pointing out that the glass rear of both devices is equally as welcoming to fingerprints and just general messiness.
Display
Overall, the Galaxy S7's display is a great performer, but actually a bit of a disappointment after the S6.
With the 5.1-inch display of the Galaxy S6 already closing in on 600 pixels per inch, there was (thankfully) little reason for Samsung to keep on adding more. So, things have been kept the same, with the Galaxy S7 also sporting a 5.1-inch panel with a Quad HD (1440 x 2560) resolution. It's more than you'll ever need, at least unless you're really into virtual reality.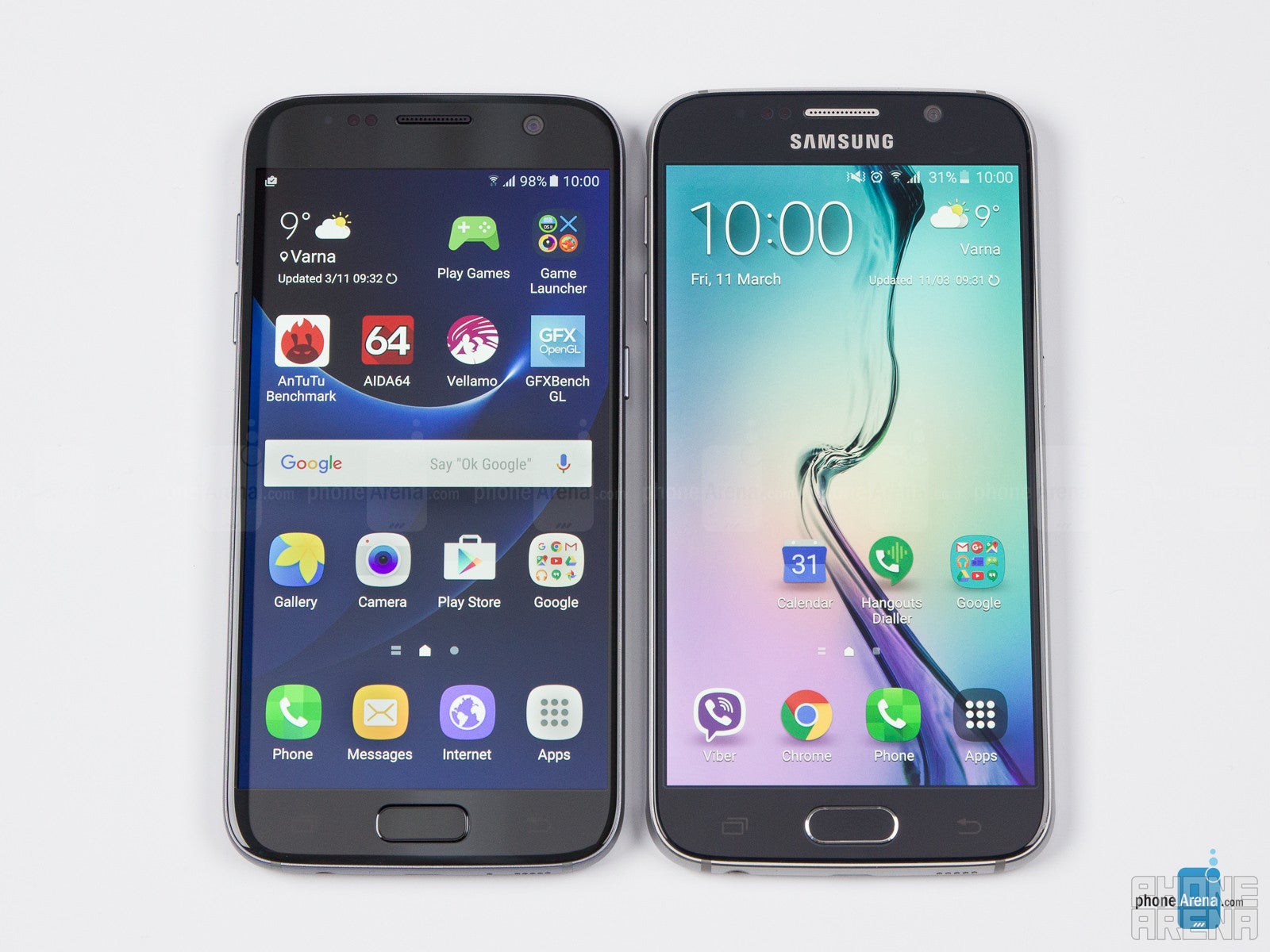 That much, however, you could surmise yourself. So the question is, has anything changed with the display of the Galaxy S7 that isn't immediately obvious? And the answer is yes, and not for the better, unfortunately.
Examining the two devices within their most color-correct Basic mode, we first notice that the balance between the primary colors (red, green and blue) has changed, and whereas we had green in excess with the Galaxy S6, we now see blue dominate and red continuing to be underrepresented. In result, the color temperature has gone to the colder (bluer) 6850K versus the essentially perfect 6580K of the Galaxy S6.
Gamma, too, has taken a hit for the worse, with an overall poorer average showing, but also consistently off-the-mark values across the brightness spectrum. In practice, this results in an image that has had its brightness artificially boosted somewhat, regardless of whether we're talking shadows, mid-tones, or highlights.
Maximum brightness, too, has suffered, and is now sitting at just under 500 nits, compared to over 560 for the Galaxy S6. Legibility in direct sunlight, therefore, might be affected in extreme conditions, though we had no issues whatsoever ourselves.
On the whole, however, the screen of the Galaxy S7 continues to be a leading one, and even offers slightly superior color accuracy and grayscale response than its predecessor, despite its other (relative) shortcomings. It also has a new handy feature that its predecessor likely won't be getting, even with a software update: Always On Display.
Always On Display, as the name implies, means the screen of the S7 will always have something shown on it. There are a number of themes available for it already, and third-party developer access has been promised. In its simplest form, it means that you'll be able to glean the time and date, along with incoming notifications, without having to wake the screen. Since AMOLED displays allow for just a few pixels to be lit up at will, it follows that the Galaxy S7 won't consume too much power doing this. The phone is also smart enough to tell when it's inside a pocket or facing down, in which cases Always On Display will be... off.
Display measurements and quality
Recommended Stories