Samsung Galaxy S6 edge+ vs LG G4
26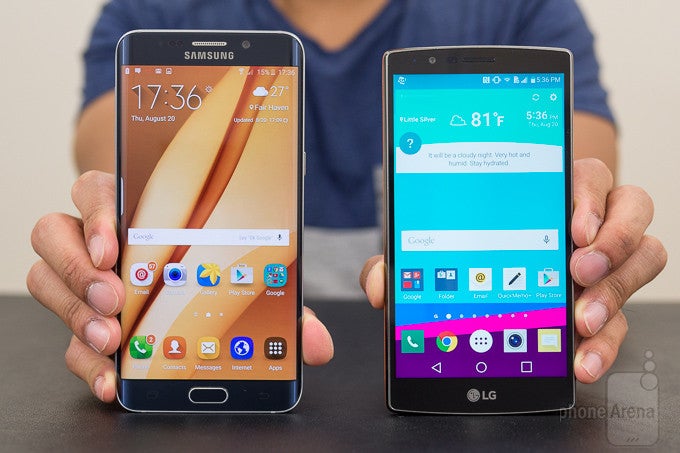 Introduction
So, have your sights set on the
Samsung Galaxy S6 edge+
? No wonder, this is one of the most exciting big-screen smartphones to hit the market recently! But it has to be considered that the phablet's outstanding design and impressive hardware power come at a price that may be too steep for some. Luckily, price-conscious buyers have a choice for a high-end smartphone that won't twist their pockets — we're speaking of the
LG G4
. By refusing to follow the prevailing design trends and utilizing carefully chosen hardware components, LG made a stand-out device whose imperfections are easily offset by its sub-$500 unlocked price, an affordable price tag by flagship smartphone standards. So, let's have a look at how LG's hero device compares with Samsung's latest and greatest!
Design
Metal and glass sheen versus plastic and leather practicality.
The Galaxy S6 edge+, even if it's merely an oversized S6 edge, makes for quite the show with its futuristic dual-edge curved screen and impressive metal and glass build. The LG G4 is on a different side of the spectrum of attractive, because it's appearance is comparatively modest, yet unquestionably classy with its genuine leather back. Without it, the LG G4 looks like a well put together, all-plastic smartphone, which makes for a pleasing sight, but certainly doesn't exude the same premium feel. There's a practical advantage to the latter's utilitarian design, however. The Galaxy S6 edge+'s glass back is a fingerprint magnet that could easily crack upon an unfortunate impact with the pavement, while the LG G4 is pretty much immune against both problems.
Nearly everything found on the S6 edge is present in the S6 edge+, including the handy fingerprint sensor, the heart rate sensor, the rapid charging microUSB 2.0 port, and built-in wireless charging. The LG G4 is mostly devoid of these niceties, save for the rapid charging port and the optional wireless charging cover. What the LG G4 has, which the S6 edge+ doesn't, is the ability to swap its empty battery for a fresh one, or expand its built-in storage with a microSD card. Another interesting bullet point in the LG G4's design is the unusual positioning of its volume and power keys on the device's back panel. It's unusual, but it works, until you try setting the volume with the keys while the phone is laying on its back, and you go "eh...".
At 5.86 x 3.00 x 0.39 inches (148.9 x 76.1 x 9.8 mm), the LG G4 is smaller than the Galaxy S6 edge+, which measures 6.08 x 2.98 x 0.27 inches (154.4 x 75.8 x 6.9 mm). However, Samsung's phablet has a slightly bigger display diagonal (it's 5.7 inches vs 5.5 inches for the LG G4), and is also much thinner, contributing to an unquestionably modern feel. The weight difference between the two, at 5.40 oz (153 g) for the Galaxy S6 edge+ and 5.47 oz (155 g) for the LG G4, is negligible. And as for which one's more comfortable to hold, it's really a question of which one feels better in your hand. We believe LG's handset has the advantage of smoother curves that are more natural to the palm, whereas the S6 edge+'s metallic lines feel slightly sharp in comparison. But the truth is that neither device is really designed for one-handed use.
Display
Both are excellent for multimedia, but Samsung's has a literal edge in color accuracy.
With its 5.7-inch, 1440 x 2560 resolution Super AMOLED display, the Samsung Galaxy S6 edge+ has a quite literal edge (or two) over the LG G4, which uses a 5.5-inch IPS LCD screen of the same exceedingly high resolution. Despite both screens being of Quad-HD resolution and high quality, there are stark differences between them in the way they reproduce those eye-popping visuals. Let's dig into the intricacies of our display measurement results.
Pixel density is great for both screens, coming in at 518 pixels per inch for the Galaxy S6 edge+ and 538ppi for the LG G4. Crispness aside, the S6 edge+ in 'Basic' screen mode has a color temperature of 6722 K, which is much closer to the reference 6500 K than the LG G4's 8031 K. 6500 K is the reference point where the mix of red and blue primary colors can be considered in balanced proportions. Temperatures above that result in perceived coldness of colors, while temperatures below are the opposite – warm. Thus, the LG G4 favors a colder color temperature, resulting in a dominant blue.
Next, let's have a look at the screens' minimum and maximum brightness levels. The former is useful to determine a display's readability in low-light conditions (darker displays put less strain on your eyes), while the latter makes or breaks a display's legibility in intense lighting. The Galaxy S6 edge+'s screen goes up to 502 nits of maximum brightness and down to just 1 nit, while the LG G4 goes up to 454 nits and down to 2 nits. These are both very good results, although the S6 edge+, obviously, is the brighter one.
Next, we'll discuss gamma value. The gamma curve is used to determine how accurately a display is able to reproduce images, in terms of shades, starting from the darkest and finishing with the brightest shades. Looking at the LG G4's measurements, its gamma value of 2.24 is actually pretty close to the 2.2 reference, which means color intensities are mostly evenly reproduced and there's no artificial contrast boosts or cuts to be aware of. With a slightly lesser value of 2.12, Samsung made the Galaxy S6 edge+'s lighter shades of gray a tad brighter than they would appear in reality, resulting in a deliberate contrast boost. Samsung likes to do that with recent Galaxy S displays, letting users enjoy colors a bit punchier than normal.
Where color balance is concerned, the S6 edge+ does present the primary colors in more correct proportions than its competitor, which is prone to exhibiting a blue-green color tint. This is due to an under-representation of red, caused by the colder color temperature. The brighter the image, the more red disappears to blue and green's advantage on the G4.
Finally, viewing angles! AMOLED screens, unfortunately, still aren't as solid as IPS LCD screens when it comes down to viewing angles and retaining color fidelity. The Galaxy S6 edge+ delivers outstanding viewing angles as far as retaining brightness and contrast goes, but on the downside, colors exhibit dramatic shifts in their quality as we turn the screen even slightly, which is not a problem on the LG G4. However, IPS LCD displays aren't immune to viewing angle defects, as they tend to distort their brightness and contrast output the more you shift the viewing angle.
All things considered, the Galaxy S6+ has a superior display in each aspect, partially save for viewing angles. The LG G4's screen is quite tolerable and certainly far from disappointing, but is definitely farther from ideal.
Display measurements and quality