HTC DROID DNA vs Samsung Galaxy Note II
76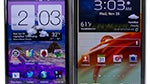 Introduction:
Looking at what transpired this year alone, it's a safe call to proclaim it as the year of the phablets, especially considering we've seen a handful of devices pushing the 5-inch mark. In the last couple of months though, we've seen the very best in this category, as the
Samsung Galaxy Note II
showcased the advantages with its larger than life screen and extensive software enhancements. Although it's not technically regarded as a tabphone/phablet, the
HTC DROID DNA
is still one hefty handset with its 5-inch display. However, there's no arguing it's a strong competitor to the Note II with its immaculate 1920x1080 display – the highest resolution on any smartphone! With these two shaking up the Android scene, there can only be one that's viewed as the premier device.
Design:
Without question, the Galaxy Note II is the more massive device between the two, which makes it significantly more cumbersome to hold in the hand – then again, its size is what makes it so fascinating amongst strangers. Looking at their profiles, it seems as though the DROID DNA is thinner with its construction, which is attributed to its tapered design, but it's actually the Note II that's a hairline thinner. As a whole though, we're somewhat more attracted to the meticulous industrial design of the DROID DNA – even more when its minimalistic look is complemented by its matte soft touch body and highlighting red accents.
Relying on a combination of capacitive
Android buttons
and a physical home button, the Note II is less prone to accidental presses – whereas the DROID DNA employs the usual trio below its screen.
Touring the edges
of both smartphones, they share many common ports and buttons – like their 3.5mm headset jacks, noise-cancelling microphones, power buttons, volume controls, standard mics, and microUSB ports. With the latter, they provide the functionality of video-out with the aid of an MHL adapter. Mainly due to their pronounced feel and springy responses, we prefer the physical buttons of the Note II – whereas with the DROID DNA, its home button and volume control are indistinct with their flush appearance.
Laying claim to something that the DROID DNA doesn't offer, the Note II's functionality as a mere smartphone is exemplified with its included S-Pen, which is indiscreetly tucked away when it's not in use. With this accessory, not only does it offer the obvious usefulness of jotting down notes and writing things down, but the software enhancements attached to it, like Airview, allow it to mimic a PC's mouse pointer. Needless to say, it has some beneficial purposes that no other device offers.
Display:
Naturally, we'll hand it to the Note II for getting people to notice its display more from an initial look – mainly because it's so darn big! Donning a 5.5-inch 720 x 1280 HD Super AMOLED display, its saturated color tones is a sure-fire attention grabber that is noticed right away. However, the DROID DNA kicks things up a notch with its more detailed 5-inch 1080 x 1920 Super LCD 3 display, which so happens to claim ownership as the highest resolution display on a smartphone. Crazy to believe, it pushes the boundary with its immense pixel density of 441 ppi – whereas the Note II tallies it at a decent 265 ppi. Technically, on paper, the DROID DNA is by and large the detailed one, but when it comes to practical usage, it's difficult to firmly distinguish its superiority over the Note II with our own eyes viewing from a normal distance away. It is superior for rendering small details like fine text or showing high-quality pictures. Ultimately, when we combine the DROID DNA's more natural color reproduction and better outdoor visibility, it undoubtedly comes off as the more alluring display.
Recommended Stories