HTC DROID DNA vs Samsung Galaxy S III
55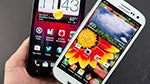 Introduction:
Being the latest entrant in the smartphone kingdom, there's no arguing the imposing presence of the super spec'd
HTC DROID DNA
. Simply put it, the smartphone is one immaculate piece of tech that's a sure fire competitor ready to fend of the hungry competition this holiday season. However, in order for it be glorified and accepted openly as an upper echelon device, it really needs to show its worth to what's arguably regarded as the most prestigious Android smartphone pushed out this year – the
Samsung Galaxy S III
. It's the summer king versus the new kid on the block, so let's find out how they stack up against one another.
Design:
Looking at the two, it's rather difficult for us to concretely make a decision as to which of the two is sporting the better design, since they have many likeable elements. In terms of size, they're both obviously a handful to comfortably use with a single hand, but the Galaxy S III is a smidgen smaller in footprint – while also being the lighter and skinnier in profile as well. Whereas the Galaxy S III is more curvaceous, we still appreciate the stylish industrial design of the DROID DNA, especially when it's highlighted by its cool red accents. Rounding things out, we absolutely love that the two sport very clean finishes – thanks primarily to the soft touch matte casing of the DROID DNA and the hyper-glaze coating on the Galaxy S III.
Seeing that its trio of
Android capacitive buttons
are squished in no man's land, below the screen and above the bottom edge of the phone, it's more prone to accidental presses. Oppositely, it's not much of a problem with the Galaxy S III, since it employs a combination physical home button surrounded by two capacitive buttons. Besides finding their earpieces and light/proximity sensors above their displays, we're also presented with their LED notification lights. It's more prominent with Sammy's offering, obviously, considering that it's incorporated into the earpiece with the DROID DNA. However, it's neat that there's a second one in the rear of HTC's baby.
Not surprisingly, we prefer the physical buttons of the Galaxy S III over the DROID DNA – mainly because they're so much more prominent and responsive, versus the flush and indistinct feel associated with the DROID DNA's set. Taking a look around their trims, they pack many commonalities, which include their 3.5mm headset jacks, noise-cancelling microphones, standard mics, and microUSB ports for charging/data/video-out functionality.
Flipping them both around, we spot their 8-megapixel auto-focus cameras, which both feature LED flashes and 1080p video recording. However, it's the DROID DNA that's standing out more on paper for its f2.0 lens. Concurrently, the two are also outfitted with front-facing cameras – a 1.9-megapixel one on Sammy's prodigy and a somewhat more impressive 88-degree wide-angle 2.1-megapixel camera with an f2.0 lens on the DROID DNA.
Display:
There's so much that our eyes can see from a great distance away, right? That's particularly evident as we glance at the sharp looking displays on these two handsets. Without question, the DROID DNA impresses us with its 5-inch 1080 x 1920 Super LCD-3 display, which sets the bar with its even more spectacular pixel density of 441 ppi. And even though it's not as high-res as its rival, the Galaxy S III's 4.8-inch 720 x 1280 HD Super AMOLED display is an attractive one for its showroom vibrancy, which is attributed to its over-saturated color reproduction and exquisite viewing angles. Honestly, it's hard to gauge from a normal viewing distance as to which is the more detailed display, but upon closer inspection, there's more evidence of sharpness with the DROID DNA's display. Even better, we find it far more viewable in outdoor conditions with the sun present. Seriously folks, the display on the DROID DNA is killer in so many aspects.
HTC DROID DNA 360-degrees View:
Samsung Galaxy S III 360-degrees View:
Recommended Stories