HTC DROID DNA vs Apple iPhone 5
99+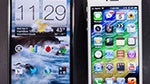 Introduction:
Always being a force to reckon with at any time, Apple's mighty
iPhone 5
stands highly amongst the crowded smartphone landscape with its suave personality that's capable of entrancing consumers with its cohesive quality elements. In this day and age, however, we've seen several other devices that prove to be more cutting edge than the device widely panned as the most popular smartphone in the world. Quickly making its arrival and presence known in time for this crucial holiday period, the
HTC DROID DNA
is simply one of those new smartphones on the block that really catches attention for its killer specs sheet. More importantly, the question is whether or not it has the right stuff to steer people away from Apple's beloved smartphone?
Design:
By just looking at the two, there's a stark contrast with their designs, which makes it rather difficult to choose one more than the other since they have their own lovable aspects. For sure, there's a huge size disparity between the two, as the iPhone 5's smaller footprint proves to be more manageable in the hand – whereas the DROID DNA is a handful to operate. At the same time, Apple's pride and joy is both lighter and skinnier in profile than its rival, but above all, it's the premium element associated with the iPhone 5's construction that continues to be its most attractive feature. Still, the DROID DNA has a stylish design of its own, though a bit more modest, thanks to its tapered design and the clean finish that its soft touch matte casing offers.
Relying on that iconic recessed home button, which is springy in response, there are no accidental presses with the iPhone 5. Oppositely, seeing that the DROID DNA utilizes the usual trio of capacitive buttons, which are positioned close to the bottom edge of the display, we're still finding ourselves accidentally pressing them. Meanwhile, it's nice to find that HTC's beauty is packing an LED notification light – both on the front and back of the handset.
Considerably more prominent in feel and springier in response, we're digging the iPhone 5's power button and volume control – whereas, it's flush to the surface and lacking any distinctive response with the DROID DNA. Checking out some of the commonalities they share around their trims, they include the 3.5mm headset jack, noise-cancelling microphone, and standard mic. However, the DROID DNA employs the more favorable microUSB port for charging/data/video-out connectivity – with the iPhone 5 sticking with Apple's new Lighting docking port, which lacks video-out functionality.
In the rear, they're both sporting 8-megapixel auto-focus cameras that feature backside illuminated sensors, LED flashes, and 1080p video recording. However, the DROID DNA flaunts an f2.0 lens – with the iPhone 5 siding with an f2.4 one instead. As for their front-facing cameras, it's a 1.2-megapixel snapper on the iPhone 5, which can shoot videos in 720p. Somewhat more impressive, the DROID DNA features an 88-degree wide-angle 2.1-mgepixel camera that features an f2.0 lens and 1080p video recording.

Display:
Ever since the introduction of the iPhone 4, Apple has coined the term "Retina Display" for its super detailed screens, and with the iPhone 5, it finally moved up to a 4-inch Retina Display featuring a resolution of 640 x 1136. Sure, it's sharp and detailed with its very respectable 326 ppi pixel density, but it has been surpassed by the 441 ppi pixel density conjured up by the DROID DNA's 5-inch 1080 x 1920 Super LCD-3 display. Although it's sizable advantage on paper for the DROID DNA, our eyes have difficulty in distinguishing which of the two is delivering the better detail from a normal viewing distance – so essentially, they look equally sharp. Upon closer inspection, however, it becomes evident that there's more definition with the sharpness of the DROID DNA's display. In terms of color production, they both exhibit some warm tones, which adds an appealing sense of vibrancy to their looks. Yes, they're extremely visible outdoors with the sun present, but we notice that the iPhone 5 has the higher brightness output and wider viewing angles.
HTC DROID DNA 360-degrees View:
Apple iPhone 5 360-degrees View:
Recommended Stories