Google Nexus 4 vs HTC DROID DNA
47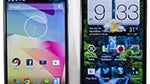 Introduction:
Crazy to imagine it, but it has been a long time since we've seen HTC's name attached to the Nexus moniker. Since the birth of the original
Google Nexus One
, Google has gone on to commission other reputable companies to manufacture its various Nexus devices – with LG most recently nabbing that prestigious opportunity. Even though the
Google Nexus 4
from LG is positioned as the pure Android device straight from el Goog, HTC is being fairly proactive on its end with its equally grand offering in the
HTC DROID DNA
, which fittingly allows them to stand tall throughout this crucial holiday season. Despite their affinity to Android, there's no arguing that these two are in contention against one another at the moment.
Design:
With so many likable elements seen between them, it's hard to say with enough certainty which design we actually prefer the most. For the Nexus 4, we like the premium feel that its glass surfaces and rear pattern design brings to the handset, but at the same time, it makes the handset feel super slippery and prone to unwanted distractions such as smudging and fingerprints. Conversely, the DROID DNA is a handful to hold since its overall footprint is larger, however, its matte soft touch body and precise red accents add a dab of styling that matches its DROID DOES attitude.
Scanning their facades, we spot their earpieces, light & proximity sensors, and LED notification lights. With the latter, it's a single blue pulsating one below the screen on the Nexus 4, while the DROID DNA has a tiny one incorporated into its earpiece and another one discretely on the back of the phone.
Display:
Certainly, a cursory glance would make it difficult for anyone to concretely determine which is packing the better-looking display – especially when they produce sharp details from a normal viewing distance. However, as we meticulously comb every inch of their screen, it becomes clear that the DROID DNA is a clear favorite. For starters, it's impressive for its 5-inch 1080 x 1920 Super LCD 3 display, which so happens to pull off an impressive
pixel
density of 441 ppi. In contrast, the Nexus 4 still has something very attractive with its 4.7-inch 768 x 1280 WXGA True HD IPS Plus display, but there's simply a huge disparity when we take note of its 318 ppi pixel density. Seeing that they're both relying on good old LCD technology, they share many common qualities – like their warmer color reproduction and superb outdoor visibility. However, the DROID DNA's display is better able to maintain its clarity at all viewing angles – whereas with the Nexus 4, we notice some color distortion at extreme angles.
Google Nexus 4 360-degrees View:
HTC DROID DNA 360-degrees View: