AirPods 3 vs AirPods Pro: Do you want ANC or not?
We may earn a commission if you make a purchase from the links on this page.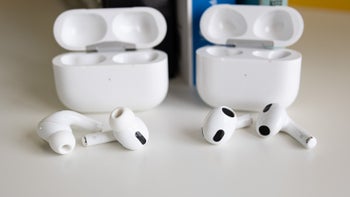 Now that the new
AirPods 3
are out, we're able to test them head-to-head with Apple's earlier
AirPods Pro
. They do look very similar, but don't let that fool you. Which true wireless
Apple
earbuds should you buy? Let's find out!
AirPods 3 vs AirPods Pro: Price
The newly-released AirPods 3 retail for $179, while the AirPods Pro are notably more expensive at $249. Stay tuned for our
Black Friday
coverage, as there could be price drops for both AirPods models soon.
But normally you'd be saving about $70 if you buy the new AirPods 3 instead of the AirPods Pro. Of course, you'd be losing on some features, but we'll get to that...
AirPods 3 vs AirPods Pro: Design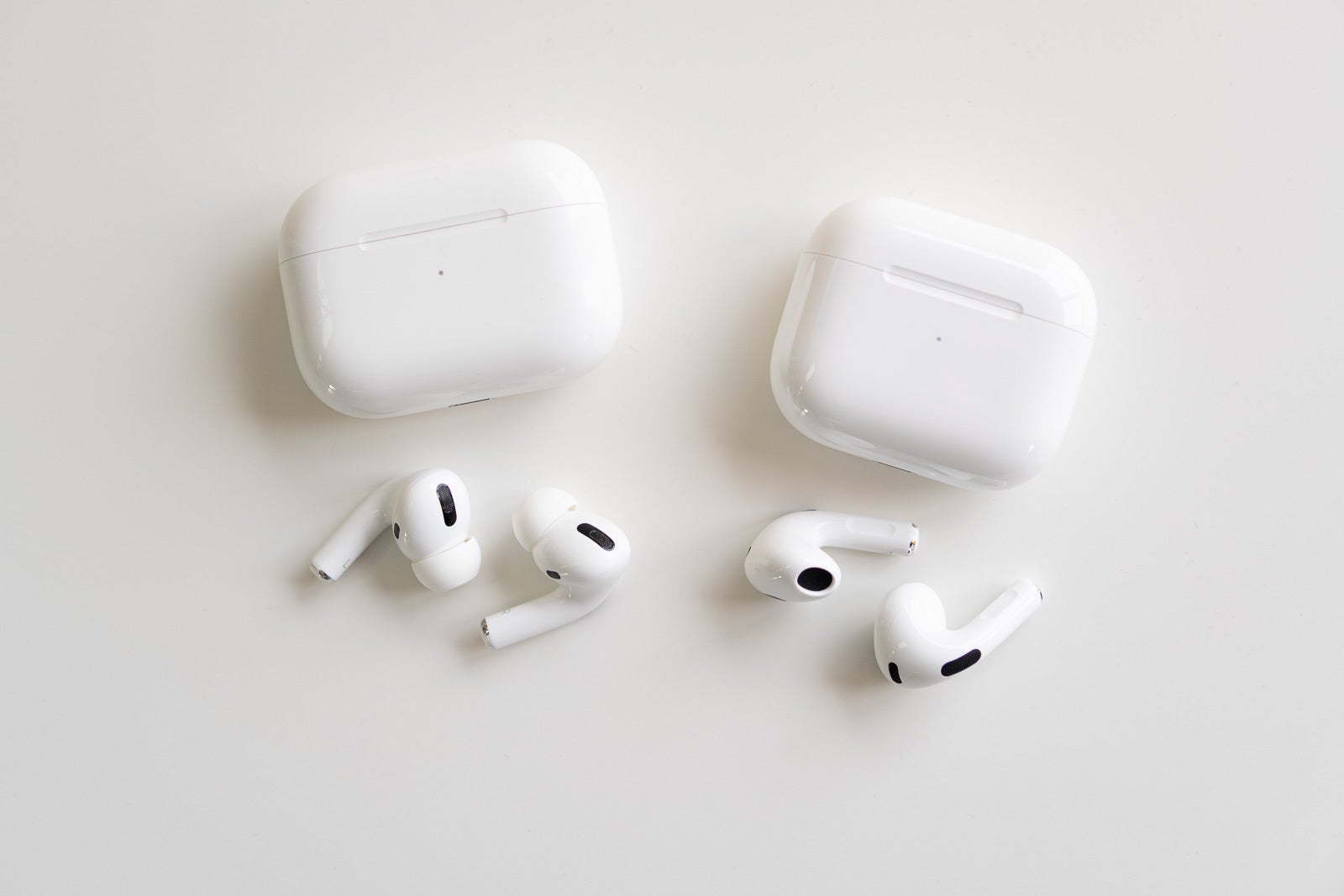 AirPods Pro (left) and AirPods 3 (right)
The charging cases of both AirPods are about the same thickness, but the AirPods Pro case is wider, so the AirPods 3 are the more compact package here.
Other than that, both the AirPods 3 and AirPods Pro cases are made out of glossy white plastic, with a metal hinge for their lids, an LED light up front, a Bluetooth pairing button on the back and a Lightning port on the bottom, for charging.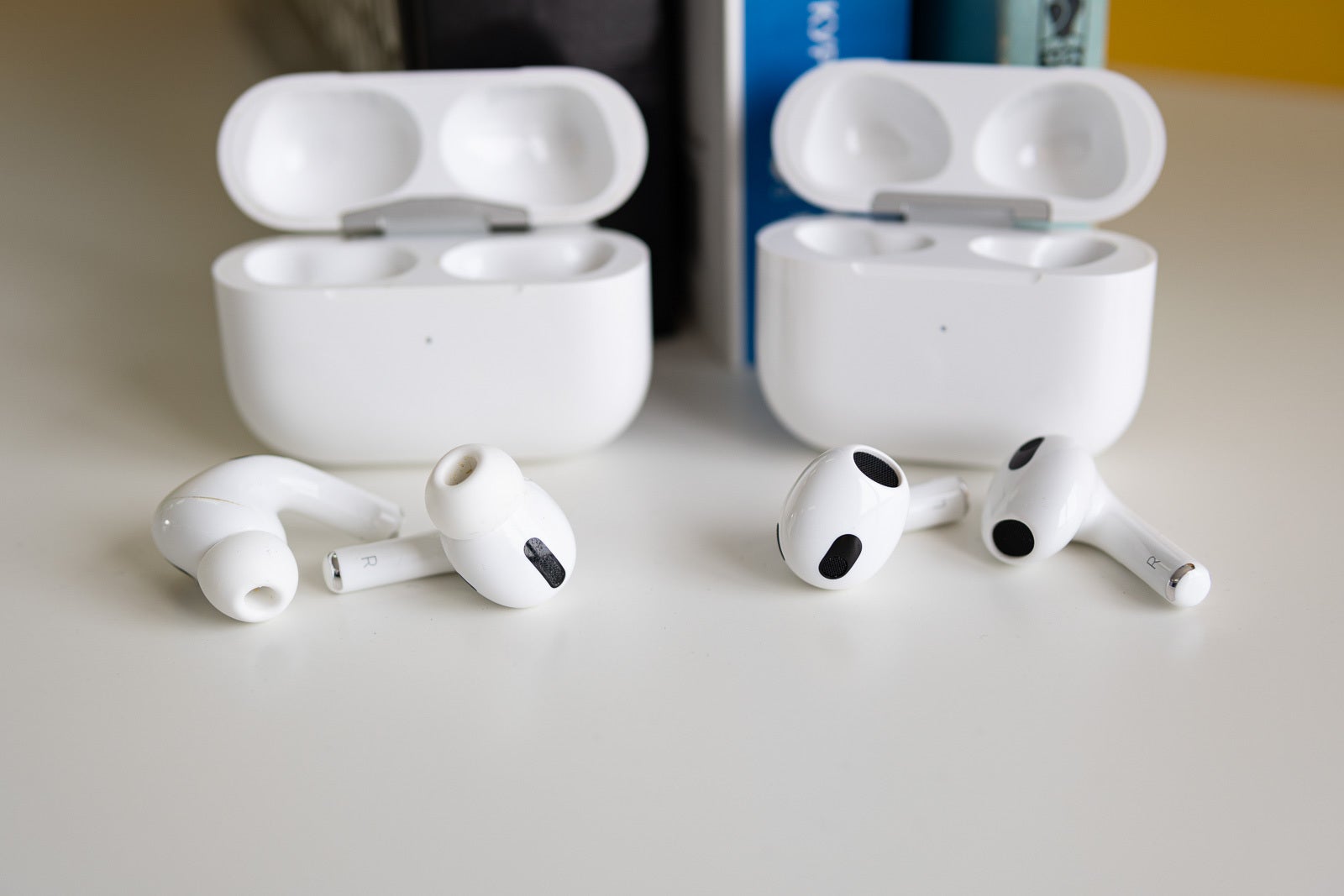 AirPods Pro (left) and AirPods 3 (right)
The earbuds themselves are quite similar too, with the only notable exception being that the AirPods Pro have rubber eartips, while the AirPods 3 do not. Both AirPods earbuds have the same-size stems, much smaller than those of older AirPods.
And on their stems, both the AirPods 3 and AirPods Pro earbuds have touch-sensitive ridges for quick actions like play and pause.
In terms of durability, both the AirPods 3 and AirPods Pro are IPX4 sweat and water resistant, so either should be just fine for use during a light rain or at the gym.
AirPods 3 vs AirPods Pro: Fit and comfort
If you're the type of person who is irritated by rubber eartips, you'll likely find the AirPods 3 more comfortable, as they don't have any. Still, the AirPods 3 earbuds fit very nicely in the ear and should stay securely without a risk of falling off.
But we've heard reports of them falling out during vigorous exercise, and while that wasn't the case when I was testing them, it's something to keep in mind.
The AirPods Pro definitely fit more securely in the ear thanks to their rubber eartips, and thus are arguably better for the gym.
In terms of comfort, though, the AirPods 3 are more comfortable precisely due to their lack of rubber eartips. They don't hold pressure on your ears, nor do they seal your earhole perfectly like the AirPods Pro's rubber tips do, which might have a small impact on noise isolation and sound quality, but is ultimately the better choice for you if rubber eartips irritate your ears.
AirPods 3 vs AirPods Pro: Controls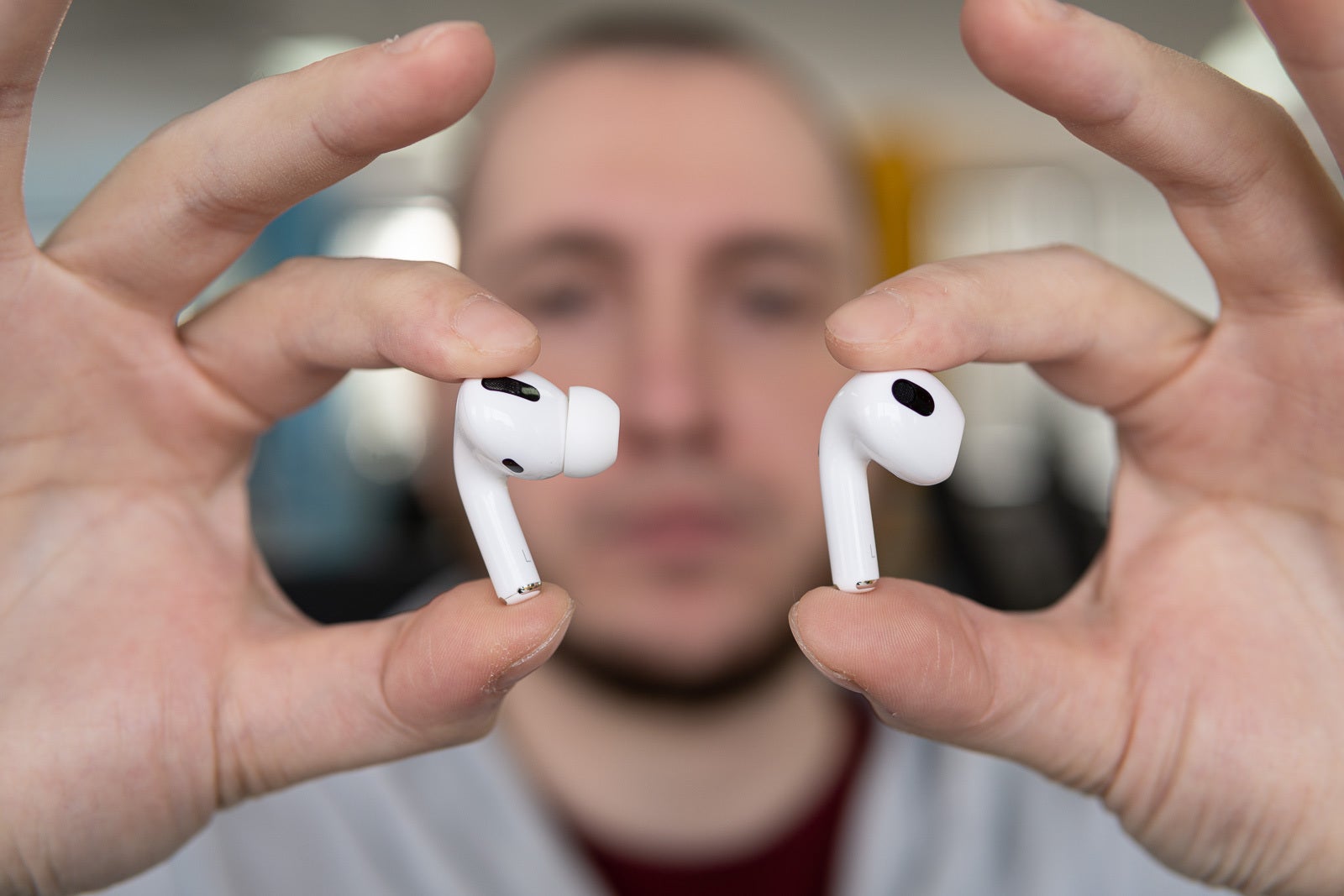 AirPods Pro (left) and AirPods 3 (right)
As mentioned earlier, both the AirPods 3 and AirPods Pro earbuds have small ridges on their stem, and you press those once or several times to trigger actions. Those actions could be to answer a phone call, play or pause your music, skip to the next or previous song and activate Siri.
Triggering those quick actions on either AirPods feels accurate, as it requires firm presses on the ridges. This is unlike on other earbuds, like Samsung's Galaxy Buds, where merely brushing your finger against the touch area usually pauses your music on accident. No worries about accidental pausing here.
AirPods 3 vs AirPods Pro: ANC and spatial audio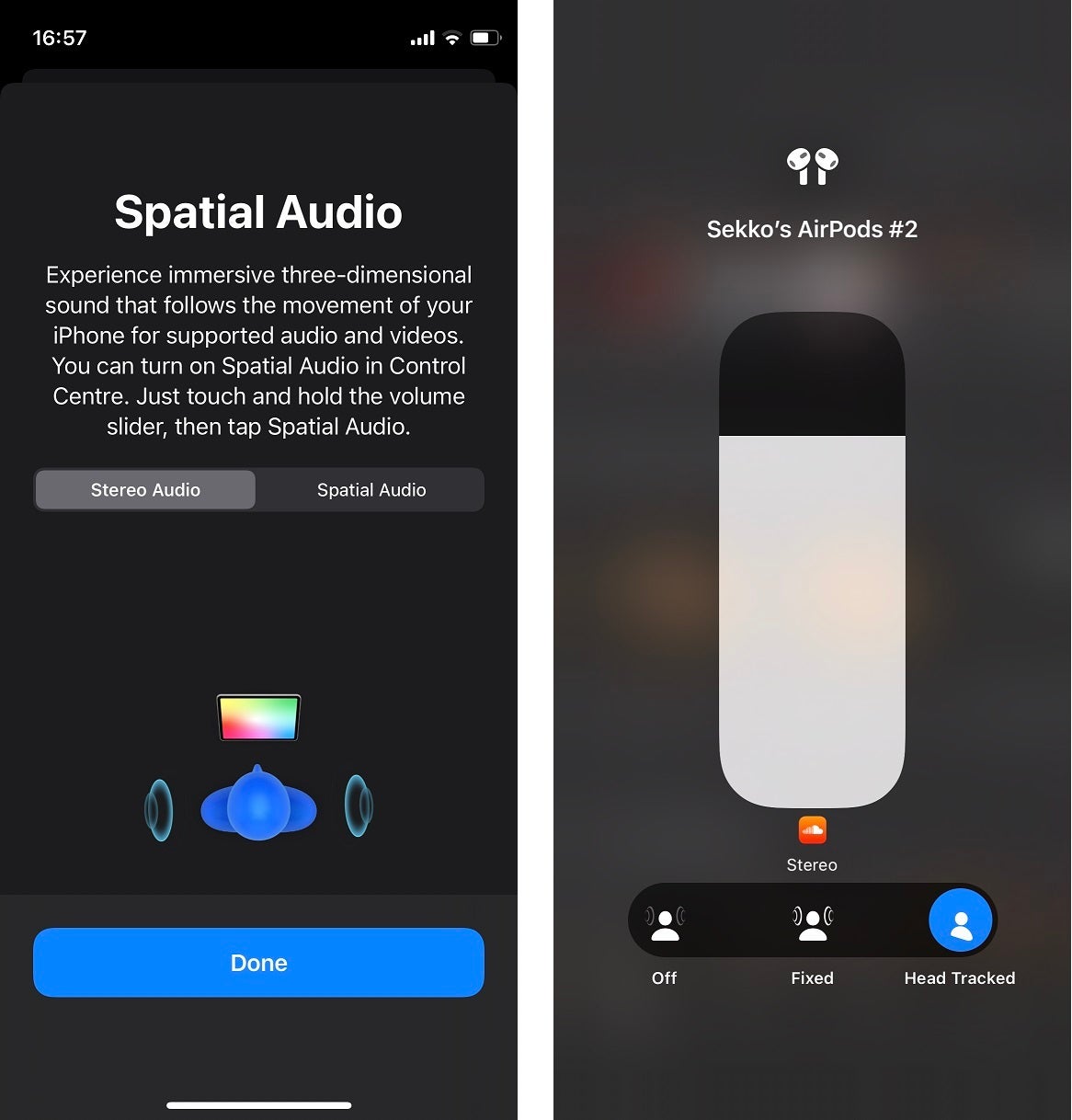 This is the most notable difference between the AirPods 3 and AirPods Pro – the Pro have ANC (active noise cancelling) and the AirPods 3 do not.
The ANC of the AirPods Pro is arguably some of the best you can get on any earbuds at this price point, as when it's on – it silences the entire world around you perfectly, unless you're in an extremely noisy environment.
ANC is a particularly useful feature to have if you work in noisy environments or often work out at the gym and don't wish to be disturbed, but be in your own world.
Along with that, another feature the AirPods Pro have that the AirPods 3 don't is Transparency mode, which lets you hear the outside world when you need to know what's happening around you, so you can always switch to that and out of the complete isolation of ANC.
As mentioned, the AirPods 3 don't have ANC (or Transparency mode), and don't really have any decent passive noise isolation either, so wearing them, you'll likely be hearing your environment, at least if your music isn't too loud.
However, if you listen to loud music, there's a good chance you won't hear your environment even without ANC, although your music may bleed out a bit and irritate those around you more than it would on the AirPods Pro, which don't let any noise come out.
As for spatial audio, both the AirPods 3 and AirPods Pro have that. When enabled, this feature makes your music sound more spacious and dynamic than it normally is, as if it's surrounding you, rather than coming from just two static sources (the earbuds).
An additional feature worth mentioning is dynamic head tracking, which again both the AirPods 3 and AirPods Pro support. When enabled, the sound you're hearing will appear as if it's coming from the direction of your iPhone (or iPad) instead of being fixed to your head. For example, if you're watching a movie and you turn your head to the left, the sound will shift to mostly your right earbud, as your iPhone would be to your right.
AirPods 3 vs AirPods Pro: Audio quality
Both the AirPods 3 and AirPods Pro sound equally great for their price, especially with spatial audio enabled. Music sounds clear, with well-defined mids and highs and clean, punchy bass. There's no distortion or hissy highs to worry about, nor muddy bass.
However, because the AirPods Pro have rubber eartips that seal your earhole, your music might sound a tiny bit fuller on those, as none of it is bleeding out. With the AirPods 3, you don't get that perfectly isolated experience, where all of your music is going directly in your ears.
You really shouldn't choose between one or the other based on sound quality, as it's the same on both the AirPods 3 and AirPods Pro. But as mentioned, having rubber eartips (or not having them) introduces its pros and cons to consider.
AirPods 3 vs AirPods Pro: Battery life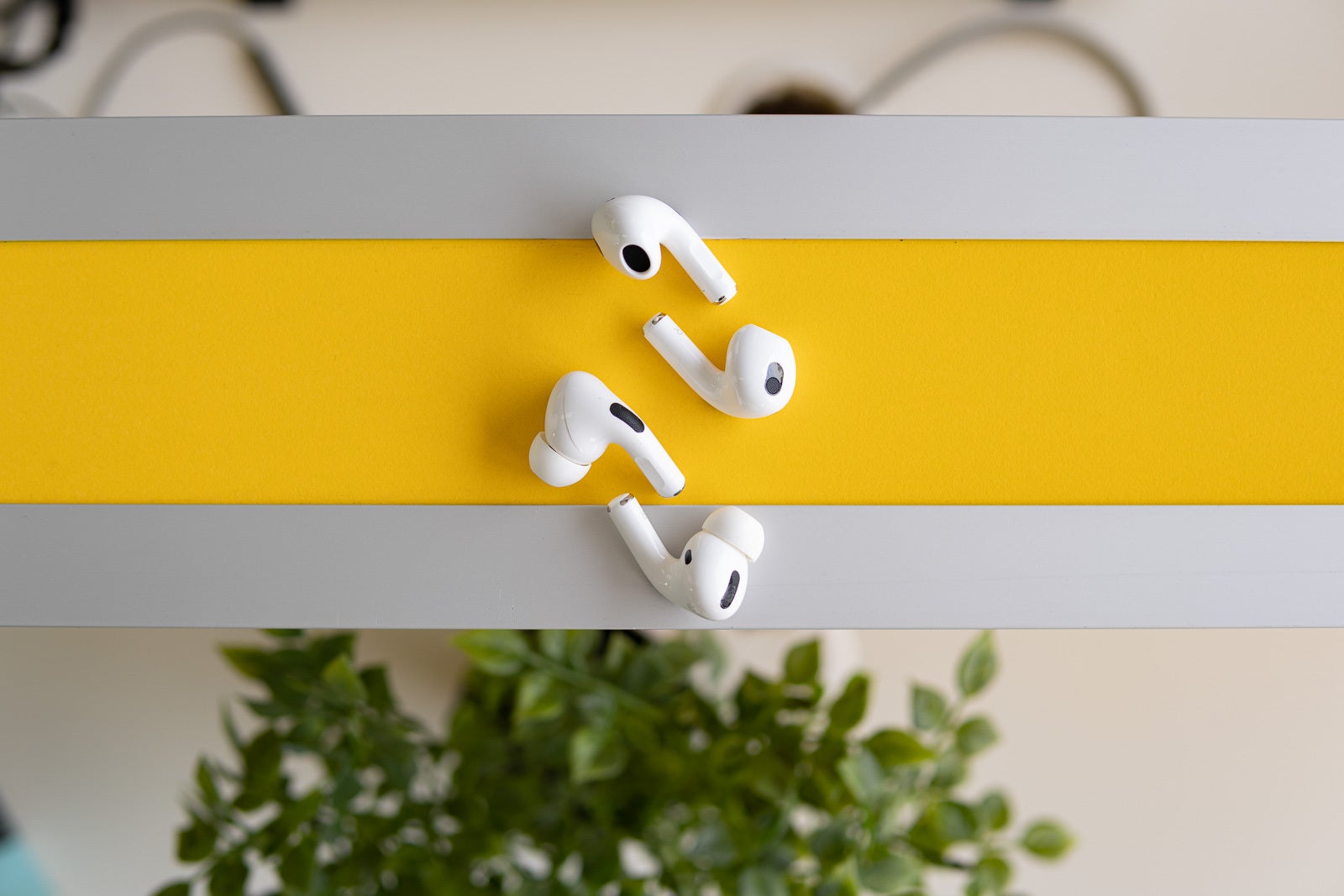 AirPods 3 earbuds (top) and AirPods Pro earbuds (bottom)
Both the AirPods 3 and AirPods Pro's charging cases can be charged either with a Lightning cable or wirelessly via MagSafe or any Qi-compatible wireless charger.
The AirPods 3 earbuds can last up to 6 hours on their own, 5 with spatial audio enabled. But if stored in their case between listening sessions, they can deliver up to 30 hours of music listening on a single charge.
Just 5 minutes of charging the AirPods 3 earbuds in their case delivers about 1 hour of music listening time.
The AirPods Pro earbuds can play music for about 4.5 hours of music or 5 hours with ANC and Transparency mode off.
With their case, they can deliver about 24 hours of music playback on one charge. And with the AirPods Pro earbuds, once again just 5 minutes in their case gives you about an hour of extra music playback.
So the AirPods 3 can technically last a lot longer, 30 hours versus 24, a good reason for that being that they don't have ANC, which has quite an impact on the battery life.
AirPods 3: Which should you buy?
Well, it's quite simple actually. If you're into fitness and exercise or work in loud environments, you'll likely prefer the stronger in-ear fit and ANC of the AirPods Pro.
But if you'd like to save on some money and enjoy a pair of similarly great Apple AirPods, that may not have ANC, but do support spatial audio, go with the AirPods 3.
Both pairs of AirPods are IPX4 sweat and water resistant, although the case of the AirPods Pro isn't, just the earbuds, so the AirPods 3 can be considered a bit more durable as a package.