Apple AirPods 3 review: Spatial audio steals the show
We may earn a commission if you make a purchase from the links on this page.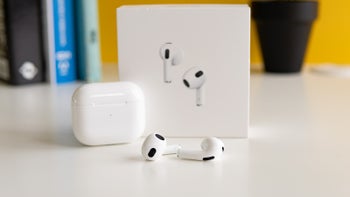 For their $179 price,
Apple
's new 3rd generation AirPods are a worthy pick if you're looking for truly wireless earbuds with fantastic sound, a stylish, curvy and portable design, solid battery life and Apple's newest gimmick – spatial audio.
And although the word gimmick has a negative connotation, spatial audio on the AirPods 3 might actually surprise you with a whole new music experience, one that you'll love and definitely can't get on any other headphones but Apple's.
AirPods 3: Design
As always, first impressions start with the packaging, and we have the usual white box Apple's products normally come in. But there's faint embossing on the AirPods 3 earbuds printed on the top of the box, which is a nice touch.
Slide the bottom of the box out and we get some documentation, a Lightning to USB-C charging cable, the AirPods 3 charging case, and inside of it – the earbuds themselves. No rubber eartips, as the AirPods 3 don't use those, which might be a bonus to those that find them irritating like I do.
The AirPods 3 charging case has a familiar glossy white plastic design with a metal lid hinge, a pairing button on the back and a Lightning port on the bottom. The case is visibly smaller than the AirPods Pro case and about as large as the AirPods 2 one.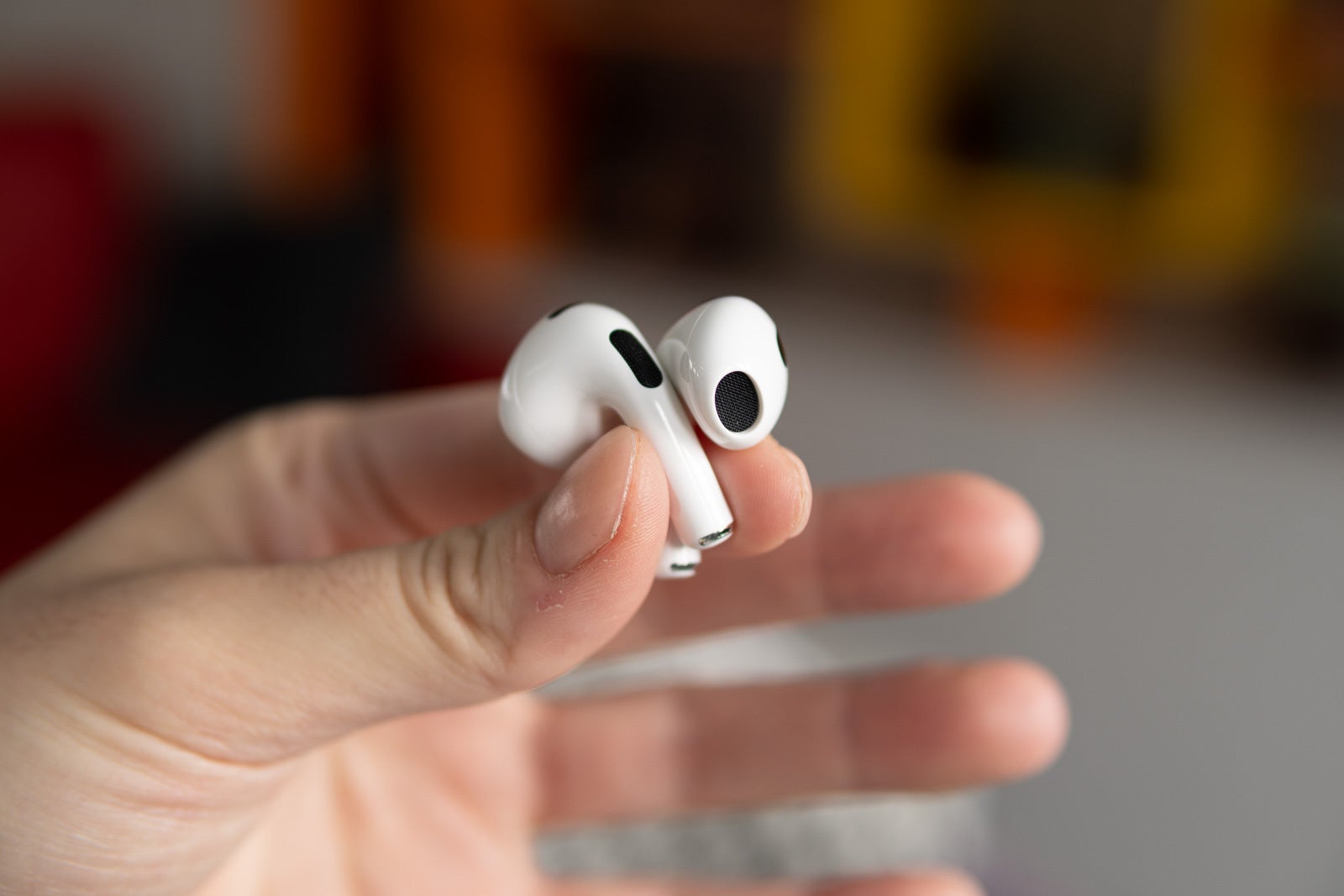 The AirPods 3 earbuds themselves are cute and small, also made out of white plastic, with some black accents and stems that are significantly smaller than the AirPods 2. The length of the stems and the earbuds' design in general is about the same as on the AirPods Pro, minus the rubber eartips, of course.
All in all, the AirPods 3 earbuds and their case are a very light and portable package that should fit in any pocket just fine. In terms of weight, the AirPods 3 case and the earbuds together are just about 1.64 ounces (46.47 grams).
And in terms of durability, the AirPods 3 (both the earbuds and the charging case) are IPX4 sweat and water resistant, so whether you're working out at the gym or walking outside during a light rain, you can use them without any worries.
AirPods 3: Fit and comfort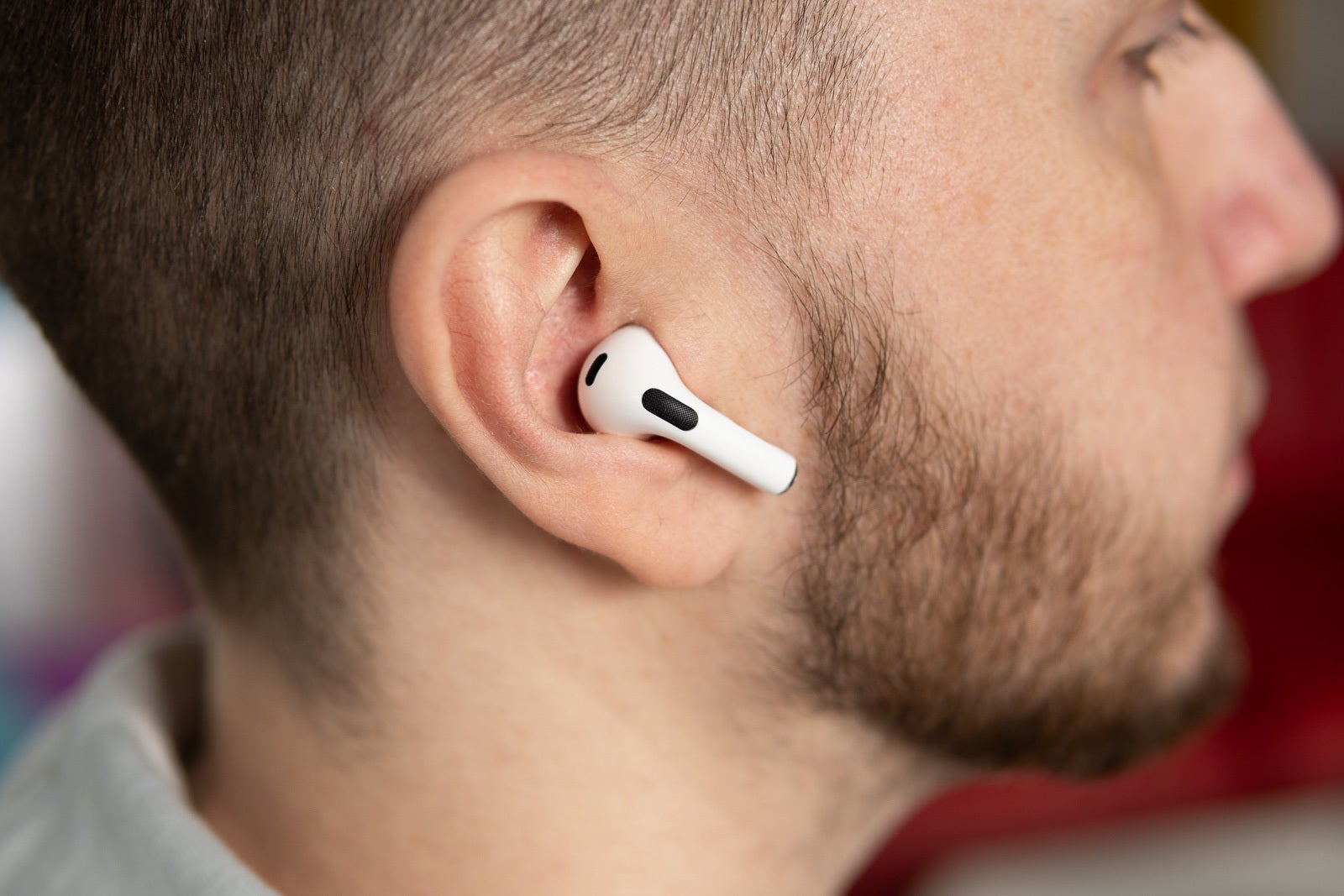 Thanks to their smooth and lightweight design, it's easy to forget that the AirPods 3 earbuds are even in your ears after not too long.
Their lack of rubber eartips means they don't exactly seal your earhole perfectly, nor do they provide good passive noise isolation.
And although the seal isn't perfect when I wear them, that doesn't seem to affect how the AirPods 3 sound. It may reduce how impactful the bass is in some cases, a tiny bit, but even still it's punchy enough.
The AirPods 3 earbuds likely won't be falling off your ears, they're staying in there pretty tight despite what their design suggests at first glance. At least in my case no amount of shaking and not a single reasonable workout got them to budge, although I've heard that they can indeed fly off some people's ears if they try hard enough.
It's up to the individual and their unique ear shape as always, but unless you're making an effort, the earbuds shouldn't fall off your ears or even budge.
And their lack of eartips, as mentioned earlier, can actually be a plus for many, as rubber eartips can irritate people's ears quite a bit, especially after long-term listening sessions. No need to worry about that with the AirPods 3.
AirPods 3: Controls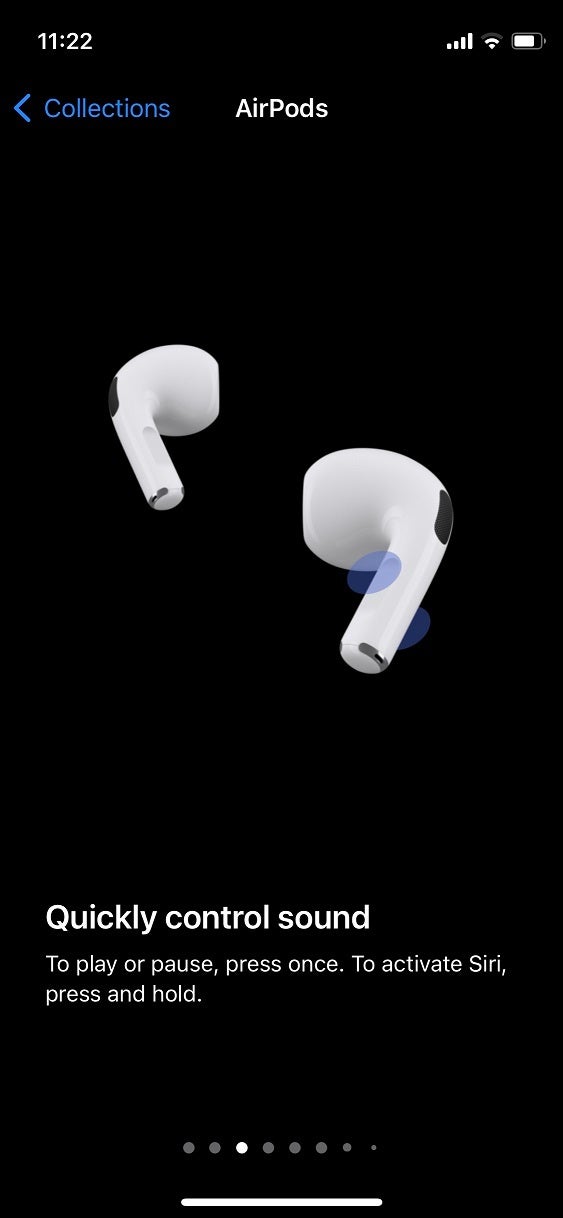 There's a ridge on each AirPods 3 earbud, and that's where you have to press to trigger a quick action. One press to play, pause or answer a phone call, two to skip forwards, three to skip back.
Unlike with Samsung Buds, accidentally triggering the AirPods 3's touch gestures isn't an issue, as you really have to press the touch area to trigger it, not simply brush your fingers against it.
Each click is followed with a reassuring clicking sound from the earbuds, so you can tell how many clicks were detected. Not that you'll ever get it wrong, as the touch detection is impressively accurate, so long as you know to press a bit harder than you normally would on any other touch-sensitive earbuds.
If you have Siri enabled you can also press and hold or say "Hey Siri" and just ask the virtual assistant to do something for you, be it increase the volume or start a call. Even if your music is playing at high volume Siri will hear you and lower it as it waits for your commands.
Unfortunately you don't really get any fun customization options, for example the ability to change the touch controls to, say, be used for volume adjustment, so for things like that you'll have to reach for your iPhone. Or, as mentioned, just ask Siri.
Speaking of gestures, the AirPods 3 will activate when you put them on and pause your music as soon as you take them off, which is convenient and always welcome.
There's no gesture for enabling ANC (active noise cancellation) because the AirPods 3 don't have it. If you want ANC you'll have to go with the
AirPods Pro
instead.
AirPods 3: Audio quality with spatial audio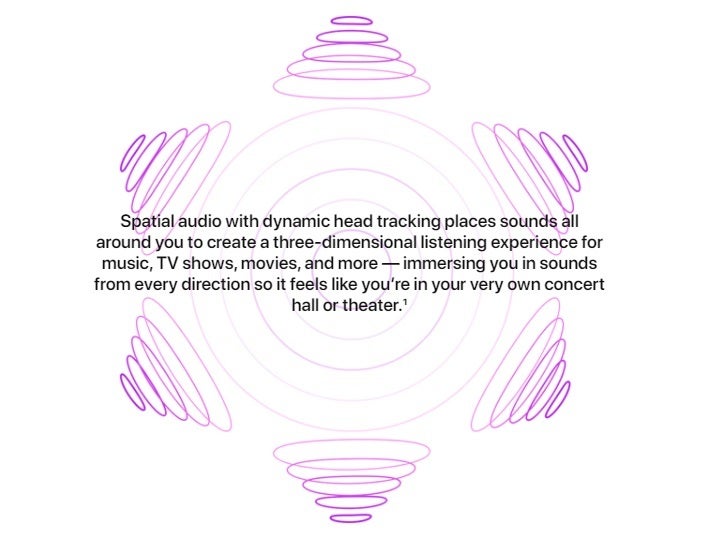 How Apple explains the AirPods 3's spatial audio feature
The AirPods 3 excel in their sound quality, especially for their price range, unless you choose to disable spatial audio, which is on by default. And because it's on by default, and I doubt many would choose to disable it, we'll start with how the AirPods 3 sound with spatial audio on.
Now, Apple definitely knows how to make old things feel like garbage, compared to its new things. In this case, the old thing is how music sounds without any equalization and processing, and Apple's new thing is spatial audio, which does just that.
I've worked as an audio engineer, so I can hear and confirm that Apple is using all the tricks in the book to make spatial audio sound epic – keep the low-end in the center of the soundstage, spread out the highs, boost certain frequencies that make music sound more impactful...
The directions instruments are coming from become more defined, so you might even hear details in your favorite songs that you've missed.
Spatial audio definitely enhances most songs to feel more exciting, spacious, with a thumper bass. So if you've been using any traditional earbuds until now, even if those were technically good-sounding, experiencing your favorite songs with the AirPods 3 and spatial audio might wow you quite a bit.
However, if your favorite music genre is already super loud and not that detailed, like hard techno or dubstep for example, don't expect that to sound vastly improved with spatial audio. But listening to your favorite jazz or house songs, trap, hip-hop, anything that isn't overly-loud can really feel like a new experience, even if you've listened to those tracks countless times before.
Of course, I wouldn't want to oversell spatial audio as Apple does. At the end of the day it's just stereo enhancements and equalization – it's well done, but not something everyone will love. If you want your music to sound just as it was intended to, instead of not overly-spacious and dynamic, you may be better off disabling spatial audio.
AirPods 3: Audio quality without spatial audio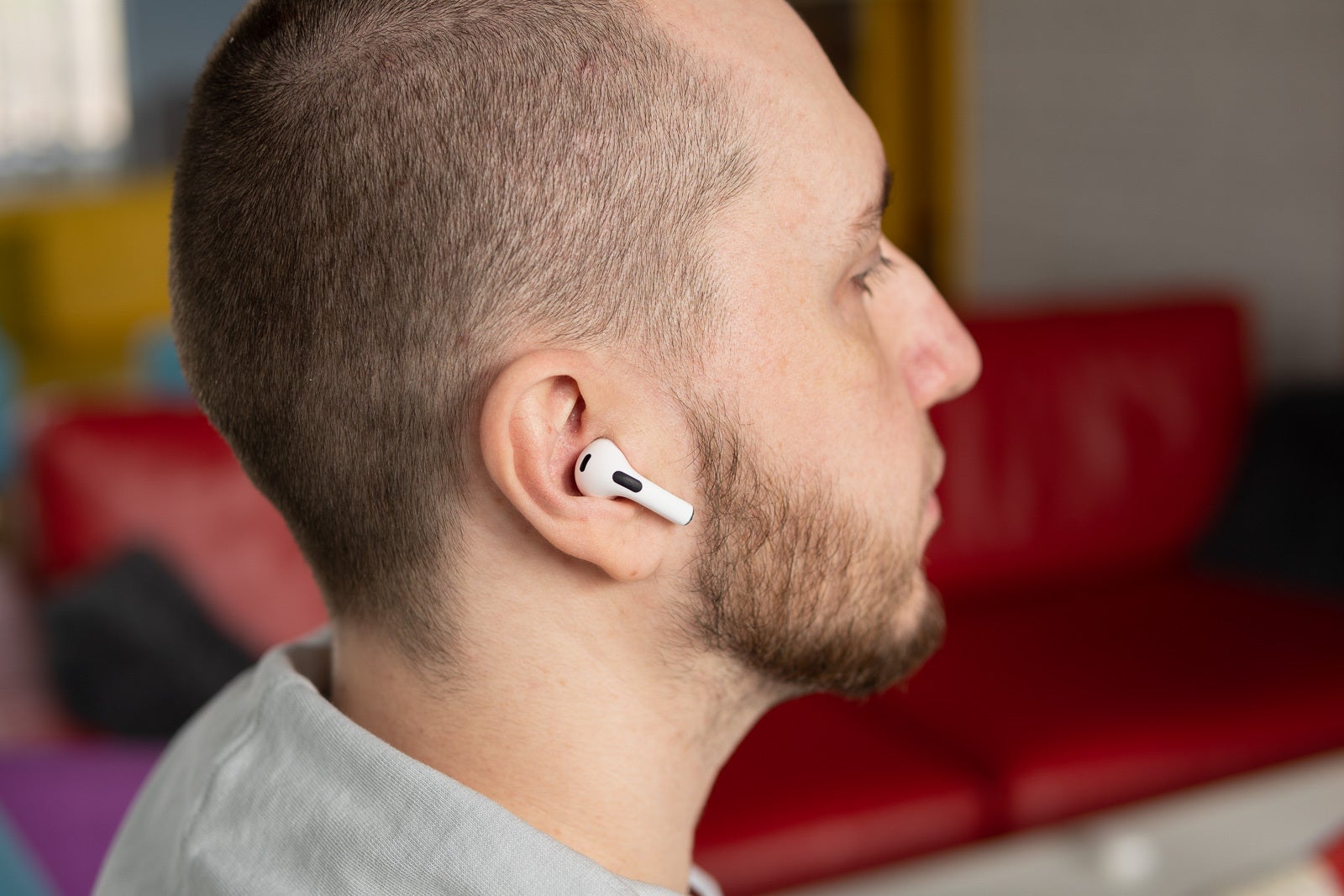 Like I said, at first disabling spatial audio feels like you've just switched your AirPods 3 with a $10 pair of earbuds off the shelf of a gas station. That's not to say the AirPods 3 sound bad without spatial audio, not at all, it just feels that way immediately after disabling spatial audio, because it has that much of an effect on your songs.
From spacious and epic your music becomes so boring-sounding and centered (as opposed to wide), like it normally is on any average earbuds.
The crisp mids and highs and the clean bass of the AirPods 3 are still there without spatial audio. They still sound either better or equal to other earbuds at this price point, but spatial audio definitely takes that up a few notches, so you'll probably want to just keep it on for casual listening and watching movies.
The good news is you're not forced to choose. Spatial audio is here if you want it, but can always be disabled if you decide to go with the more traditional music experience you may be accustomed to from using older AirPods models.
AirPods 3: Head tracked spatial audio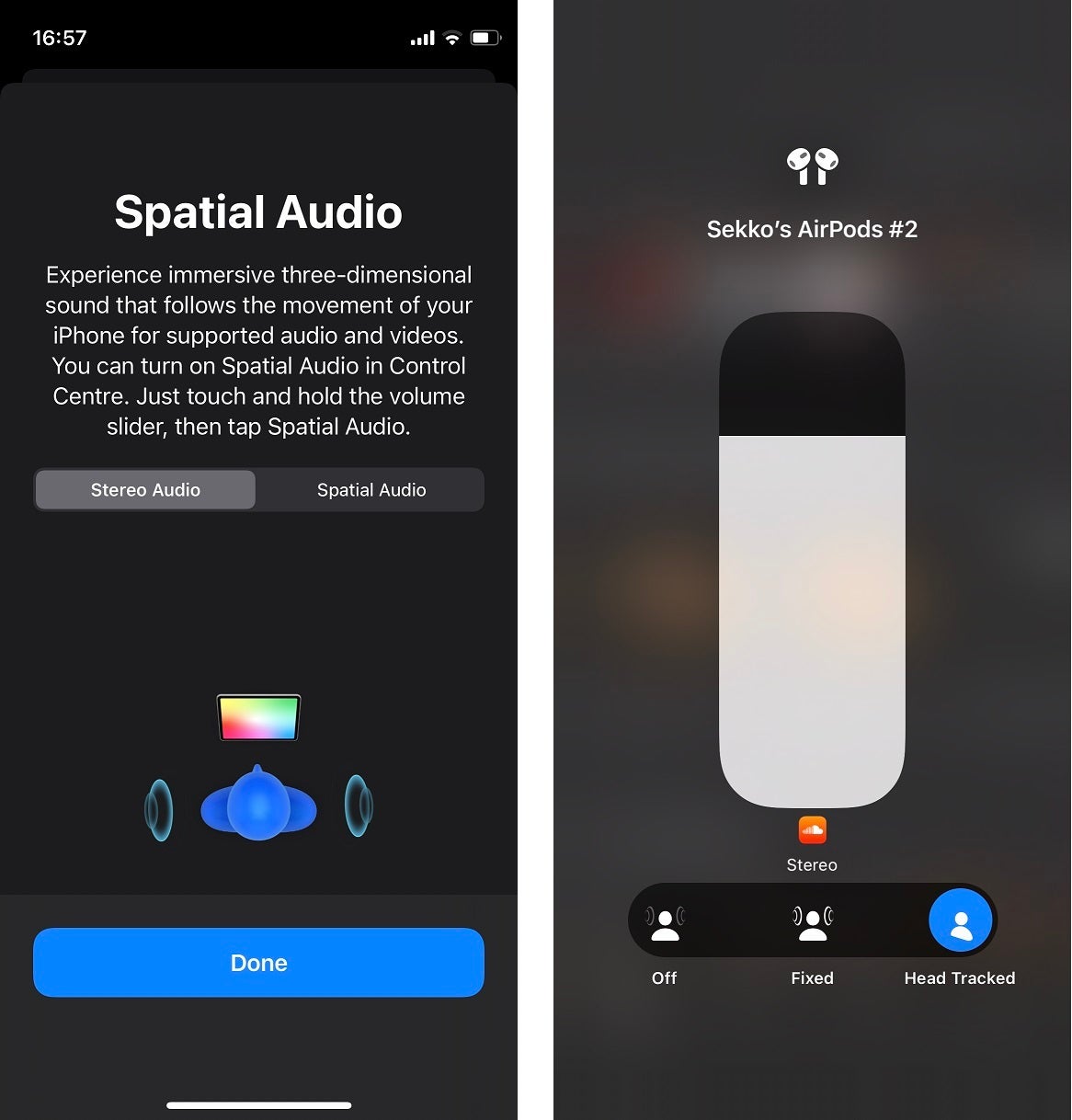 For some reason this is enabled by default too. With this option on, your music will sound as if it's coming from the direction of your iPhone, as opposed to it just being fixed to your head. If your iPhone is to your right, most of the audio will shift to your right earbud, and so on.
It's a cool effect to freak you out at first, like it did me, since I was not expecting it on by default, but yeah, it's a bit pointless. Or at least pointless for normal music listening where you want your music to be fixed to your head, not shift around depending on where your iPhone is.
But say you're watching a music concert or a movie on your iPhone, having spatial audio with dynamic head tracking might actually be a nice experience for you then. Because it does really feel like the music is coming from your device as opposed to just surrounding you. It's like you're watching a movie on your iPhone normally, as if using its built-in speakers, yet no one can hear them but you. Trippy!
Again, I didn't really like this feature, but it might be your cup of tea. It's a cool party trick, and I can see people enjoying Netflix or YouTube with it.
AirPods 3: Microphone quality
If you're planning on using your AirPods 3 for video conferencing and making phone calls, you can expect your voice to sound clean and understandable. Those microphones aren't exactly impressive, any more so than the microphones of your average earbuds at under $200, but Apple does praise them for having good wind isolation.
And indeed, when I made a few calls on a windy balcony, the people on the other side didn't complain about traditional wind noise, just noted slight popping. My voice remained loud and clear. So for any long-distance socializing, the AirPods 3 won't disappoint, even during the upcoming windy holiday season.
In addition, you get what Apple calls HD voice quality for FaceTime, which uses a new AAC-ELD speech codec, that basically aims to reduce any audio delays during calls.
AirPods 3: Pairing, Bluetooth range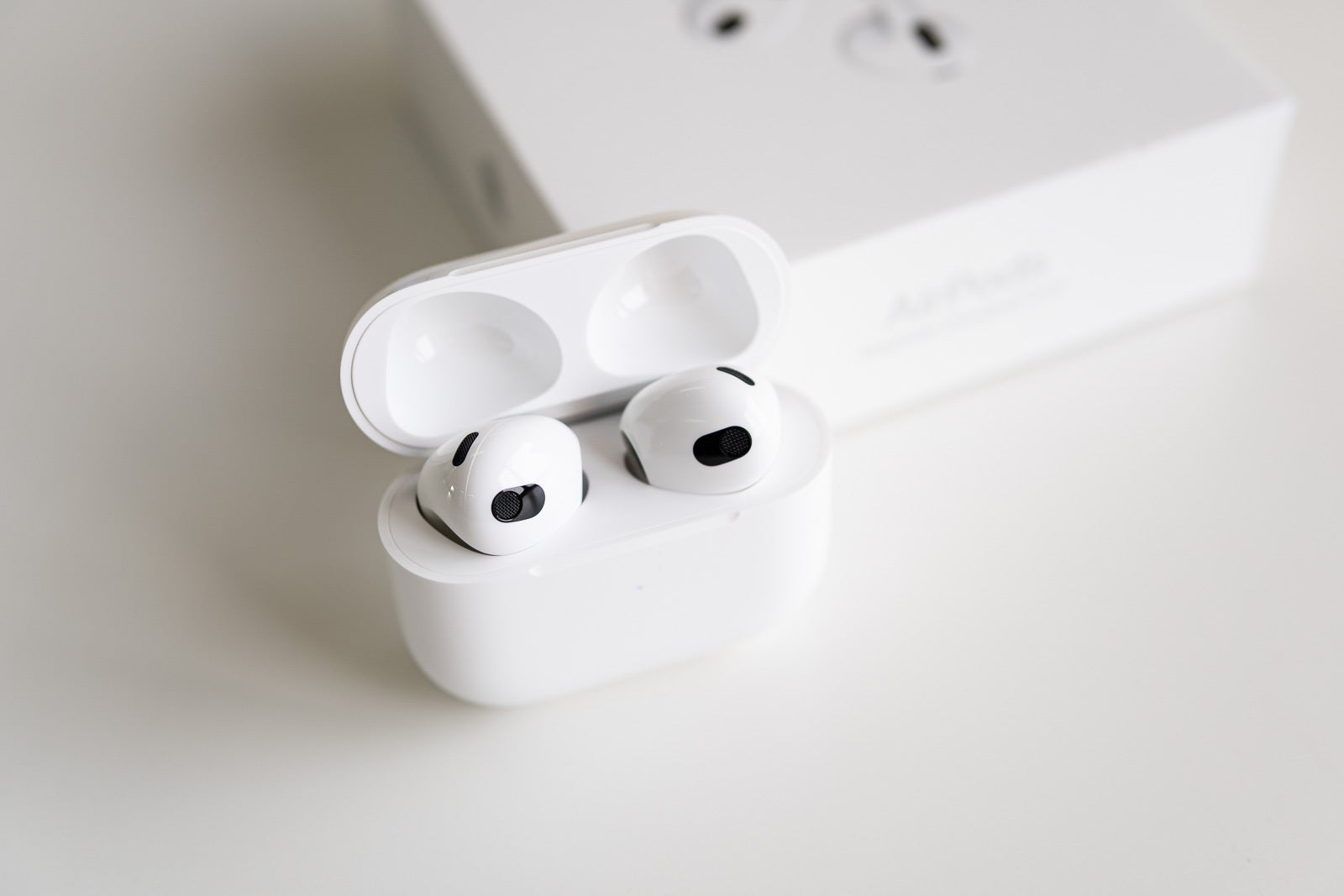 The AirPods 3 use Bluetooth 5.0 to connect with your iPhone, iPad, Android phone or computer. Pairing them to an Apple device is as simple as opening their case near it and you'll get the option, plus a nice short tutorial on how to use the earbuds. However, in my case that tutorial showed some AirPods Pro features that these earbuds don't have, like ANC, so I'm guessing Apple needs to update it a bit.
In any case, pairing the AirPods 3 to an Android phone or a computer is also pretty simple, just press the pairing button on the back of the AirPods 3 case, then find and pair them on your device as you normally would with Bluetooth headphones.
The Bluetooth range of the AirPods 3 is impressive, long enough that you're able to leave your phone in one room and walk around the rest of your apartment with the AirPods 3 in your ears without any interruptions.
AirPods 3: Battery life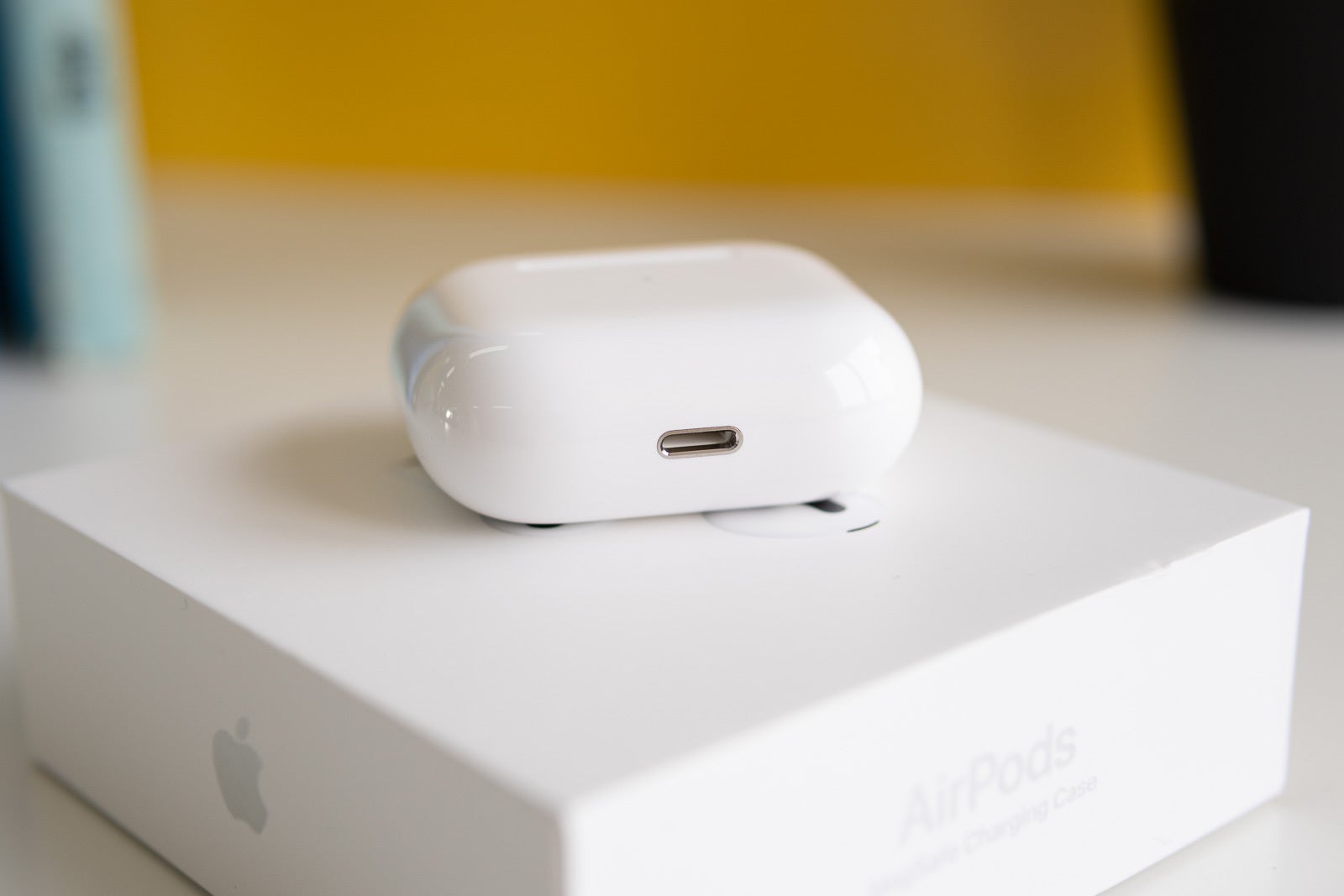 You can charge the AirPods 3 case with either a Lightning cable or wirelessly, via MagSafe or any Qi-certified charger, which is a great bonus.
According to Apple, the AirPods 3 earbuds alone can last up to 6 hours of listening time, or 5 hours if spatial audio is on. If stored in their case in between listening sessions, the AirPods 3 can get you up to 30 hours of music playback or 20 hours of talk time on a single charge. Storing the earbuds in the charging case for just 5 minutes can get you around an hour of listening time.
So it's safe to say that charging the case just once can get you through a full week of 4-hour music sessions per day.