Why wait for the OnePlus 11 when the OnePlus 10T is on sale at these excellent prices?
4
We may earn a commission if you make a purchase from the links on this page.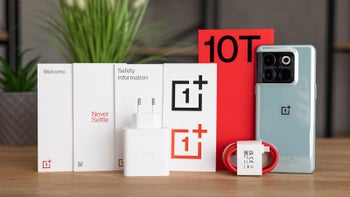 Unveiled in China at the very beginning of the year, the state-of-the-art
OnePlus 11
is just about ready for its highly anticipated
US expansion
. But is this the handset that will best fit your needs (and budget)?
If you're a hardcore fan of the brand and an absolute Android power user, it sure might seem that way, but if the recently concluded holiday shopping season left you with a big hole in your bank account, it's probably a good idea to try to keep your spending in check by considering the
OnePlus 10T
.
While we don't expect the
OnePlus 11
to be anywhere near as expensive as Samsung's
Galaxy S23 Ultra
beast, for instance, stateside, it's hard to imagine its retail pricing will come down below the $900 or so mark.
In contrast, the equally jumbo-sized and slightly less powerful
OnePlus 10T
normally starts at only $649 and currently goes for as little as $549 with absolutely no strings attached. Yes, these are fully unlocked 5G-enabled units we're talking about here equipped with a decent 8GB RAM count and 128 gigs of internal storage space.
You can choose between Moonstone Black and Jade Green colors as far as this entry-level configuration is concerned or opt for a single black flavor of a higher-end variant with 16 gigs of memory and 256GB storage at an also very reasonable $649 after its own $100 markdown.
By no means unprecedented, this $100 discount remains fairly rare, returning today
after a little while
and very rarely covering all three OnePlus 10T models mentioned above.
Granted, Best Buy can currently slash a heftier $200 off the list prices of these 10T versions, but only with upfront carrier activation, which we know some of you will view as a major dealbreaker.
In addition to packing a slightly older and slower Snapdragon 8+ Gen 1 processor than the
OnePlus 11
, the 10T is also not quite as advanced in the display and camera departments. But the 4,800mAh battery is plenty large and incredibly fast, supporting industry-leading 125W charging technology. And the rest of the specs are not bad for $549 and up either.
Recommended Stories