Verizon Up rewards program levels up to better compete against T-Mobile Tuesdays
1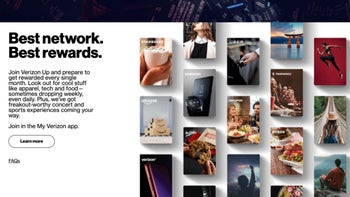 If
T-Mobile and Sprint's merger
is not ultimately approved, which seems increasingly likely, the US wireless market duopoly has a very good chance of maintaining that status quo for years to come. Then again, while
Verizon and AT&T
are obviously in no immediate danger of being overtaken by T-Mobile in terms of subscriber numbers anytime soon,
the "Un-carrier's" recent gains
are also not to be ignored.
Namely, instead of having to spend $300 to score credit you can then use towards a reward, you'll now receive a little something, something free of charge every month. That still doesn't sound as convenient and advantageous as the incredibly popular
T-Mobile Tuesdays program
, but it's definitely a step in the right direction. After all, Magenta's perks were
estimated at one point
to bring customers extra yearly value on their wireless plan of over $1,500, compared to a measly 300 bucks or so available in rewards and freebies from the likes of Verizon.
That's a pretty insane gap Verizon seems to be working towards narrowing with the aforementioned revision, as well as limited Super Tickets to "freakout-worthy experiences" like exclusive stageside access to Shawn Mendes and Camila Cabello concerts, and last but not least, more small stuff offered more often. We're talking free coffee, meal vouchers, movie tickets, and generally pretty much the same things you usually
get from T-Mobile every Tuesday
. Don't forget to join
Verizon Up at this link right here
.