Verizon revives T-Mobile-rivaling 'Netflix on us' deal for a 'limited time'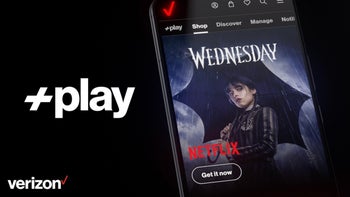 If you're the least bit familiar with the
best T-Mobile deals
available for new and existing subscribers right now, you probably know a few of those are simply unrivaled in today's US wireless landscape. We're talking about both killer promotions on devices like
Google's Pixel 7 and 7 Pro
and unbeatable
freebies for fans of baseball
or
soccer
.
But the most popular T-Mobile offer might be the complimentary Netflix access many customers can get just for being customers, which
Verizon
is now (kinda, sorta) challenging.
This is obviously something that T-Mo does not require, involving the purchase of an annual subscription to a different service at regular price through
Verizon's +play hub
. Once you fulfil that requirement and pay for 12 months of AMC+, Calm, MasterClass, Paramount+, Peloton, STARZ, or Super Duolingo access, you will be able to get a free 1-year Netflix Premium subscription saving you a whopping 240 bucks.
With Ultra HD support, no ads, and simultaneous streaming capabilities for up to four devices, Netflix's Premium tier is of course a lot better (and costlier) than the Basic or Standard plans you can score at no charge as a T-Mobile customer.
But while undeniably superior from that standpoint, Verizon's Netflix offer does come with a 12-month expiration date and the +play prerequisite some of you may find too inconvenient to try out. For its part, Big Red is unsurprisingly trying hard to highlight the convenience of having all your content services "together now" in a "subscription hub" that seems to have completed its public beta tests.
In addition to this revived Netflix deal, Verizon +play will pick up 10 new partners on March 12, including Blue Apron, FlixLatino, Kocowa+, Hallmark TV, Marquee TV, MasterClass, Paramount+, Quello Concerts by Stingray, Up Faith and Family, and Wondrium. Those are... not the biggest names in the streaming industry, but of course, Netflix, HBO Max, and a bunch of others were already supported.