Best Tesco Mobile phone deals in March 2023
We may earn a commission if you make a purchase from the links on this page.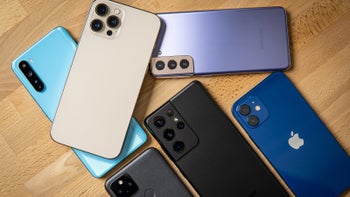 Tesco Mobile, UK's biggest retailer, is also offering mobile services – phone plans and phones, and on top of that, for great prices. The carrier works as an affordable mobile service provider (MVNO) that uses O2's network, meaning it has coverage everywhere where O2 has and offers 5G, 4G, and 3G mobile internet. But that's not all: the carrier actually has generous deals and discounts on pay monthly phones, as well as SIM-only deals, with 5G (for supporting phones) at no extra cost.
Currently, Tesco Mobile has three ways that you can buy a phone: a pay monthly option (with a contract), pay as you go, and sim-free phones. As you may suppose, the newest flagship phones are available with a pay monthly contract, but nevertheless, Tesco Mobile offers many options you can chose from.
On top of all of this, Tesco Mobile is a great place to find generous phone deals, because it also allows you to modify the upfront payment for your phone of choice, as well as the length of your contract. Yes, this way you can get the best deal you're looking for.
With that being said, let's examine what are the best phone deals Tesco Mobile is currently offering in March 2023.
Jump to:
Best Tesco Mobile phone deals right now
Currently, the carrier (and biggest retailer in the UK) has a plethora of awesome deals on a lot of phones, so it's quite possible your phone of choice is listed here with all the offers. The service provider offers deals on the newest iPhones and Galaxy phones, as well as on more affordable handsets.

A quick disclaimer: all the monthly prices we have detailed here are based on the recommended Tesco Mobile data plan at the time of writing and are subject to change depending on your selected tariff.
Check out other UK deals selections:
Best Tesco Mobile Samsung Galaxy deals
Okay, we start with Samsung phones. If you're looking for your next Galaxy upgrade, Tesco Mobile is ready to offer you a lot of deals across a lot of different Galaxy models. The carrier is offering a great trade-in offer for the
Galaxy Z Fold 4
and
Z Flip 4
, the
Galaxy S21 FE
,
and the
Galaxy S22
and it's bigger sibling. You can also claim some free stuff with your purchase right now.
And, for the newest addition to the Galaxy family, the S23 series, Tesco also has some sweet discounts. The
Galaxy S23 Ultra
is available with Clubcard prices. See all the generous deals down below.
Best Tesco Mobile iPhone deals
Tesco Mobile has good offers right now in the iPhone department. The new
iPhone 14
, the
iPhone 13
and its family get Apple TV+ free trials, and so does the powerful and yet affordable
iPhone SE 3rd gen
.
Best Tesco Mobile Motorola deals
On the Motorola front, you get no price hikes unlike many other carriers. For the moment though, there are no other Motorola deals. This article gets regularly updated so don't hesitate to check back later for changes.

Best Tesco Mobile Oppo deals
Oppo has been gaining popularity recently. However, there are no deals at Tesco Mobile on Oppo phones at the moment. When this changes, we'll make sure to include the offers here. Check back later.

Are Tesco Mobile deals worth it?
Tesco Mobile is actually the first retailer that has decided to jump into the mobile service providing, and has managed to earn itself the respect of its customers when it comes to choice and customer service. As you can see above, the carrier offers a wide variety of deals across the most premium handsets, as well as more affordable and budget-friendly devices, as well as bundles to complete your mobile ecosystem. The deals it offers are worth it for many reasons, and on top of that, the service provider often has more than one deal on a device that you can benefit from.
Additionally, Tesco Mobile offers Clubcard prices for some of the phones in its portfolio which can get the deals even more irresistible. Pretty much, that's one of the carriers that offers quite a wide variety of generous deals, and if you're looking to save some money, we would definitely recommend checking out Tesco Mobile.

Can I keep my number if I switch to Tesco Mobile?
Yes. In order to keep your current number and switch to Tesco Mobile, you will need to get your PAC code. Before you switch, text PAC to 65075 for free from your old phone, using your old SIM Card. You will get your PAC code within 60 seconds as a text message, and it will remain valid over the next 30 days. Then, you need to port your phone number to Tesco Mobile.

To port your number to Tesco Mobile, you can text PORT to 23424 for free from your new SIM (when it arrives). If you don't want to wait for your new SIM to port your number, you can also give your PAC code when Tesco Mobile is processing your order. Switching your number to Tesco Mobile will be done as quickly as possible, but keep in mind that the process may sometimes take up to 5 days to be completed.
How easy is it to switch to Tesco Mobile?
It is quite easy to switch to Tesco Mobile. If you want to keep your current number and use it with your new SIM, you need to follow the procedure above and get your PAC number. If you prefer to ditch your old number and get a new one, you will need a STAC code.

To get your STAC code, you can text STAC to 75075 for free from your old phone, before you switch. Within the next 60 seconds, you will receive a text message with your STAC code, and it will be valid for 30 days. You then need to give your STAC code to Tesco Mobile so the carrier can move your connection. And that's it!
Do Tesco price match on phones?
Well, no. Tesco has a price matching policy but it does not apply to electronics (yes, including phones). So far, for 2022, Tesco does price matches on food items in a wide range of stores. But no, phones aren't included.

Is Tesco Mobile as good as EE?
EE is the best network in the UK both in terms of coverage and speed, and it does outmatch Tesco Mobile in this department. However, if you want a low price and flexibility, Tesco Mobile is worth considering. It piggybacks on O2's network, so it is a great choice if you're already a Tesco or O2 customer.

Can I get an upgrade on Tesco Mobile?
Yes. Tesco Mobile has something called Anytime Upgrade Flex, which allows you to change your plan at any time (up, as well as down), as well as upgrade your phone whenever you want. The Anytime Upgrade Flex plan allows you to upgrade your new phone at anytime in your contract, without any extra charges. As for the data allowance, you can flex it down as well as up, again anytime in your contract.

Why choose Tesco Mobile?
Tesco Mobile offers a very impressive range of services, which make choosing it a great option. The service provider has all the latest handsets, it offers flexible contracts and a great range of SIM-only deals, such as Unlimited Data. On top of that, it runs on O2's network, so it has great 4G coverage and 5G available at no extra cost.

Throw in the mix the benefits of Clubcard points and exclusive Clubcard discounts, Tesco Mobile offers great value for money. Additionally, customers declare it one of the best providers in terms of customer service and reliability too.

Tesco Mobile Extras and Benefits
Tesco Mobile has a lot of Extras and Benefits. For one, the service provider offers Family Perks if you have two or more Tesco pay-monthly phones linked to the same account. With this offer, you get to choose from several free extras every month, which include 150MB to 1GB of data, up to £2 off your bill, up to £2.25 off insurance, up to 200 Tesco Clubcard points, up to 500 minutes of calls to any network, and 500 minutes to other Tesco Mobile phones. And you can choose a new perk every month!

Additionally, Tesco Mobile offers Tesco Mobile Protect insurance for your new phone. You need to go for insurance as you're buying your phone (you can't add it after your contract has started). The service providers offers two different types of insurance: full cover in case of damage, theft, or loss; or damage insurance.
On top of that, you get Tesco Clubcard benefits like discounts and points, phone upgrades at any time, and free roaming in the EU (because it runs on O2's network).

Tesco Mobile trade-in and trade-up
As many of you may probably know, trading in your old phone and getting a bit of cash back is a great offer. Tesco Mobile can sort it out for you. With their Trade-in and Trade-up program you can either take the case for your old phone or make a saving towards your new phone and contract. Either way, you receive the payment the same day that your old phone is traded in.