Best O2 phone deals in May 2023
1
We may earn a commission if you make a purchase from the links on this page.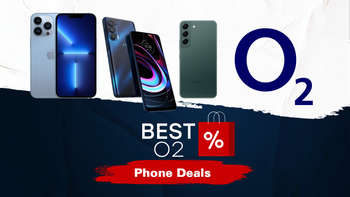 O2 is one of the four main UK networks, and sits comfortably in the middle when it comes to phone prices and plan prices. On top of that, O2 also doesn't have roaming fees when traveling in Europe (the only major network that isn't bringing EU roaming charges). That being said, O2 is one of the best service providers in the UK.
To buy a phone on O2, you will need to have a contract with the carrier, but if you don't want a contract with your phone purchase, you can choose the Pay As You Go option.
The service provider sells new and refurbished phones (phones that were used before but have been made to look and work like new), so you have many choices for your next phone.

Another benefit the carrier offers is custom plans: giving you the great option to customize a plan to best fit your needs. You get to choose how much you pay upfront, how many months you want to pay for the phone, and pick your data allowance (you can even change your data allowance every month with O2, if you so desire!)

As you may probably know, phones in the UK (and pretty much, everywhere) are getting more expensive than ever, and because of that, finding a good deal with your network provider is crucial. That's where we come in. In this article, we have scrutinized the world of O2 deals on phones in the UK and we have picked the best ones for you, available right now in May 2023. This way, you can safely make your buying decision without worrying you'll lose an arm and a leg to get the newest iPhone or Samsung Galaxy right now.
That being said, let's jump straight into our list with the best O2 offers on phones live right now.
O2 phone deals right now
Best O2 iPhone deals
We know iPhones, especially the newest models out there, can get pretty expensive, but O2 has several great deals with the purchase of an iPhone. Depending on the plan you select, you can also get some sweet extras.

Best O2 Samsung Galaxy deals
O2 has great deals on the devices from the S23 series and the most recent Samsung foldables. Keep in mind that the monthly prices shown here are those at the time of writing and the recommended by O2 data plan, and plan prices are subject to change depending on your contract with your carrier.

Best Sony Xperia deals at O2
You can now get the Sony Xperia 1 IV at its retail price right now. Save when you trade-in.
Best Google Pixel deals at O2
You get a limited-time offer on the
Pixel 7 Pro
right now. Both the
Pixel 6
and the
Pixel 6 Pro
are at their retail prices at O2 with. Here again, the monthly prices shown are according to the recommended O2 plan and are subject to change based on the plan you decide to go for.
Best O2 Motorola deals
Right now, O2 doesn't have deals on Motorola devices. Check back later for deals.
Keep in mind that the monthly prices indicated here are based on the recommended O2 plan at the time of writing and change depending on the plan you decide to go for.
Are O2 phone deals worth it?
As one of the four main service providers, O2's deals are relatively good and generally, the mobile network offers good prices. Recently, O2 phone deals have had some of the best prices around, and if you're looking to save, you can safely take a look at the carrier. On top of that, the carrier offers customizable phone deals and plans, so you can customize your plan and get just what you need for the right prices.
But that's not all. O2 also offers a lot of Extras with your plan, and as you can see above, all the deals we listed in this article have the Disney+ subscription (its duration depends on the plan you pick, of course). The carrier also offers other perks such as free gifts with your phone purchase. With all this being said, we would say that O2 deals are quite worth it, especially if we're talking about free gifts and customizable mobile phone plans.

Is O2 a reliable network?
If you're looking for a reliable network, O2 is definitely a good choice. In fact, the carrier earned the title
"'UK's Best Network for Coverage"
from the Uswitch Broadband and Mobile awards for four consecutive years (2018-2021). In case you're curious, the winner was selected by customers' feedback on how reliable a service provider's network is. On top of that, the Global Wireless Solutions (GWS), a leading independent network benchmarking organization, has awarded O2 with the
Most Reliable Network title
for 2018 to 2021 as well.
According to
MoneySuperMarket
, O2's coverage is indeed up there with the best networks in the UK for 2022. More specifically, O2 covers 99% of the UK population with its 4G, 3G, and 2G networks, and its 5G coverage is ever so expanding as we speak. So far, the mobile network's 4G coverage is available for 84% of the UK.
Can I keep my number if I switch to O2?
Yes. If you're switching from another service provider to O2, you can keep your current phone number. You will need to reach out to your old network provider so they can give you a PAC (Porting Authorisation Code). You can also get your PAC by texting PAC to the number 65075, and it should arrive in 60 seconds. You can also call your old carrier for your PAC.
After that, you can give the PAC number to O2 using
their online form
.
How easy it is to switch to O2?
Switching to O2 from another carrier is quite easy. You first need to pick you new phone and/or tariff from the carrier's online shop or local store (alternatively, you can call them on 0800 0280202). The new carrier will need your PAC or STAC number to switch you, but if you don't have it yet, O2's customer support can help you with getting it.
And that's it! Once you've given the code to O2, you will be switched to them the next working day (or if they get the code after 5pm, the working day after). Once you stop having service on your old network, just put your new O2 sim card and turn your phone on.
Does O2 sell phones outright?
Yes. You can decide to spread the device's cost for up to 36 months (and you can pay monthly for it), or you can pay your device upfront with O2. If you decide to pay your device upfront, you will only have to pay your airtime monthly, and not of the device itself. The Airtime Plan is basically the price for your calls, texts, and data allowance which comes with your SIM card.

What is the best phone plan in the UK?
The best phone plan is a subjective thing, as people have their own needs for connectivity and phone, budget, and preferences. Finding the best phone plan is something you need to do for yourself, taking into account how much you want to pay for each month, how much data you need (do you travel a lot and you need more mobile data, or do you spend a lot of your time somewhere where you have Wi-Fi connection), and what phone you want. O2 plans are flexible and customizable, so you can create the best phone plan for yourself with the carrier in a few clicks.

How long is a phone contract with O2?
O2 offers flexible phone contracts. You can choose a phone contract for 3 months, up to 36 months, depending on your needs and your budget.

Can I transfer my O2 number to a new O2 contract?
Yes, you can. The best option to do in this case is to call O2's customer service: on 202, free from your O2 phone, or 0344 809 0202 from a non-O2 phone. The customer support will then provide you with the steps to transfer and make sure you won't end up with two contracts simultaneously.
How do you qualify for O2 priority?
You need to register your phone number on the
O2 Priority website
. All you need is your mobile phone number to register. Then, you can download the Priority app to your Android or iOS device. Priority gives you access to daily treats and exclusive experiences. Keep in mind that Priority is exclusive to O2 customers. You can have it on your phone, tablet, laptop, or desktop.
Best Three phone deals