Best Vodafone phone deals in March 2023
We may earn a commission if you make a purchase from the links on this page.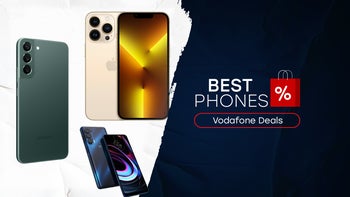 Being the third largest carrier in the UK, Vodafone has won its loyal customers through a mixture of useful plan benefits and extras, as well as flexible phone financing options. Of course, the provider also has a lot of deals, that get constantly refreshed, to entice newcomers.
In March, Vodafone is taking it easy with the offers but we can still find some sporadic deals on Galaxy and iPhone devices.
Vodafone's bread and butter is flexibility. You have a choice between set monthly plans or simple pay-as-you-go plans, where you can pre-pay for minutes, texts, and data as you need them.
This flexibility is also reflected in its device sales — you can set up a phone plan, where you pay off the device for a duration between 3 months and 36 months. Or, you can purchase one upfront. In any case, you are not locked down to that specific phone — three months into your contract, you are free to make the choice to upgrade. This is all topped off by a 14-day return policy for new smartphones.
Sometimes, Vodafone has pre-owned phones up for sale — scroll down and look for the (Like new) tag. If you'd rather bring your own device — Vodafone's SIM Only Xtra plans still have you covered, giving you access to their budget-friendly plans, or the Unlimited program with benefits.
The extras you can get at the top tier Vodafone plans include a free subscription to one of few media streaming services, as well as extended phone warranty and a free battery replacement, if one is needed.
Most of Vodafone's deals, are — of course — linked to signing up for a mobile service for 24 months. And you can get your phone on a 36-month plan to really shrink those instalments.
So, let's take a look.
Vodafone phone deals right now
Most of Vodafone's deals involve a price reduction in service bills, however, it's worth noting that all Vodafone phone plans come with 2 years of device warranty and a 3-year coverage for free battery replacement, if battery health drops below a certain percentage. These benefits come at no extra cost and are not tied to a timed promotion right now. That said:
Best Vodafone iPhone deals
Even when there is no iPhone deal going on at Vodafone, you do get a phone plan you still get the default perks — a 3-year battery refresh warranty, and a 2-year warranty for any manufacturer defects. The latter, in particular, is a £189 value, as Apple only gives you a 1-year warranty and will charge you for AppleCare+ if you wish to extend that.
Right now, we have modest discounts for the Pro variants of the
iPhone 14 range
, and some trade-in offers for the non-Pros.
Best Vodafone Samsung Galaxy deals
Top tier Galaxies typically come with 6 months of Disney+ on Samsung. The Galaxy S23 series is still getting enhanced trade-in discounts!
Best Vodafone Google Pixel deals
Google's new
Pixel 7
and
Pixel 7 Pro
are here to offer the full Google experience with exceptional integration with the Google Assistant, a pure version of Android — the way Google intended it to be experienced — and timely updates. This month, we get discounts on both phone payment plans and Airtime plans!
Best Vodafone Motorola deals
The affordable 5G phone — Moto G62 — now comes with a super-discounted Airtime plan from Vodafone!
Best Vodafone Sony deals
No deals on Sony phones at Vodafone for March 2023.
Best Vodafone Xiaomi deals
No Xiaomi deals for March 2023.

Best Vodafone Oppo deals
Vodafone is greeting the new foldable Oppo with a cool discount on Airtime plans! Grab the brand new Oppo Find N2 Flip, save up to £240 on your 5G plan!
Are Vodafone phone deals worth it?
Most of the time, there isn't a massive bargain to be excited for, but every now and again, Vodafone will have a significant price drop for one device or the other. Either that, or a bundle offer where you can get a nice gift to go with your phone. Pair that with Vodafone's 2-year Total Care Warranty and 3-year Battery Refresh promise, and you have some good reasons to watch out for deals coming from Vodafone.
Can I keep my number if I switch to Vodafone?
Yes, you can. It's not a huge ordeal, too, though it does require you to take some steps — you need to call up your old cell line provider and ask for your PAC number. Then, you can register as a Vodafone customer — you can do that completely online — and enter your PAC number when prompted. Of course, at any point, you can just call up Vodafone support to get help, if you are feeling overwhelmed.
How easy is it to switch to Vodafone?
Pretty easy, really, you can even do it entirely by yourself online, via text, or by visiting the local Vodafone store. Businesses like new clients, after all, so Vodafone has made it extremely easy for you to sign up for their service.
How good is Vodafone 5G coverage?
Vodafone already has pretty solid 4G coverage, throwing a net over 99% of the UK. This is important, as phones still very often rely on 4G, no matter what carrier you are on. That said, Vodafone has been hard at work, rolling out more and more
5G upgrades over its network
. As of 2022, Vodafone has rolled out 5G to 47 of the 120 major towns and cities in the UK, which puts it in last place out of the 4 biggest carriers in the country.
O2

has 5G in 75 locations

Three

has 5G in 85 locations

EE

has 5G in 82 locations

Vodafone

has 5G in 47 locations
Also check out: