Best EE phone deals in March 2023
We may earn a commission if you make a purchase from the links on this page.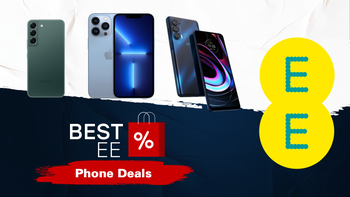 EE is one of the main four networks in the UK, and it has managed to stay on top with the great speeds it offers, as well as other benefits such as the ability to gift data to friends or use Wi-Fi to call (of course, these depend on your plan). But, because of that, the carrier is a bit more expensive compared to the competition.
On EE, you can purchase a phone through Pay Monthly (with a contract with the carrier), or Pay As You Go options. The Pay As You Go variant is not available for all models of phones, so you might want to keep that in mind when deciding which phone to go for. Usually, premium phones are only available as Pay Monthly with a contract with EE.
Mainly, the service provider sells new phones. However, EE also sells refurbished phones if you're on a budget (refurbished phones look and work just like new, but they were used before). And if you go for a refurbished phone, you can save up to £240, and you can also get Lifetime warranty for no extra cost.
With all that being said, there are many deals and offers, and conditions when you're buying a phone from EE. That's where we come in! If you want to get a phone with EE, you can benefit from some of the deals the carrier has live right now in the month of March 2023, so you don't lose and arm and a leg for your next phone.
Keep in mind that the monthly prices of the phones listed here all depend on the EE plan you choose.

Jump to:
EE phone deals right now
ЕЕ currently has some great deals on the hottest phones out there, including the iPhone 14 and the
Galaxy S23 Ultra
, the
Galaxy Z Flip 4
and
Z Fold 4
, and even the Google Pixel 7. Keep in mind that deals on carriers change often, so if you don't find your preferred phone in this list, do not despair: it would probably get discounted down the line as well.
Best EE iPhone deals
The
iPhone SE 3
is available with trade-in savings, again depending on the plan you choose. The newly-released
iPhone 14
and
iPhone 14 Pro
models get some discount love with trade-in.
Best EE Samsung Galaxy deals
On the Samsung Galaxy front, EE has generous trade-in offers on the S23 series.
The newly-released
Galaxy Z Fold 4
and
Galaxy Z Flip 4
are available with epic trade-in discounts and select plans with those devices are also discounted right now:
Best Sony Xperia deals at EE
If you're looking for a Sony Xperia phone, worry not: EE has got you covered. Here are the deals EE's got going on for Sony Xperia buyers.

Best Google Pixel deals at EE
At the moment, EE is not running any special discounts on Pixels. When deals show up, we'll include them here as this article gets regularly updated.

Are EE phone deals worth it?
We are not going to sugar coat it: EE is one of the most expensive carriers in the UK. However, in its defense, it is focused on ultra-high speeds of its mobile networks, and it manages to justify the plan prices. And EE phone deals are definitely worth it, especially if you're interested in one of the smart benefit options that the service provider has. With that, you can get services such as Apple Music that usually costs £9.99 a month included with your plan (if you're looking into iPhones), or two-year Netflix subscriptions for select Android phones, which is, definitely, quite the tempting offer.

On the other hand, EE also has Family plans that let you share data, and as we already mentioned, excellent coverage, especially for 4G (it is the fastest 4G network in the UK).
Can I keep my number if I switch to EE?
Yes. You need to get your PAC number from your previous carrier, which can be done by simply contacting them and asking for it. The PAC code will be valid for 30 days. In case your phone number is no longer valid, your previous carrier will have instructions for you. If you need any help with the process, you can also visit
EE's help center
.
Once you get the PAC code, you should give it to EE and they should transfer your old number to their services. You may need to save the number which came with your new EE SIM just in case you need to use it before your old number is transferred to your new carrier. The carrier doesn't switch numbers during bank holidays or over the weekend, so do keep that in mind when planning for your switch.

How easy it is to switch to EE?
Switching to EE is quite easy, as the network provider will do the most when it comes to switching. As mentioned in the point above, you will need your PAC code to transfer your number, but after that, the carrier will take care of things surrounding the switching.

The process is relatively quick. EE will switch you to their services the next working day. In case you've submitted your request after 5.30pm Monday to Friday or any time at the weekend, the carrier will transfer your phone number in two days.

How good is EE 5G coverage?
EE is currently the best network provider in the UK in terms of 5G speed, reliability, and coverage. RootMetrics conducted
over 650,000 tests
across England, Scotland, Wales and Northern Ireland in order to determine how EE's 5G network compares to the competition for the second half of 2021. According to data from these tests, for the second half of last year, EE had 41% of
UK covered on a 5G network
, with all other major carriers behind (O2, the second best, has 35.2% of coverage).
In terms of speed, EE's 5G is also at the king position with the fastest average download speeds (in England, Scotland, Wales and Northern Ireland) with a median UK-wide speeds of 60.4 Mbps. And yes, this is more than twice as fast as any other UK network (for example, Vodafone, who is the second fastest, recorded median download speeds of 24.8 Mbps).
RootMetrics awarded EE the title of the "Best Overall Network in the UK" for the second half of 2021, and the carrier won in the following categories: Reliability, Accessibility, Speed, Data, and Text, while for the Call category, both EE and Vodafone were crowned victors.
Do existing EE customers get discount?
Yes, but there are conditions, as with any other carrier. Right now,
EE has an ongoing offer for existing customers,
which includes getting a new line and saving 10% with any new line added. The 10% discount will be applied in bill credits. The 10% discount applies to existing EE customers or customers that are taking more than one plan at the same time.
What coverage does EE offer?
As we already mentioned above, EE's coverage is excellent, so much so that it was voted the UK's top network for the past seven years in a row. It is the fastest network in UK, and it will likely soon become the fastest 5G network as well.

EE offers four types of coverage: 5G, 4G, 3G and 2G. Understandably, the fastest download speeds are available on 5G. On the other hand, EE offers 99% of UK population covered by their 4G, 3G, and 2G networks.