Best Virgin phone deals in 2023
We may earn a commission if you make a purchase from the links on this page.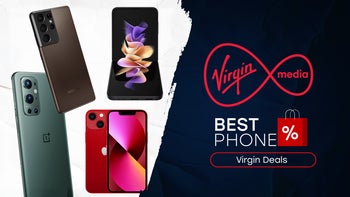 If you are looking for the best smartphone deals that UK carrier Virgin Mobile currently has, well, you are in the right place. Here we continuously add and update the best phone deals available from one of the UK's biggest and oldest virtual operators – Virgin Mobile.
Virgin Mobile offers good deals on some of the most popular phones right now, like the Apple
iPhone 14
lineup and Samsung's
Galaxy S22
series. However, as with any operator, most Virgin Mobile deals include a plan and a contract for up to 36 months.
Once you sign a contract, you get your new smartphone with free delivery and no upfront fees, along with the phone plan you've selected, and you pay it all off monthly. And since phones can get pretty expensive these days, monthly payments are much more feasible for the average household than a bulk payment of, say, £900.
Ready to find your new smartphone and get it with a plan via Virgin Mobile? Here are the best phone deals Virgin is currently offering.
Virgin phone deals right now
Best Virgin iPhone deals
Get the new iPhone 14 for just £33.50 a month with the 2GB data plan and receive AirPods (3rd Gen) for free

. This deal is perfect if you are in the market for a new phone and a new pair of wireless earbuds.
Buy a regular iPhone 14, an iPhone 14 Pro, or an iPhone 14 Pro Max and get an Apple Watch SE and Apple Fitness+ for free for three months.

If you are in the market for a new smartwatch as well, you should definitely buy your new iPhone from that offer. The prices below are with the cheapest 2GB data plan.
Best Virgin Samsung deals
Buy a Galaxy S23, S23 Plus, or an S23 Ultra and watch Disney+ for free for 6 months.
Bundle deal: Get a Galaxy phone, Galaxy tablet, Galaxy smartwatch and Galaxy Buds, all for £46 a month.

This is currently the ultimate Samsung package deal you can get from Virgin. At the core of this bundle is the Samsung Galaxy S21 FE smartphone. You're also getting a Samsung smartwatch, tablet, and true wireless earbuds. So if you ever wanted to jump into the Samsung ecosystem and gear up with most every trendy tech device to accompany your smartphone, this is your deal.
Are Virgin phone deals worth it?
If you're based in the UK and interested in getting yourself a data plan with your new smartphone, Virgin's offers are definitely worth looking into. Occasionally you'll even see great bundles, like an iPhone + Apple Watch, or a Samsung Galaxy + free wireless earbuds! Stay tuned for new offers, as when they pop up we'll have them right here for you.
Ultimately, whether you're looking to buy Apple's newest iPhone for an affordable monthly price, or another device, there's no argument that small monthly payments are easier on the pocket than paying a flagship phone's full price with one payment.
Are Virgin and EE the same company?
There's a misconception that EE (formerly Everything Everywhere) and Virgin Mobile are the same company, but that's not the case.
EE is a parent company of Orange and T-Mobile, and although it allows Virgin to use its networks, Virgin itself is a completely separate company owned by Virgin Media.
Has Virgin Mobile moved to O2?
Yes, Virgin was indeed merged with O2 just recently, as of June 1st, 2021. However, Virgin Media has made it clear that customers of Virgin can expect no changes in their current and future contracts due to the merger.
That includes billing, which will still come from Virgin Media and not O2. What Virgin claimed this merger would offer customers is better value and more choice, and expanded 5G support thanks to O2's 5G rollout.
Is Virgin Mobile closing down in UK?
Although the merger we mentioned above might make it seem so, that's not the case. Virgin Mobile is still operating strong in the UK, as its own entity, and the company hasn't given us any signs that it might be closing down anytime soon.
Which network does Virgin use?
Because this is a mobile virtual network operator (MVNO), and the UK's first no less, Virgin does not rely on its own networks. In the UK, Virgin Media, formerly Virgin Mobile, currently uses the EE and Vodafone networks, plus O2's 5G networks.
Can I just buy a phone from Virgin?
You can, but only with a plan. Virgin Mobile's main deal is offering contract mobile packages, which means a phone with a phone plan, that you pay off monthly. Like you may have noticed from the deals above, you do have the option of choosing what plan is best for you and how long your contract should be. But if you're looking to just buy a phone with a single payment, no plan or contract, this isn't the retailer for that.
Can I keep my mobile number if I switch to a Virgin Mobile SIM-only deal?
Yes. When you join Virgin Mobile, the company does "most of the switching legwork for you."
You can find and order a SIM Only plan from Virgin, with which you'll get a temporary number. After that you can call your old provider, tell them that you're cancelling your contract with them, and ask them for your PAC code. You'll need it for Virgin to transfer your phone number to your new Virgin SIM card.
Keep in mind your old provider might require a fee for that, and if your phone is locked to their network, you'll also need to ask them for an unlock code.
Virgin has the full instructions for how to transfer your number
here
.
Do I need an unlocked phone to use a Virgin Mobile SIM?
If your phone is locked to another network, it's always the case that you have to unlock it before moving to a new operator.
Thankfully, the process is usually simple. Just call your current operator and inform them that you'll be switching to Virgin, and that you'll need the unlock code for your phone. Keep in mind that you'll likely have to pay them a fee in order for them to unlock your phone.