"Any screen can be your PC": Microsoft's Continuum for phones transforms your phone into a desktop PC
24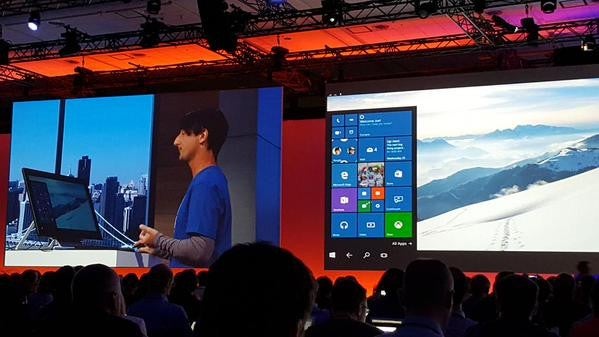 Microsoft's Continuum feature for Windows 10 is not a new one (we first saw it last September), but the feature's just gotten times more appealing for smartphone users that swear by Redmond's software. Continuum was initially touted as allowing PCs to adapt their interface in accordance to whether they are used as regular keyboard-enabled PCs or tablets with touchscreen input, but Microsoft's Joe Belfiore just demoed a new feature, Continuum for Phones, which will allow your Windows 10 smartphone to turn into a (almost) full-blown PC if you connect it to an external screen and controls, such as mouse and keyboard.
Simply put, it allows your smartphone to launch the 'big-screen' version of the UI of the Continuum-optimized app that you're running on your phone, boosting the levels of productivity or entertainment you're getting from it. In the demo, Joe Belfiore displayed a smartphone's home screen to an external monitor, and then went on to launch Office. Interestingly enough, Office appeared in a form that's very reminiscent of its desktop version on the external monitor, kind of making the Windows phone it was running from seem like a neat, little PC of sorts. Obviously, such kind of desktop-grade UI would be way more comfortable to work on, compared to the limited, touch-optimized experience on the phone's little screen.
Now, in order for Continuum to work as intended, developers need to optimize their apps for this functionality. It was also said that current hardware is not compatible with Continuum for phones (as the feature requires your phone to power not one, but two screens).
The future of Windows looks more unified than ever and it can't come any sooner.

source: Microsoft