Hurry and get a brand-new Samsung Galaxy Z Flip 3 5G with warranty at an unbeatable price
We may earn a commission if you make a purchase from the links on this page.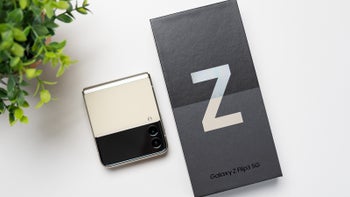 Quick, what's the
best foldable phone
you can buy on a tight budget in 2023? If your first instinct in trying to answer that question is to point out there's no such thing as an "affordable" foldable... you're not wrong.
But that's if we only consider 2022-released contenders for that title. 2021's
Samsung Galaxy Z Flip 3
, meanwhile, can be currently had for as little as $459.99, a price point at which the versatile 6.7-inch Snapdragon 888 powerhouse takes on many of the
best mid-range phones
with a "conventional" design out there.
Woot is the unsurprising name of the Amazon-owned e-tailer behind this killer new deal, which slashes a whopping 440 bucks off the original list price of a "fully" unlocked 128GB Z Flip 3 5G with no apparent compromises.
These are brand-new, unused, unopened, and undamaged units available here at that massive discount with a full 1-year manufacturer warranty included, and if you hurry, you can choose between green and "cream" hues.
What you can no longer do is purchase a 256GB storage variant at $499.99, which was apparently a possibility at some point in the last few days. These exact same prices lasted a short while
the previous time Woot ran this type of promotion
, and with Best Buy all out of Galaxy Z Flip 3 stock right now, you can probably expect the refreshed deal to go away even faster.
If that happens or you simply don't feel comfortable shopping at Woot for whatever reason, there's always the direct Amazon option, where a couple of third-party merchants are selling renewed units with a much shorter 90-day warranty at a very similar price to this and brand-new unlocked Z Flip 3 devices for around 140 bucks more.
Inferior to its successor in a few important ways, processing power and battery life included, this bad boy is still plenty fast, elegant, flexible, and generally well-equipped to justify a sub-$500 or even a sub-$600 expense.
Samsung
's stellar software support alone makes the $459.99
Galaxy Z Flip 3 5G
an undeniable bargain, while the cameras are... the same you can find on the substantially costlier
Z Flip 4
.