Galaxy S21's Snapdragon 888 vs Exynos 2100 features, performance, and battery life
18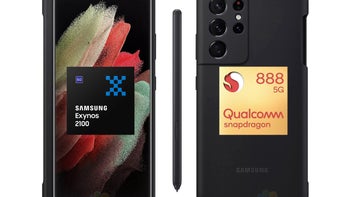 If you thought that the
Galaxy S21 series
will be powered by
Qualcomm's next generation Snapdragon 875
chipset, an heir to
the 865 in the S20
, you are sorely mistaken, as it will actually breeze through tasks with an even next-er generation processor, at least as far as naming, the
Snapdragon 888
.
Cool naming, eh?
Qualcomm announced the 888
at its Snapdragon Tech Summit keynote back in December, paving the way for an onslaught of Samsung, LG, OnePlus, Sony, and other flagships phones with it as soon as January, starting with the
Galaxy S21
.
Samsung, on the other hand, just
detailed the Exynos 2100 with a dedicated unveiling event
for the first time, sporting Cortex-X1 cores with peak 2.9GHz frequency, 5G integration, and a modern 5nm EUV production method. Obviously, Samsung is pretty proud with what it has done this time around, so hopefully the dreaded Snapdragon vs Exynos model controversy can be put to pasture once and for all.
Snapdragon 888 vs Exynos 2100 vs Snapdragon 865 vs Apple A14 specs and features
All new Snapdragon 888 features
5G modem integration (longer battery life)
5nm Qualcomm X60 modem
6th generation AI engine on a new Hexagon processor
Fastest Adreno GPU graphics rendering on a Snapdragon ever
35% faster image processor (120 pictures per second at 12MP)
All new Exynos 2100 features
5nm Samsung Extreme Ultra-Violet litography
5G modem integration (longer battery life)
New NPU AI engine, up to 26 trillion operations per second
Up to 200MP single camera sensor support, up to six cameras in total
40% faster image processor
To top it all off, the 5nm production process of the
X60 modem
and the integrated Exynos 2100 modem means huge gains in battery life in your phone's 5G mode, something the
iPhone 12 series
badly needed at one point, as standalone 5G modems are battery hogs compared to integrated solutions like in Qualcomm's own Snapdragon 7-series midrangers like the one
powering the Pixel 5
.
Snapdragon 888
Snapdragon 865+
Exynos 2100
Apple A14
Production process
Samsung 5nm EUV
TSMC 7nm N7P
Samsung 5nm EUV
TSMC 5nm
Processor cores
1x Cortex-X1@2.84GHz

3x Cortex-A78@2.42GHz

4x Cortex-A55@1.80GHz
1x Kryo 585 (custom A77) @3.1GHz

3x Kryo 585 @2.42GHz

4x @1.8GHz
Exynos X1@2.91GHz

3x Cortex-A78@2.8GHz

4x Cortex-A55@2.2GHz
2x Firestorm@2.99GHz

4x Icestorm@1.7GHz
GPU
Adreno 660 @ 800MHz

Adreno 650 at 645MHz

ARM Mali-G78
Apple custom quad-core
Modem
X60 5G modem (integrated)

up to

7.5 Gbps

over 5G, and 3 Gbps download speeds on LTE
Qualcomm X55 5G modem (add-on)
Exynos 5123
(Category 24)

Downloads up to 7.3Gbps (mmWave), 5.1Gbps (sub-6GHz), or 3Gbps (4G LTE), 8xCA

Uploads: up to 422 Mbps
Qualcomm X55 5G modem (add-on)
AI co-processor
Yes, Hexagon 780
Yes, Hexagon 698
Yes, tri-core NPU, up to 26 TOPS
Yes, octa-core Neural Engine, up to 11 TOPS
Video encode
8K HDR at 60fps
4K HDR at 120fps
8K HDR at 30fps
4K HDR at 120fps
8K HDR at 60fps
4K HDR at 120fps
4K HDR at 120fps
Features support
QHD+ @144Hz or 4K@60Hz display refresh

Triple 14-bit Spectra 580 ISP, up to 200MP sensor

4K computational HDR, low-light capture architecture

Qualcomm FastConnect 6900: Bluetooth 5.2, Wi-fi 6E (up to 3.6GBps)
QHD+ @144Hz or 4K@60Hz display refresh

up to 200MP single or 2x64MP dual camera

up to 16GB DDR5

Qualcomm FastConnect 6900: Bluetooth 5.2, Wi-fi 6E


UFS 3.1 storage support for up to 2.9GB/s speeds

Single-camera up to 200MP

up to 16 GB DDR5

Variable 120Hz display refresh rate
Computational photography

Dolby Vision encoding and decoding

Machine learning capable of 11 trillion operations per second
Galaxy S21, Plus and Ultra Snapdragon vs Exynos benchmark performance comparison
As you can see, the single-core
Geekbench scores
are roughly the same, while the Exynos 2100 multi-core scores excel but the difference could very well be due to the average clock speeds, as the Exynos cores have worked on higher frequencies during the benchmark test.
| | Galaxy S21 Ultra Snapdragon | Galaxy S21 Ultra Exynos |
| --- | --- | --- |
| Geekbench 5 | 1103/3406 (single/multicore) | 1081/3643 (single/multicore) |
| AnTuTu | 662584 | 654223 |
The Exynos 2100 vs Snapdragon 888 vs
Apple A14
test, on the other hand, reveals an expected advantage for Apple's chipset, again partly due to the higher, 3GHz clock frequency the test is carried out at.
At sustained loads, the Exynos 2100 performance fluctuates more than that of the Snapdragon 888, and it consumes more power, yet in certain scenarios like browsing or editing photos, the Exynos outperforms the Snapdragon. The Snapdragon 888 advantage is in the custom graphics subsystem, which, just like the Exynos 2100 one, runs very hot and bothered at peak power bursts that can only be sustained for a short while, yet it is more productive and consumes less power overall than the stock GPU in the Exynos. That certainly showed in our 3D gaming battery life test.
Galaxy S21 Ultra Snapdragon 888 vs Exynos 2100 battery life comparison
With identical hardware save for the different chipsets, the Snapdragon 888 version of the Galaxy S21 Ultra that we get in the US, and the global Exynos 2100 one should be pretty comparable in terms of battery life given that they are both built on the latest 5nm process, right?
Well, sort of, as we found the Exynos lacking bigly in the gaming endurance department, due to its off-the-shelf graphics subsystem that is less flexible in performance and power draw than Qualcomm's custom-built Adreno GPU.
In addition, the slightly higher performance (and clock speeds) of the Exynos in activities like web browsing, brought on a tad shorter battery life in the same activity on our browsing and scrolling test. The difference was more pronounced in the higher refresh rate mode, of course, where the GPU gets more involved, too.
| Battery test/Phone model | Web browsing & scrolling (60Hz/120Hz) | YouTube streaming | 3D Gaming (60Hz/120Hz) |
| --- | --- | --- | --- |
| Galaxy S21 Ultra Snapdragon 888 | 17 hours 19 minutes / 16 hours 32 minutes | 9 hours 38 minutes | 10 hours 57 minutes / 5 hours 50 minutes |
| Galaxy S21 Ultra Exynos 2100 | 16 hours 32 minutes / 14 hours 43 minutes | 8 hours 52 minutes | 8 hours 40 minutes / 5 hours 3 minutes |
During our YouTube streaming battery test, however, the phones push the display refresh rate below 60Hz, as videos there are mostly captured at less than 60 frames, so the difference between the Snapdragon 888 and Exynos 2100 versions of the Galaxy S21 Ultra in our video streaming test are pretty negligible.
The moral of the whole comparison? While the Exynos 2100 is a huge upgrade over the performance per power draw unit score that its predecessor in the S20 series had, it still has some catching up to do when it comes to the Snapdragon 888, especially in the graphics subsystem realm.
For all practical purposes, though, Qualcomm and Samsung have let their processors run wild with peak performance (and heat generated) while the sustained performance over longer period of time is good enough for every task you throw at the newest mobile chipset in the Android universe, and then some. One thing is for sure - playing 120fps-enabled games on your Galaxy S21 Ultra in the default adaptive refresh mode will decimate your battery life in no time flat, regardless of whether you have the Snapdragon 888 or Exynos 2100 models.
Snapdragon
a garden plant of the genus Antirrhinum having showy white or yellow or crimson flowers resembling the face of a dragon
More (Definitions, Synonyms, Translation)