These Galaxy Note 9 US pre-order gifts will definitely sweeten the deal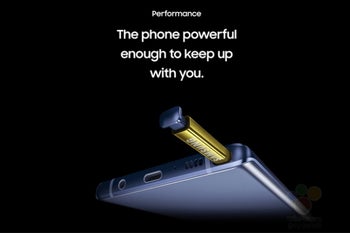 Who's up for one final juicy leak mere hours ahead of Samsung's highly anticipated
Galaxy Note 9 introduction
? We know, we know, the cat's been out of the bag for several weeks now, but a few details aren't worked out yet, and they may not be revealed during that glitzy Unpacked event later today.
Pre-orders are expected to kick off
earlier than originally planned
, at least in Korea, but probably no sooner than Sunday, August 12. That means we'll likely have to wait to find out exactly what gifts will be offered in what regions before the
Galaxy Note 9
is actually released on or around August 24.
Some previously unsubstantiated gossip
is however supported by freshly leaked (and extremely convincing) Sprint promotional material, suggesting the "Now Network's" pre-orders will be bundled with your choice of a free pair of AKG noise cancellation headphones or a mysterious "Samsung Game Bundle."
The former deal sweetener is valued at an estimated $299, so we're most likely looking at the premium N60NC model, while the latter is worth $150, seemingly corroborating rumors of
15,000 Fortnite V-Bucks
being included with the phone. Of course, one would expect a "game bundle" to come with a little more than just some in-game currency, so perhaps it's wise to wait for the full deets.
In the meantime, it's worth pointing out that the fine print on today's leaked poster mentions Samsung is in charge of this offer, ending August 23. We can thus assume actual sales and deliveries will begin on August 24, as previously speculated, and Galaxy Note 9 pre-orders from all major US carriers are set to qualify for this particular promo. Extra deals are also possible, and if you want both those AKG headphones
and
the special Samsung Game Bundle, get ready to cough up a grand total of $99. That's pretty cool, eh?