Samsung Galaxy Note 9 durability test reveals a bizarre little build flaw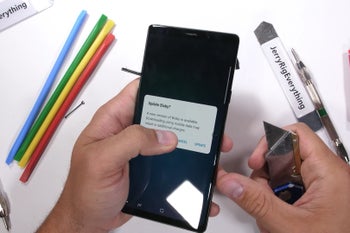 We're technically still a few days away from
the commercial rollout
of Samsung's hotly anticipated
Galaxy Note 9
, but even though the new phone doesn't look all that different from the "old"
Galaxy S9+
, it appears the world's number one mobile device vendor has
yet another winner on its hands
.
While none of the high-end Samsung handsets Nelson tried to destroy over the years failed the crucial bend test, the
Galaxy Note 9
managed to come out virtually unscathed from the whole gamut of painful experiments.

There's basically only one vulnerable aspect about the latest S Pen-wielding flagship, and it's... an odd one. You know that dedicated Bixby button that everyone loves to hate? You may not be able to (officially) remap it, but apparently, you can pull the thing out. Yes, literally.

The same goes for the side-mounted volume buttons, although for what it's worth, the probability of incurring accidental damage is almost non-existent. So, no, you shouldn't worry about those buttons randomly falling off your device, even in extreme drop scenarios, but if you have a friend with a passion for particularly cruel pranks, you should be very, very afraid.

Otherwise, this phone is exactly what you expect to get at a whopping $1,000. The screen is about as scratch-resistant as all other flagships on the market right now, all the cameras are glass-protected, while the fingerprint scanner is still incredibly fast and responsive after plenty of intentional damage.
The S Pen is made from plastic, which makes it a lot easier to break in half compared to a glass-and-metal Galaxy Note 9 that you simply cannot flex with your bare hands, let alone significantly bend or
crack under pressure
.