Samsung Galaxy Note 9 battery life test results are out
79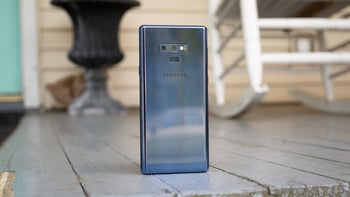 One of the best new features of the Samsung Galaxy Note 9 is not a feature at all: it's just a much larger battery with a capacity of a whopping 4,000mAh, enough to last you the day and the night (and likely even more if you don't use your phone too much).
In our short real-life journey with the Note 9, we did indeed find that its battery lasted more than your average phone and Samsung delivers on the promise of an "all-day" battery.
But we wanted some more scientific data and that is why we ran our proprietary battery life test on the Note 9's 4,000mAh battery.
The results are now in and you can check them out and compare the Note 9 to other phones right below.
So, what is immediately obvious is that the Note 9 is a marked improvement from last year's Note 8. The Note 8 had a 3,300mAh battery, while the Note 9 has 4,000mAh cell, some 20% larger. Running the same battery test on these two phones, the Note 9 gets a 14% better score at nearly 9 hours, which is an excellent showing.
You can also see that the Note 9 outperforms most other modern flagships by a good margin.
Charging speeds
Another important aspect of the battery life equation is the time it takes to recharge your phone when your battery is dead or running low.
And with a bigger battery, it might take longer to recharge the Note 9.
Thankfully, the time to charge it up is still pretty fast: it took us 1 hour and 49 minutes to fully charge up the Note 9 from a completely dead battery to the full 100%. We have used the provided in the box Samsung fast wall charger with the provided USB-C cable.
Right below, you can also see how these charging rates compare to charging speeds on other 2018 flagships.
Would you buy the Note 9 just for its battery life? And do you think that it is a worthy upgrade over its predecessor? Let us know in the comments right below!