The Galaxy Note 9 S Pen has a clever rapid-charging "battery" with one tiny flaw
16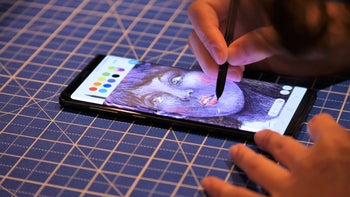 So, the
Samsung Galaxy Note 9 is now official
, and along with it comes a brand new
S Pen
– an S Pen that stands out with more than just its bright yellow paintjob. Samsung's newest stylus is more functional than ever, enabling cool tricks like activating the camera shutter or switching between PowerPoint slides from afar at the press of a button. This is made possible by the inclusion of Bluetooth connectivity, allowing the new S Pen to communicate wirelessly with the
Samsung Galaxy Note 9
even from a distance of several feet. Neat, huh?
When I learned this, I initially assumed that Samsung had equipped the S Pen with a teeny tiny battery. It
had
to have one, since a power supply of some kind is mandatory to allow the S Pen's Bluetooth radio – or any Bluetooth device, for that matter – to work. But I was wrong, and a just-published infographic revealed that Samsung has chosen a different route for powering its stylus. It turns out that instead of a battery, inside the Samsung Galaxy Note 9 S Pen is a component known as a supercapacitor.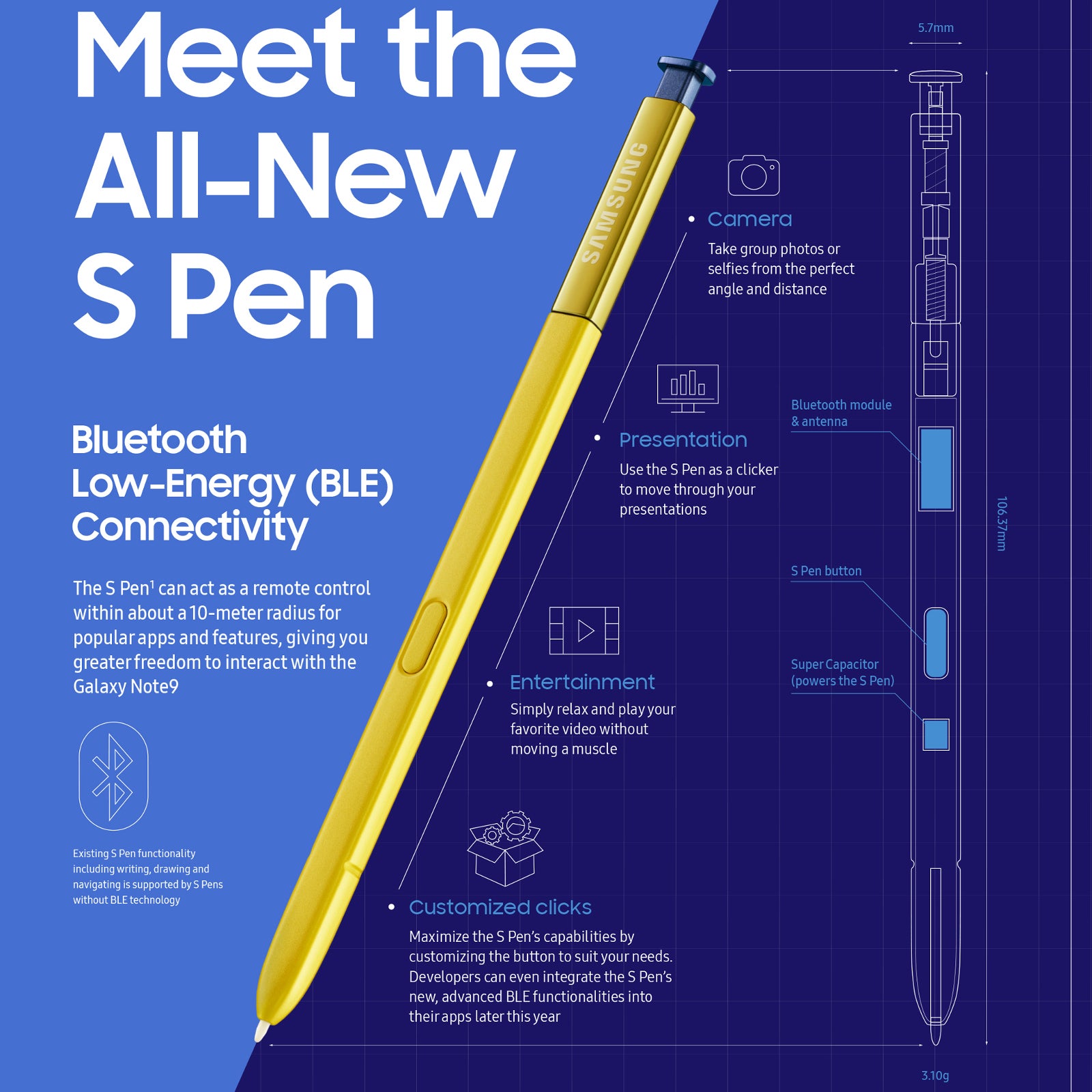 A Samsung infographic highlighting the key features of the new S Pen
What is a supercapacitor? What is it doing inside the S Pen?
Not long ago, I wrote an article
explaining supercapacitors
along with their pros and cons, so there's no need to go into much detail here. All you need to know is that they store energy, much like batteries, only differently. And in theory, a supercap seems like a much better fit for the S Pen than a traditional battery for a number of reasons. Although... it may have one huge disadvantage as well. Let us go through them.
Supercapacitors do not degrade as quickly as batteries do.

Lithium batteries – the kind used in practically all phones, tablets, and laptops nowadays – gradually lose capacity as they age due to the chemical processes going on inside of them. Every charge-discharge cycle shortens its lifespan. It is not uncommon to observe a noticeable drop in a smartphone's battery life after a couple of years of use. A supercapacitor, on the other hand, can last a decade if it is used properly, which is great as I'm sure an S Pen battery replacement service wouldn't have been cheap or easy to perform.

A supercapacitor won't mind staying fully charged all day.

Another way of killing a lithium battery faster is to leave it empty or to keep it at full charge for a long time. If treated like this, they tend to swell and cause all sorts of trouble. In contrast, having a supercapacitor fully charged for months will have very little (if any) impact on its longevity – perfect when a Note 9 S Pen would be fully charged 99% of the time.

Supercapacitors charge rapidly.

Lithium batteries are tricky to charge. They require specialized circuitry and go through several charging stages before they reach a fully charged state. Supercapacitors can be charged literally tens and hundreds of times faster, which is probably why the Note 9's S Pen charges fully in 40 seconds.
But supercaps have a major disadvantage
There's this one caveat that has to be mentioned. While supercapacitors are pretty neat, they hold much less energy than typical batteries – over a thousand times less per unit of volume. As a result, the Note 9's S Pen last just 30 minutes per charge, even with the minuscule power requirements of Bluetooth LE technology. To be clear, you'll still be able to take notes even when the S Pen is out of juice, but you won't be able to use any features that rely on Bluetooth connectivity to work.
On the bright side of things, knowing that the supercapacitor in the S Pen is a tiny one, I'm sure that its impact on the Galaxy Note 9's battery life would be negligible, if not impossible to measure or detect. Keep in mind that the S Pen draws power from the Note 9 while it is resting in its silo.
Learn more about the Galaxy Note 9: