Who exactly is the Galaxy Note 10 for?
38
This article may contain personal views and opinion from the author.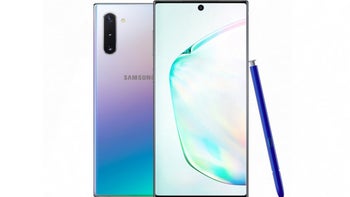 Samsung's next big thing is here and it's... spectacular. With a "Premium Hole" display that covers nearly 100 percent of an otherwise gigantic frame made from glass and
stainless steel

aluminum
, razor-sharp corners, smoothly curved edges, razzle-dazzle colors, a rear-facing quad camera module with all kinds of neat tricks up its sleeve, massive fast charging battery, and a maximum of 12GB RAM paired with as much as 512GB internal storage, the
Galaxy Note 10+
sets a new benchmark for Android excellence on almost every level. Oh, and for some reason, the stunning 6.8-incher also has a little brother.
That's a first in the 8-year history of the Galaxy Note lineup, mind you, so Samsung must have had a good reason to change what was clearly not broken. Granted, the
Note 9
reportedly
didn't sell as well
as its predecessor, but that's because the
global smartphone market
is struggling. In fact, given
the rate at which sales declined
this past year or so, the company's 2018 S Pen-wielding powerhouse was a pretty solid box-office performer.
The Note 10 and Note 10+ arguably look much more refined than the Note 9
While it's definitely way too early to know for sure how the Note 10 duo will do,
analysts are not particularly optimistic
, forecasting combined worldwide shipments of under 10 million units by the end of the year. Obviously, that doesn't sound terrible but it also wouldn't be great for two different Note 10 variants to sell roughly as well as a single Note 9 model. If this happens, it might be a case of brand dilution at work.
Although product diversity is generally considered a good thing in the Android landscape, being one of the founding principles of the market-leading ecosystem, sometimes less is more. Which brings me back to the "why" of the "regular"
Note 10
. As in, why does a 6.3-inch corner-cutting edition exist? Even more importantly, who is this thing for?
Is it for power users?
To answer this question, we first need to define the term that's thrown around so often but rarely explained. While it's hard to find a definition that will satisfy all people who consider themselves part of the club, the consensus seems to be that a "power user" is constantly in pursuit of the most advanced features and technologies available at any given time.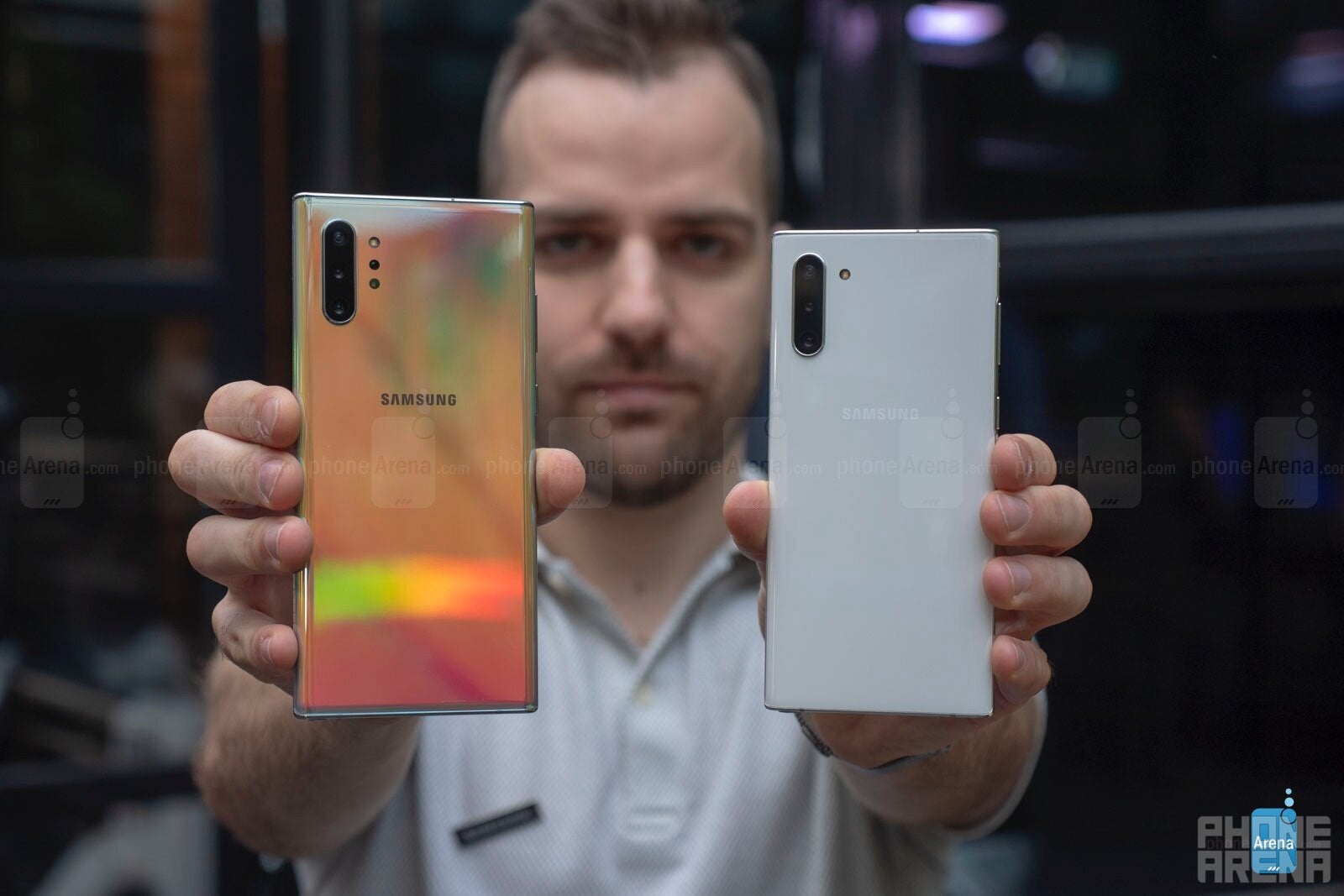 Those extra sensors on the back of the Note 10+ are not the only thing separating it from the Note 10
Now let's see exactly what the Note 10 lacks in comparison with the Note 10+. First, you have the microSD card slot. Granted, it's infuriating that Samsung decided to exclude such a basic feature from the lower-cost model, but let's say you can learn to live with 256 gigs of internal storage space and increasingly affordable cloud services. But while we're on the subject of storage, the lack of a 512GB Note 10 configuration is perhaps even harder to justify than the microSD exclusion. Worse still, you can only combine the 256GB digital hoarding room with 8GB RAM on the smaller Note 10.
Is 12 gigs of memory overkill? Maybe. Is the fourth camera on the back of the Note 10+ a game changer? Not yet, as 3D scanning and AR measurement apps still feel largely experimental and gimmicky. But when you take these seemingly minor tradeoffs into consideration altogether, it's hard to call the Note 10 a power user's dream phone.
Is it for fans of smaller screens?
Yup, it has come to this. It's 2019 and a handset with a 6.3-inch display is considered (by some people, at least) compact. And to think the original Galaxy Note seemed huge back in 2011 with a 5.3-inch screen in tow. Of course, the Note 10 comes with almost no bezel, thus measuring a crazy 11mm less than 2011's Galaxy Note in width while only gaining 4mm in overall height.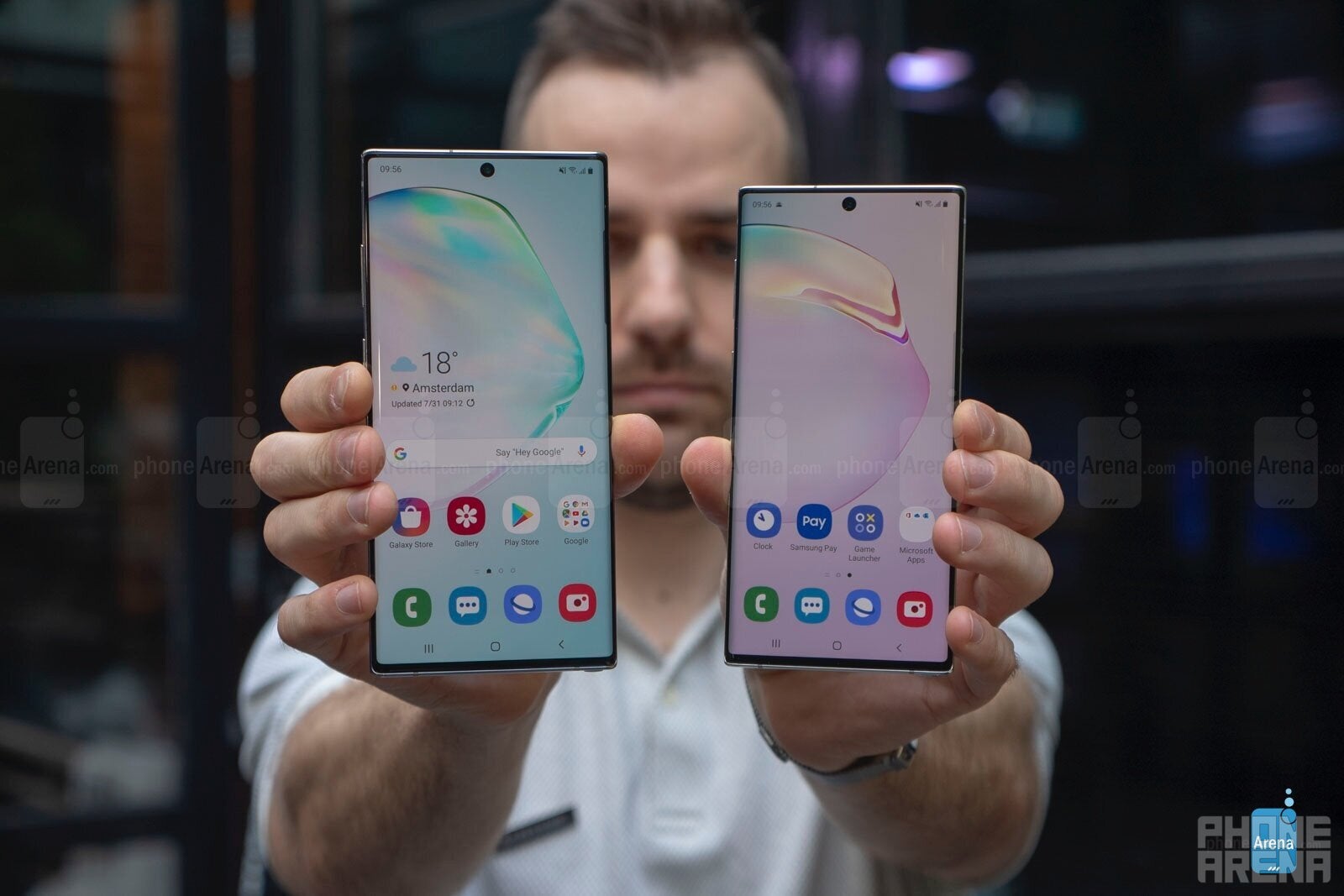 The Note 10 may look small next to the Note 10+, but it's still pretty large
It's also true that
One UI
greatly improves one-handed usability compared to the TouchWiz interface of past Samsung flagships. But at the end of the day, if it's convenience you're most interested in, there are definitely better, smaller, and cheaper alternatives on the market. Like the
Galaxy S10e
. Sure, it doesn't look as cool as the Note 10, but it's 9mm shorter, 2mm narrower, and
several hundred bucks more affordable
.
Besides, that smaller screen is also paired with a much smaller battery than the one powering the Note 10+. We'll have to wait and conduct our in-depth tests before concluding what that means from an actual endurance standpoint, but based on our experience reviewing the
Galaxy S10 and S10+
, we expect a significant advantage in terms of battery life for the larger variant. Finally, the Note 10 supports slower charging speeds than its bigger brother, so even if you consider the 6.3-inch screen a key strength and selling point, there are just too many compromises to justify a $950 purchase.
Is Samsung trying to broaden the appeal of the Note family?
That's probably the most reasonable explanation for why the smaller, lower-end Note 10 exists, but I would argue that Samsung's biggest mistake here is not going broad enough. Remember the
Galaxy Note 10e rumor
? It died so fast, but I still find myself occasionally imagine a 5.8 or 6-inch Note 10 with a dual rear camera setup, reasonably large battery, both 6 and 8GB RAM options, and yes, even a side-mounted fingerprint scanner.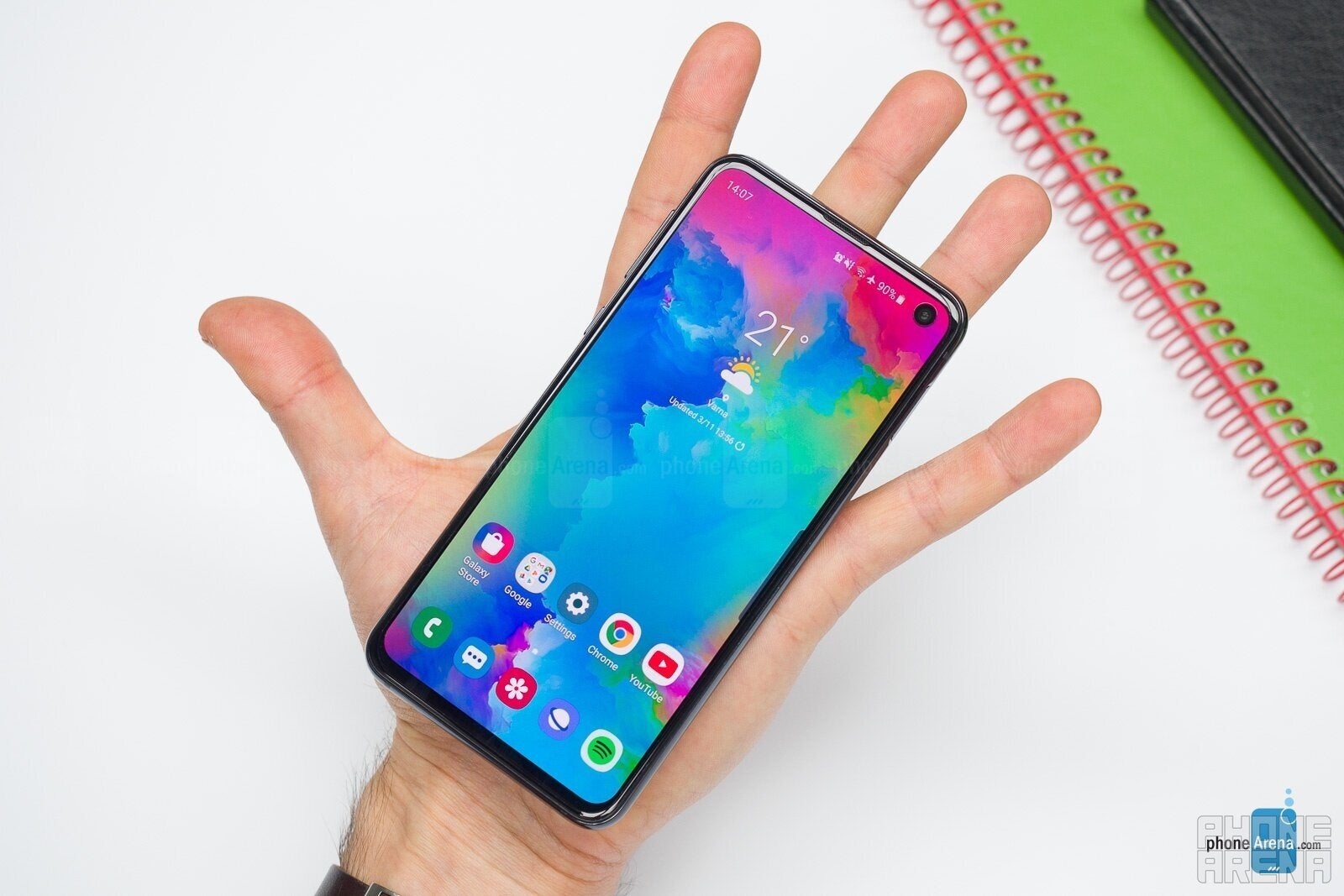 The Galaxy S10e is an exquisite little phone. Emphasis on little.
Sure, something like that would have cannibalized the sales of the Galaxy S10e, but with an S Pen and perhaps a dual-curved display, it might have had an easier mission standing on its own two feet than what Samsung ultimately chose to expand the Note lineup. Not to mention a Note 10e could have gone much lower in terms of recommended pricing than $950, truly opening up the stylus experience to the masses. Which brings us to what the Note 10 actually is.
A Galaxy S10 with an S Pen
Yes, I know the design is different in a number of meaningful ways. And while I personally prefer the centered hole punch implementation, there are simply not enough upgrades or even refinements to help the Note 10 truly stand out from the
6.1-inch S10
. Of course, the S Pen is a very important add-on for many people, and if you think about it, the
Note 9
wasn't so much different from the
S9+
either.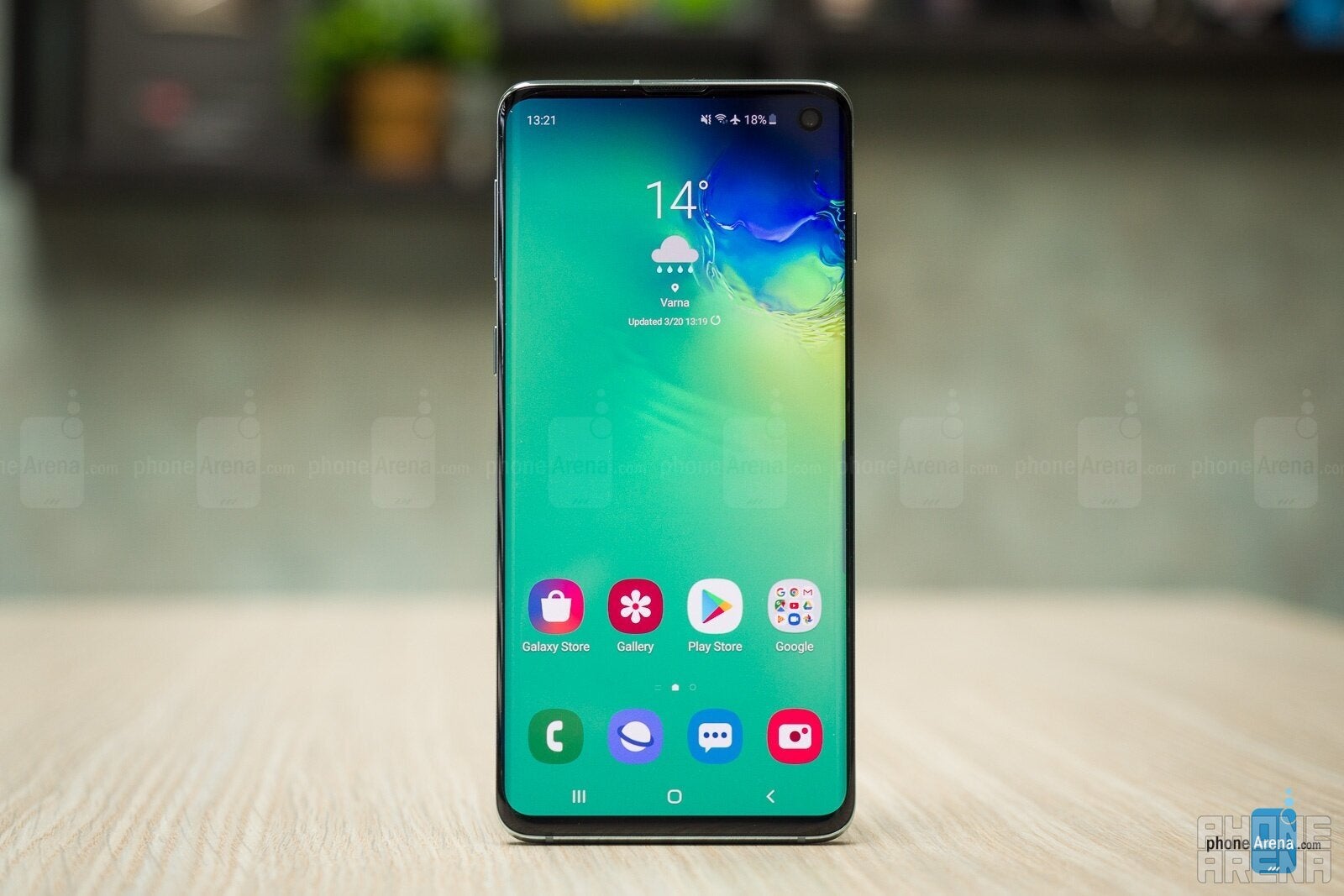 Hole punch aside, the Note 10 is not very different from the S10
But the problem is the Note 10 takes its cues from a Galaxy S10 variant that wasn't ideally positioned either, sitting right below the S10+ powerhouse on the pricing totem pole with a number of significant compromises of its own. Still, if a stylus-wielding take on the inferior S10 model was precisely what you were looking for, you can go right ahead and cough up your 950 bucks... as long as you're comfortable turning your back on an
S10 that's often so much cheaper
.
Recommended Stories