Galaxy Note 10 benchmarks reveal two 5G variants with different SoC, RAM, and performance scores
24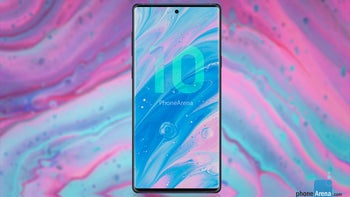 For a high-end smartphone... family that's still most likely several months away from an official announcement, let alone a commercial release, we seem to have a great deal of inside information on the
Galaxy Note 10
already. Of course, it's far too early to know for sure whether or not Samsung scrapped
that rumored "radical" design
that purportedly included absolutely
no physical buttons in addition to no headphone jack
.
But it's becoming increasingly likely that the company's next-gen flagship lineup will be comprised of
several different variants
. At least
four Note 10 models
are in the pipeline, according to a number of typically reliable sources, and two members of this extensive family have just popped up in the Geekbench database, flaunting their insane browsing speed while revealing some key specifications.
Up to 12GB RAM and (optional) 5G connectivity
There are four known model numbers associated with the impending Galaxy Note 10, and if
SamMobile's intel
is correct (which it usually is), the SM-N971 and SM-N976 labels are meant to designate the 5G-enabled derivations of the "standard" SM-N970 and SM-N975. In case you're wondering, the
Note 9
carried the model number SM-N960, so it makes perfect sense for its sequel to be known under the aforementioned aliases.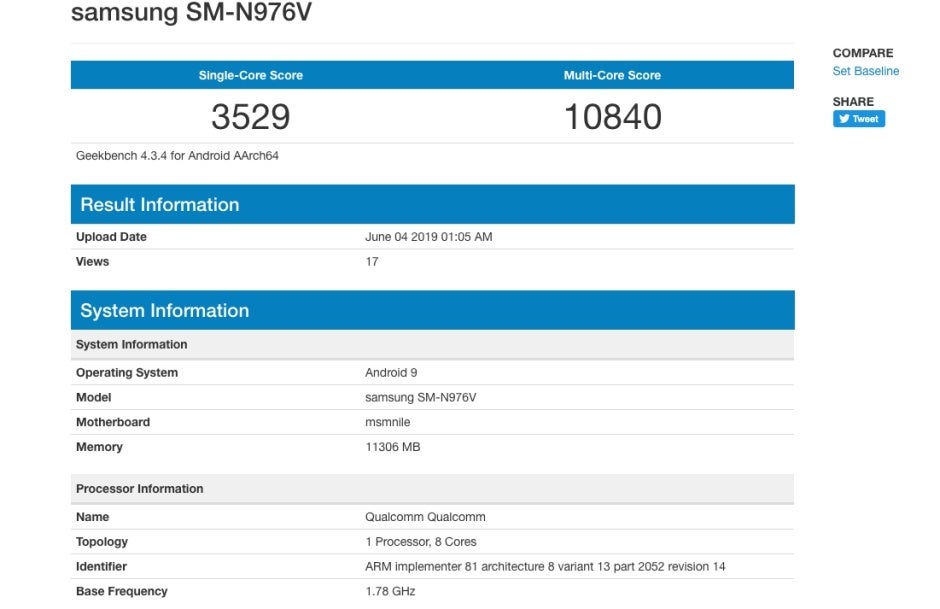 That means the SM-N976 is likely the most powerful of all Note 10 configurations in the works, so it's definitely not surprising to see a subvariant
benchmarked with a whopping 12 gigs of memory
under its hood. The SM-N976V will almost certainly be released on Verizon (hence the V in its model number), packing the same Snapdragon 855 processor as the
Galaxy S10 5G
.
Of course, the Galaxy S10 5G comes with "only" 8GB RAM and a maximum of 512 gigs of internal storage space in "Majestic Black" and "Crown Silver" colors. Meanwhile, if the Galaxy Note 10 5G will indeed be upgraded to 12GB RAM, there's a good chance a full terabyte of local digital hoarding room will also be offered. SamMobile thinks this absolute beast could rock a ceramic finish as well, although for the time being, that's merely an educated guess. Then again, it's worth pointing out that a non-5G variant of the
Galaxy S10+
is currently available in Ceramic White and Ceramic Black designs with up to 1TB of storage and 12 gigs of memory.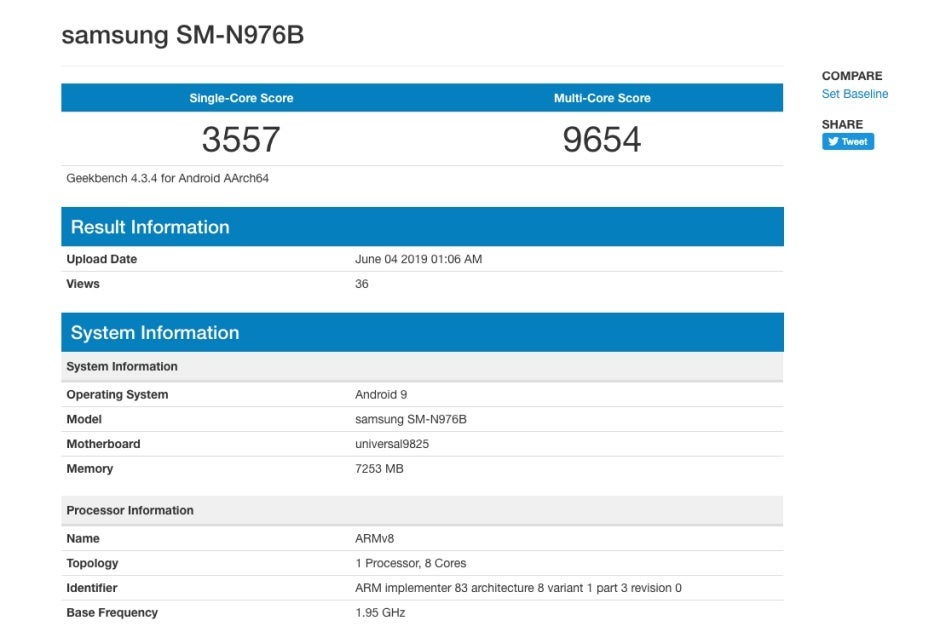 Interestingly, the "international" SM-N976B version of the Galaxy Note 10 5G pairs an Exynos 9825 SoC with 8GB RAM, at least
according to another fresh Geekbench file
, heading for Australia and other markets, most likely in a non-ceramic design. That Exynos chipset, mind you, is not yet a thing, purportedly coming soon to revise the 9820's 8 nm architecture to the same cutting-edge 7 nm manufacturing process used by Qualcomm's Snapdragon 855.
Best-in-class multi-core performance... by a whisker
No, synthetic benchmarks are not always representative of a handset's real-life capabilities. Geekbench scores can be incredibly misleading, especially when talking about unreleased products running unfinished software. But it's still interesting to compare the early results of these Galaxy Note 10 prototypes with the definitive scores of the best Android phones on the market today.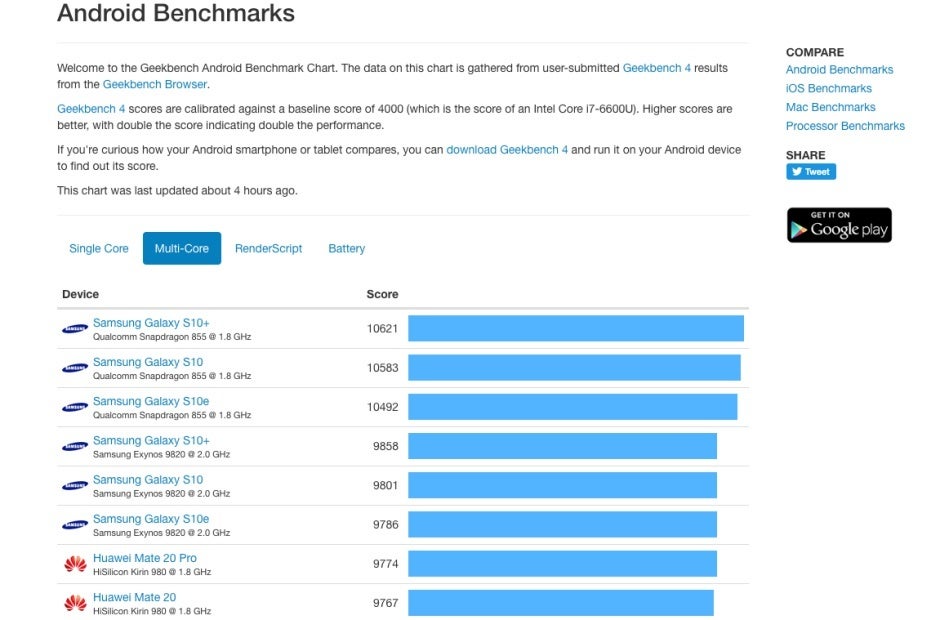 Unsurprisingly, the SM-N976V model takes advantage of its superior memory count and Snapdragon 855 SoC to beat the SM-N976B in multi-core performance. At the same time, the 10,840 points racked up by the 12GB RAM-packing Note 10 are enough to edge out the 10,600 or so totals of the Galaxy S10 and S10+ sitting at the top of the
Geekbench Android charts
right now.
Curiously enough, the SM-N976B manages to narrowly defeat the SM-N976V in single-core power, with both variants eclipsed by the entire S10 family. That's probably due to a lack of optimization for this particular scenario in these pre-release Galaxy Note 10 units, which makes us hopeful for higher multi-core results from commercial devices set to be released sometime in the fall.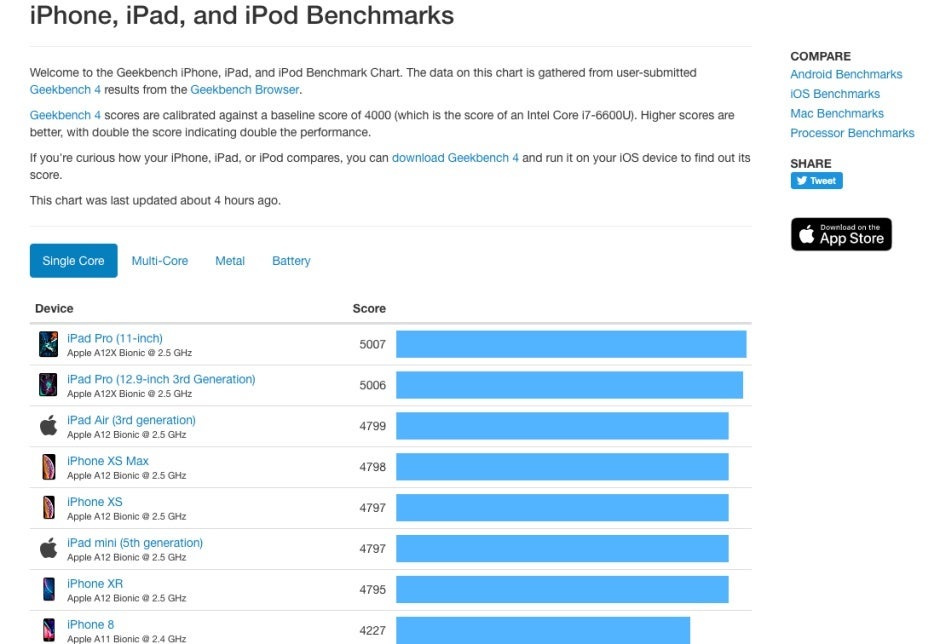 Perhaps the Note 10 will even end up being faster (on paper) than the
iPhone XS and XS Max
, although we wouldn't count on that as Apple's latest and greatest handsets are consistently rated well above the 11,000 points level.