Samsung has 'perfect full-screen' phones in the works, but they're not coming very soon
7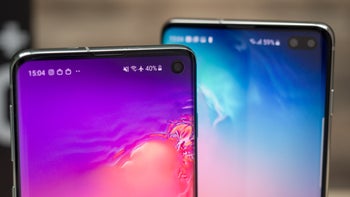 Hole punch designs are not going anywhere for at least a couple of years
Like many other smartphone manufacturers, Samsung has been working for years on two things expected to consolidate the company's supremacy in the global mobile industry. But even though we're definitely getting closer to the age of ubiquitous foldable devices and "perfect full-screen" handsets, both these revolutionary designs need further refinement work.
Obviously, it's not that Samsung doesn't want to achieve that "perfect" design as soon as possible. But for the time being, making an "invisible" camera hole simply cannot be done. It also remains unclear if the technology will "move forward" fast enough to produce a handset with a screen-embedded camera and sensors in two, three, five, or ten years. Until that happens, Samsung is naturally proud of how the Galaxy S10 family looks, with Yang describing the so-called Infinity-O display as a "milestone."
The method used to punch a hole (or two) in the screen of the
S10
(and
S10+
) is labeled as a "very challenging technology", as well as a "noteworthy achievement in terms of the display technological advances." But what comes next is infinitely harder, as Samsung needs to find a way to put the front camera out of sight, beneath the display of future flagship phones, without impacting its functionality and performance.
At the same time, the company is "considering" following LG's suit and implementing "Crystal Sound OLED display" technology to eliminate the need for a physical earpiece. Like the
G8 ThinQ
, the
Galaxy Note 10
(presumably) would be able to use its entire screen as a speaker, which is something the
Galaxy S10 was actually expected to debut
.