Samsung Galaxy Note 10 envisioned in new 3D renders
55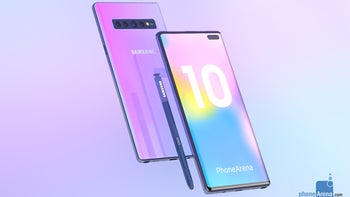 The premiere of the Galaxy Note 10 is a good couple of months away, yet information about Samsung's next flagship phablet is slowly beginning to trickle down the grapevine. Although there's many questions that we can't yet answer with absolute certainty, we decided to take what little we know about the Note 10 and examine it through the prism of incremental innovation to come up with a plausible depiction of the upcoming phone.
With this in mind, we hit the drawing board to create a series of concept 3D renders that aim to depict what the Samsung Galaxy Note 10 could look like, based on current rumors and ongoing trends in the tech world. As such, these images are not meant to be completely representative of what the Note 10 will look like in the end, but rather, help us paint a better picture of what features and design changes to expect.
Four main cameras on the back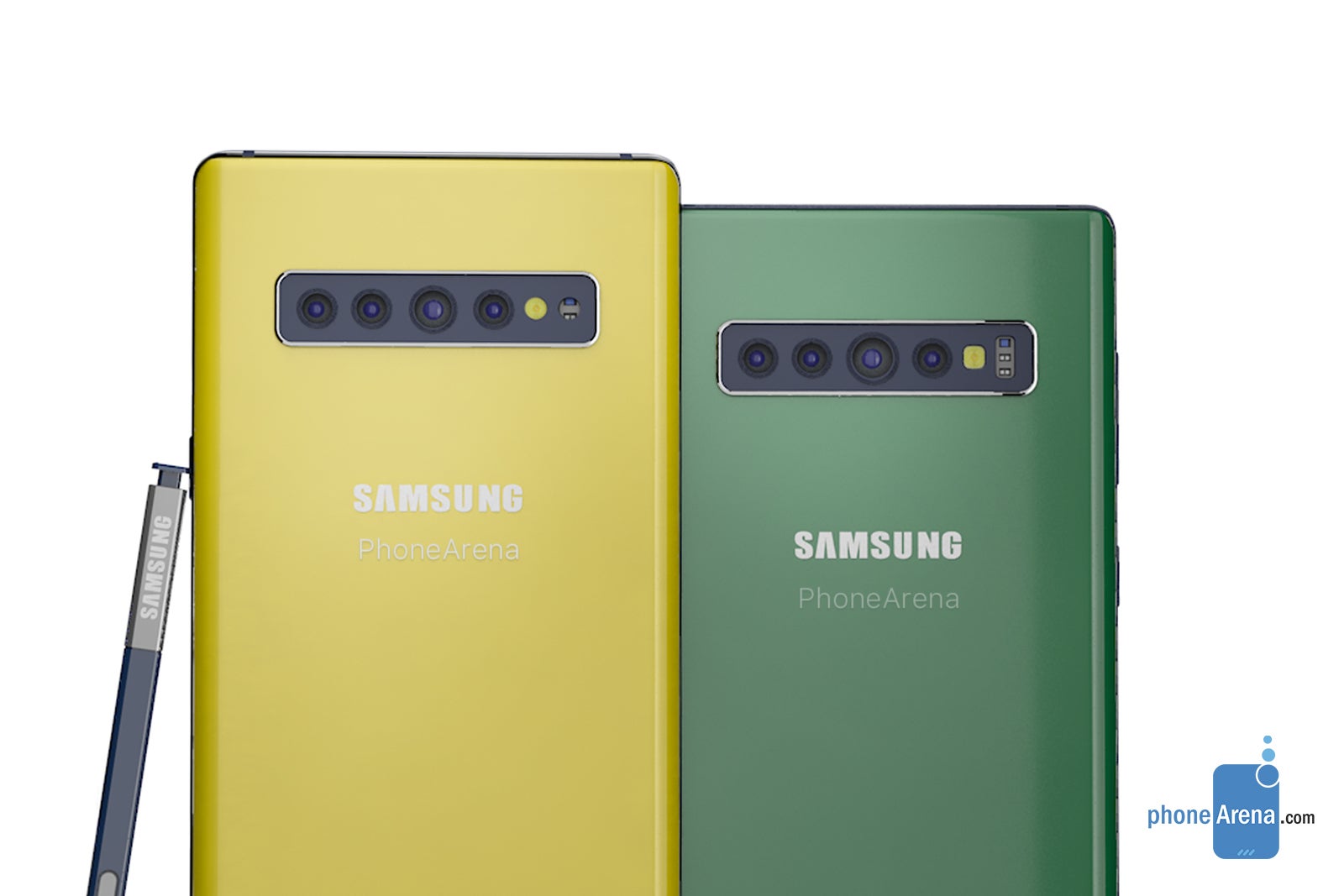 We don't know whether (or how) Samsung will change the position and shape of the flash and heart rate sensor, but we'd love to see them take on a more rounded shape
One of the most prominent rumors about the Note 10 is that it will feature a quad camera setup, akin to that of the Galaxy S10 5G. On the S10 5G, the quad rear camera is comprised of a 12 MP camera with a normal field of view, a 12 MP telephoto one (for 2X optical zoom), a 16 MP wide-angle shooter, and a 3D Depth camera (useful for 3D scanning, Augmented Reality, or gesture control). Since the Galaxy S10 5G won't be released for at least a few more months, we don't know how well its camera performs. In any case, it's likely that the Note 10's quad camera will have a similar configuration, perhaps with some improvements.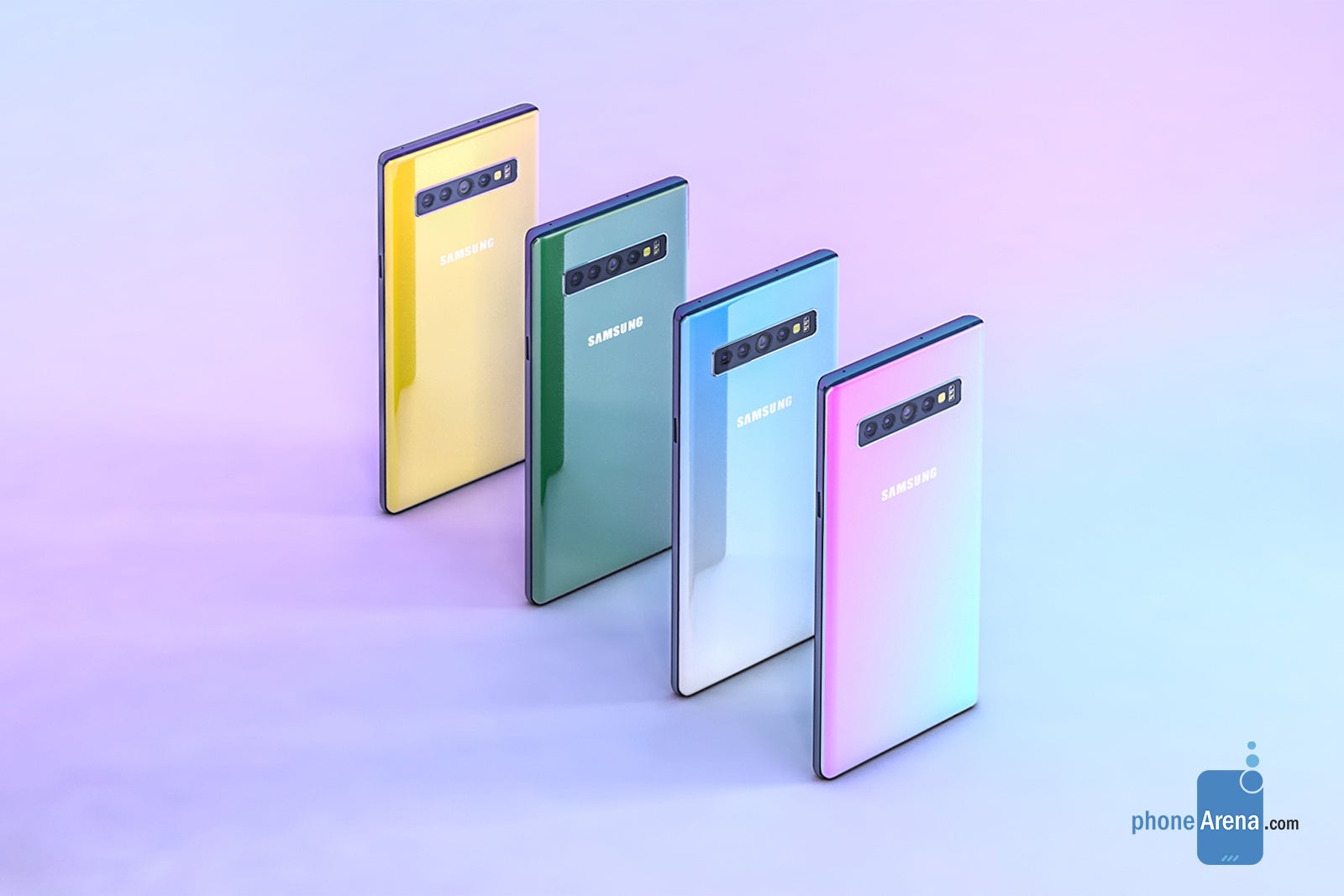 We've got our fingers crossed for a plethora of new color options for the Galaxy Note 10
We don't know whether (or how) Samsung will change the position and shape of the flash and heart rate sensor, but we'd love to see them take on a more rounded shape. We took some creative liberties in our depiction, with both modules nested in fully circular openings. If the Galaxy S10 5G is anything to go by, the various cameras and sensors won't be as symmetric or clean-looking.
Punch-hole style selfie camera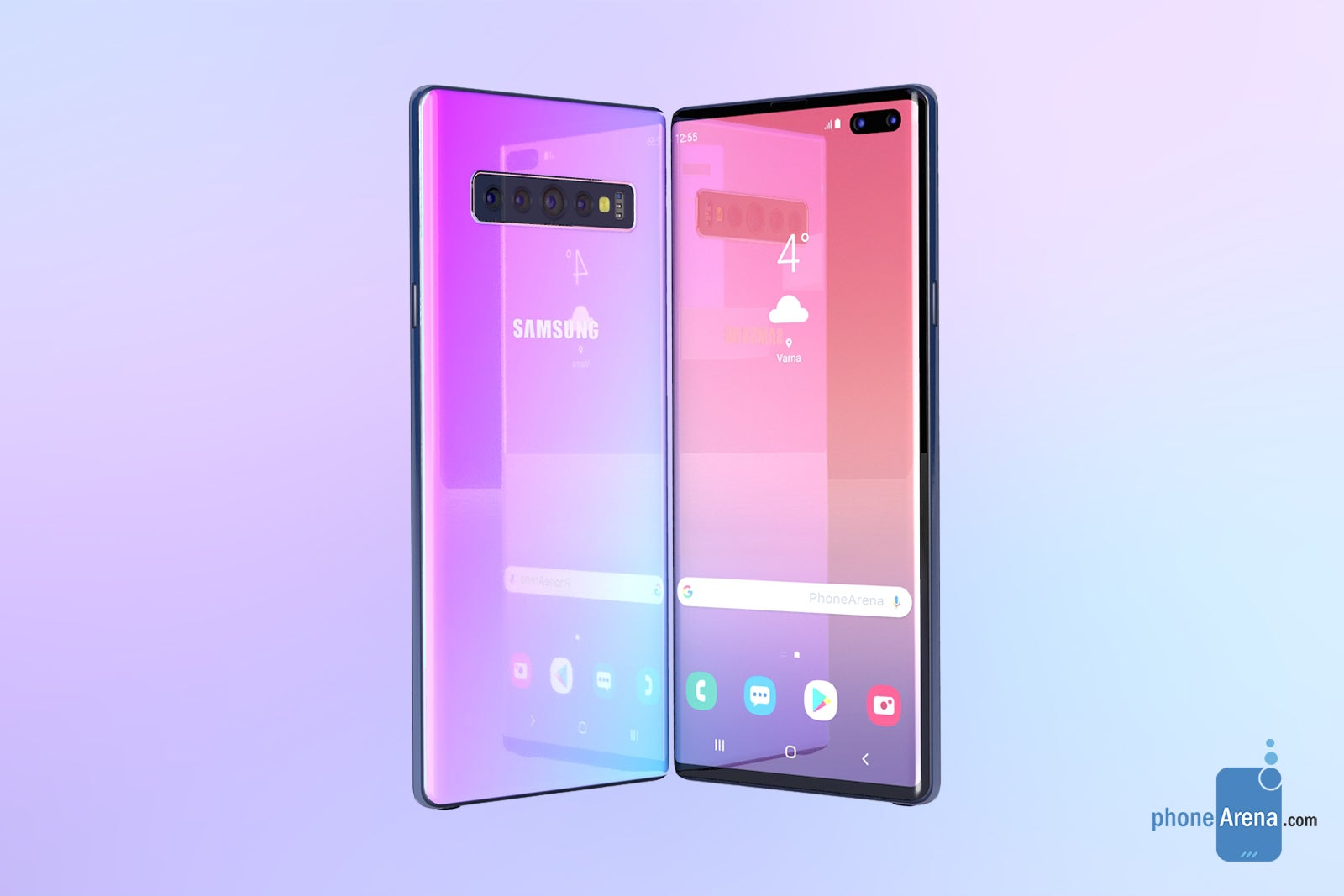 Ever since Samsung hinted at the "New" Infinity Display—an uncompromised display that likely hides a front-facing camera underneath—fans have been hoping to see it implemented in a consumer device. Unfortunately, the technology for hiding a camera beneath the actual display seems to not be ready for prime time (though you can bet that companies are working on it and it's happening in the coming years). For now, though, Samsung's stopgap to a completely bezel-less device seems to be the Infinity-O display, which has a "hole" for the selfie camera.
If historical evidence is anything to go by, the Note 10 is likely to feature a dual front-facing camera setup, similar to that of the Galaxy S10. Who knows, Samsung might even go as far as to add a third one, though this would be too much, in our opinion at least.
In-display fingerprint scanner
With the Galaxy S10, Samsung introduced an ultrasonic in-display fingerprint reader. The Galaxy Note 10 is likely going to adopt the tech as well, doing away with the rear-mounted sensor. The in-display solution is not only infinitely more convenient in every possible way, but it will also reduce the risk of leaving smudges on your camera while trying to unlock your phone.
Some people are still concerned with how durable this type of fingerprint reader is, though if the Galaxy S10 is anything to go by, then the answer is, "more than enough." Samsung's latest flagship phone was recently subjected to a lot of torture to test whether damaging the screen above the sensor impedes its functionality. Turns out, it doesn't. In other words, if you don't take it upon yourself to destroy it, it won't be affected by normal use and wear.
So, what do you make of all this? Do you like the design and colors we came up with? If you did, check out the gallery at the end of the article for more renders.
Disclaimer: the images featured in this article are based entirely on preliminary information about the handset and have no pretense of being fully representative of the device's final design.
Recommended Stories