Samsung Display comes out with a new 360 degrees hinge prototype for folding phones
2
The Consumer Electronics Show, or CES for short, has always enabled us to sneak a peak into the future of mobile tech. One of the more intriguing innovations that popped up this year during the event was an improved hinge for foldable phones that was shown off by none other than one of the leading parties in display technology — Samsung Display.
This new hinge is intended to make the infamous crease that we are used to seeing on foldable phones like the
Galaxy Z Fold 4
and
Z Flip 4
, for example, less visible. It is called a "water-drop hinge" and it is engineered in way that puts less stress on the display, taking the shape of a — as the nickname suggests — water drop when it is folded inward. (
via TheVerge
)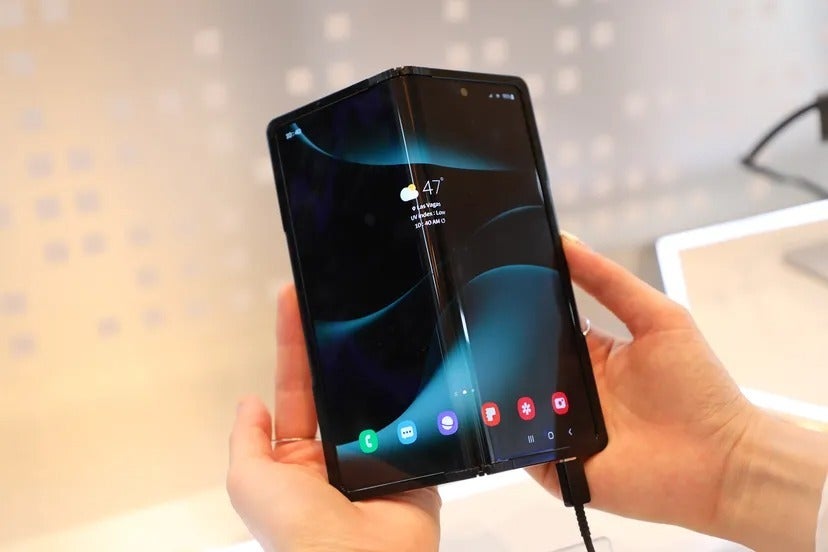 Image cred
Samsung Display, via TheVerge.
Arguably more exciting, however, is that this new design also makes it possible for the screen to be curved both inwards and outwards, showing the possibility of a future foldable phone that can rotate a full 360 degrees. What's more, this would also make it possible for
Samsung
to finally get rid of that visible gap when the phone is closed. Frankly, this improvement is starting to sound and look much like the
Oppo Find N2
and
Oppo Find N2 Flip
, both of which have already achieved less visible creases and a more flush design when the phone is closed.
Now, it is very tempting to speculate that the
Galaxy Z Fold 5
and
Galaxy Z Flip 5
will come with this new hinge and all of the benefits alongside it, but there haven't been any other hints pointing at such an upgrade as of yet. That being said, there is quite a bit of time until August 2023, which is when we expect both phones to be announced, so you never know.
Right now the spotlight is heavily focused on none other than Samsung's new upcoming trio of your regular slab-style phones — the
Galaxy S23
series. Those, on the other hand, are almost surely less than a month away (February 1) from being announced, so there is something closer on the timeline to look forward to.