Latest rumor has the Pixel Fold costing hundreds of dollars less than the Galaxy Fold 4 and Fold 5
4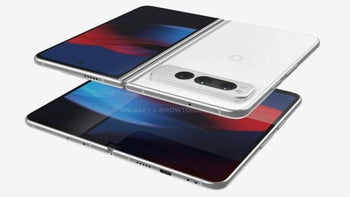 Originally, it was thought that the Pixel Fold, now expected
to be introduced at Google I/O on May 10th
, would match the Galaxy Z Fold 4's $1,799.99 and up price tag. But a Twitter tipster named
Yogesh Brar
(@heyitsyogesh) wrote that the Pixel Fold will be priced in a range of $1,300-$1,500. That would be a significant savings of as much as $500 over 2022's Galaxy Z Fold 4 and possibly this year's Galaxy Z Fold 5 (for the purposes of this story we will assume that this year's Galaxy Fold model will cost the same as last year's model).
This makes more sense than having the rookie foldable (Pixel Fold) priced the same as the proven veteran (the Galaxy Z Fold 4 and Fold 5).
The tipster says that both the
Pixel Fold
and the mid-range Pixel 7a will be announced at Google I/O (again, on May 10th) and both will be released early in the third quarter (which could mean a July launch for the pair). A previous rumor called for a June release for the two phones. He added that the Pixel 7a will carry a price in the range of $450-$500. The Pixel 6a was priced at $449.
If this timeline is correct, the Pixel Fold will be available before the Galaxy Z Fold 5. While the latter is expected to keep its predecessor's 6.2-inch cover screen and 7.6-inch internal foldable display, the Pixel Fold could sport a 5.79-inch exterior display with a 7.69-inch internal screen. Unlike the Galaxy Z Fold 4 and Galaxy Z Fold 5's portrait-oriented tablet-sized display, the Pixel Fold's screen could be more landscape-oriented like the display inside the Oppo Find N and Find N2.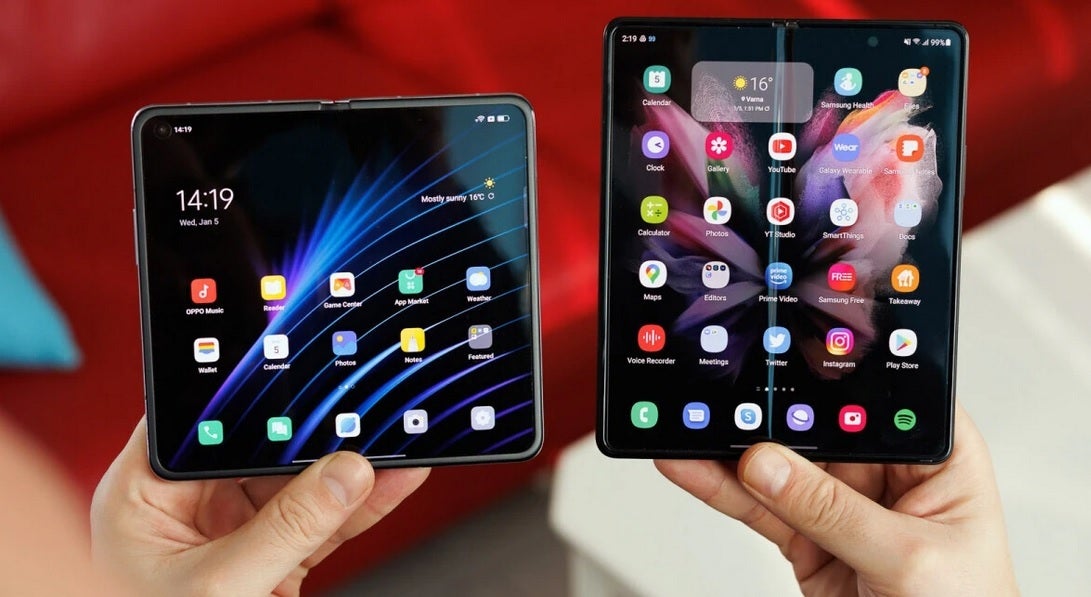 The landscape-oriented Oppo Find N vs. the portrait-oriented Galaxy Z Fold 3
The Pixel Fold will be powered by a Google Tensor 2 chipset, the same silicon component that you'll find under the hoods of the Pixel 7 and Pixel 7 Pro. On Geekbench, the Pixel Fold reportedly scored 1047 points in the single-core test and 3257 points in the multi-core test. That compares to 1670 for the Galaxy Z Fold 4's single-core run-through, and 4081 for the multi-core tally. The first foldable Pixel will reportedly be offered in Chalk and Obsidian (white and black) and will have 12GB of memory and 256GB of storage.

The Pixel 7a has a chance to become a huge hit if
Google
plays its cards right. With a 6.1-inch AMOLED display carrying an FHD+ (1080p) resolution and a 90Hz refresh rate, the Pixel 7a will also have the Google Tensor 2 running the show. But the exciting part of the phone is the camera array on the back where the 64MP Sony IMX787 image sensor will drive the primary camera. 13MP image sensors will be behind the rear-facing ultra-wide camera and the front-facing selfie camera.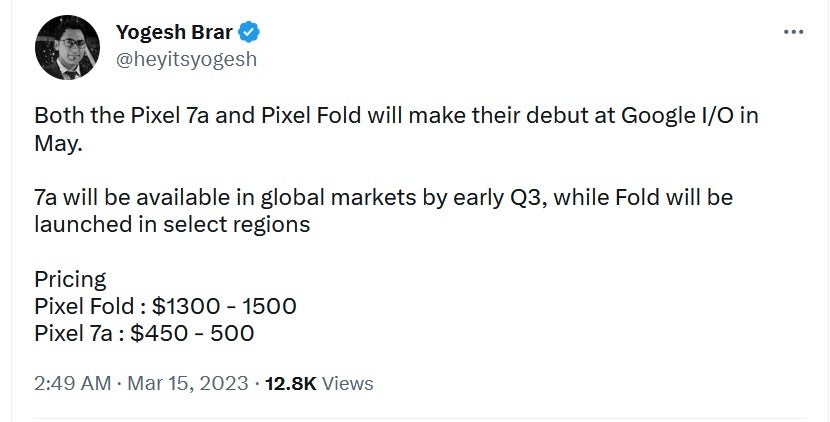 Tipster posts what he has heard about pricing for the Pixel Fold and Pixel 7a