Pixel 6 and 6 Pro size comparison: how do they stack up against competitors and older Pixels
6
We may earn a commission if you make a purchase from the links on this page.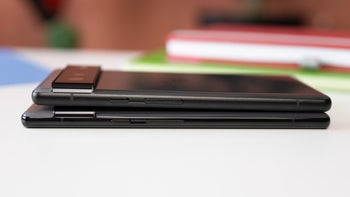 With the introduction of the Pixel 6 and 6 Pro, Google showed us that it is still possible to break the stagnant formula that is phone designs. Of course, the back panel of the two Google flagships was what made them stand out from the rest of the pack.
With a new design, however, often come new dimensions and size, both of which are deciding factors for many that are choosing a new phone. So, we are here to help you get some idea of the Pixel 6 and 6 Pro's size while comparing them to predecessors and competitors.
Pixel 6 vs. Pixel 6 Pro vs. Pixel 6a
Before actually pitting them against anything else, it is important to know how the Pixel 6 and Pixel 6 Pro differ from each other in terms of size.
As you can see, both of Google's new phones can be considered big, although the Pro version is noticeably taller. Living up to its name, the Pixel 6 Pro also has a higher screen to body ratio, making use of that extra size.
On the other hand, you have the more affordable Pixel 6a, which Google has focused on making compact and therefore significantly smaller than the more pricey models.
Pixel 6 vs Pixel 5 vs Pixel 4 vs Pixel 3
Google has really doubled down on the big phone energy with the Pixel 6. Since both the regular and the pro version are somewhat similar in size, it is natural that previous generations of base Pixel phones get dwarfed by the Pixel 6. Also, be prepared to rock a heavier Pixel if you plan on upgrading from a previous one.
Pixel 6 Pro vs Pixel 4 XL vs Pixel 3 XL
Here we see some significant differences. Just like with the Pixel 6, the Pixel 6 Pro is quite a bit heavier compared to the Pixel 4 XL and Pixel 3 XL. This probably accounts for the hefty camera bar—as Google calls it—on the back of the device. The Pixel 6 Pro also beats its predecessors when it comes to height, while the width remains mostly the same.
Pixel 6 vs iPhone 13 vs Galaxy S21 vs OnePlus 9
Here's where things get a little more interesting. The Pixel 6 beats all three of its main competitors in terms of chunkiness, except when it comes to the OnePlus 9, which is a bit taller and wider in comparison. Hopefully Google releases a smaller pixel sometime in the future for those who prefer more compact form factors. Otherwise, there are always the pixel 5 and 5a for instance. All pixels from Pixel 3 onwards will get Android 12, so you have options to choose from.
Pixel 6 Pro vs iPhone 13 Pro Max vs Galaxy S21 Ultra vs OnePlus 9 Pro
Pixel 6 Pro vs iPhone XS vs Galaxy Note 20 Ultra vs Galaxy Note 10 Plus
Now we finally reach the heavy weight category, where the Pixel 6 and 6 Pro mainly belong. Here, we finally meet some worthy contenders to the new Pixels when it comes to weight in size. Both the Galaxy S21 Ultra and the iPhone 13 Pro are quite heavier than the Pixels. Overall, though, the Pixel 6 and 6 Pro start to look more normal in this category, with its height and width mostly staying within the norm when it comes to big phones. In other words, you won't find it drastically different.
So the takeaway here is that the Pixel 6 and Pixel 6 Pro are big phones, but when compared to a similar form factor they actually prove lighter and even less wide. It remains to be seen how comfortable they will feel in real life. One key factor to pay attention to is the camera bar situated at the top of the device, which could create some uneven weight distribution. Nevertheless, lets wait and see how it feels in the hand and make our judgement then.
Order your Pixel 6 and Pixel 6 Pro right here: