Nokia 6.2 goes up for pre-order in the US with reasonable price and respectable specs
8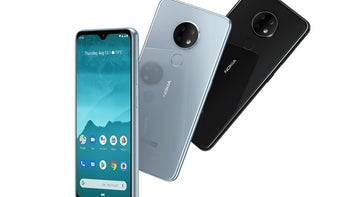 According to
Nokia's official US website
, there are no less than 13 smartphones from the early 2017-revived brand available stateside at very reasonable prices ranging from $40 to $450. But you can actually add one more name to that already extensive list, as the
Nokia 6.2
seems to have discreetly gone up for pre-order on Amazon at some point this week.
Formally
unveiled at the IFA trade show in Berlin last month
, the 6.3-inch mid-ranger was expected to cost as little as 200 bucks when it eventually came to the US. Ultimately, exclusive global brand licensee HMD Global appears to have settled on a slightly higher $249 price point, with black and "Ice Blue" hues currently available ahead of an October 28 release with 64 gigs of storage space on deck.
As the name suggests, this comes with a number of downgrades over the specifications of the $350
Nokia 7.2
, including a humbler Snapdragon 636 processor (compared to the 660 silicon powering the costlier handset), a modest-sounding 8MP selfie shooter (versus a 20MP camera on the front of the 7.2), and a triple rear-facing lens system consisting of 16, 8, and 5MP imaging sensors (compared to a 48 + 8 + 5MP setup).
Then again, the Nokia 6.2 and 7.2 also have quite a lot in common, starting with the same exact IPS LCD panel sporting a resolution of 2280 x 1080 pixels, as well as a sleek notch and relatively small chin, and including a 3,500mAh battery, 4GB RAM count, and of course, a clean Android One software experience too with an Android 10 update right around the corner.
If you're not necessarily a hardcore Nokia fan, we should probably point out the 6.2 is entering a price bracket mainly dominated by the likes of the
Moto G7
and
G7 Power
.
HMD's newest mid-range soldier packs a slightly faster chipset than its key rivals, as well as a larger battery than the "regular" G7 variant and more memory than the $250 G7 Power. The Nokia 6.2 also has a more complex camera system, at least on paper. Before pulling the trigger, you might want to keep in mind the GSM unlocked phone is exclusively compatible with carriers like AT&T and T-Mobile, lacking support for Sprint and Verizon.