LG hopes the V50 ThinQ 5G will 'create momentum' after another bad quarter for its mobile business
14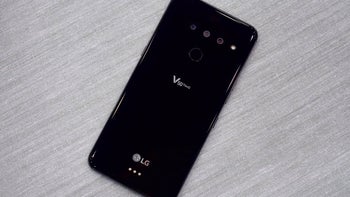 This is certainly not the best time to be in the business of manufacturing and selling smartphones (
unless you're headquartered in China
, of course), as
everyone from Apple
to
Samsung
to
Google continues to struggle
amid
declining numbers for the overall global market
. Then again, LG's troubles began back when the mobile industry as a whole was still thriving, so it's definitely no surprise to see the tech giant's smartphone division generate another
big quarterly loss between January and March 2019
.
While LG is trying to focus on the positive, highlighting the latest operating deficit of its limping Mobile Communications Company has "narrowed" from Q4 2018, it's equally important to note the Q1 2019 result is actually worse than the one reported this time last year. Namely, LG Mobile lost the rough equivalent of $127 million (KRW 136.1 billion) back during the first quarter of 2018, a figure that escalated to a little over $180 million (KRW 203.5 billion) in the January - March 2019 timeframe.
That's obviously not a very encouraging trend, although LG insists its smartphone business rebuilding plans are going well. As part of this strategy, the company is relocating certain crucial
manufacturing operations from its Korea homeland
to Vietnam, a move expected to "improve profitability and global competitiveness" as early as this year's second half.
Interestingly (and worryingly for LG fans expecting a swift rebound), there's no mention in the company's latest quarterly financial report of the recently released
G8 ThinQ
. Instead, LG is counting on the 5G-enabled
V50 ThinQ
to "create positive momentum in the second quarter." Unfortunately, "hardware, software, and network optimization"
caused an unwanted delay
for a handset that seems unlikely to generate a lot of mainstream buzz, considering its prohibitive price and the modest deployment of 5G technology so far.
In addition to profits, overall LG Mobile revenue was also down in Q1 2019, from around $2 billion and $1.5 billion in Q1 and Q4 2018 respectively to only $1.34 billion (KRW 1.51 trillion). Thanks mainly to the home appliance business, LG Electronics was able to report consolidated sales of more than $13 billion and operating profit of roughly $800 million. While those numbers also declined from the first quarter of last year, they're arguably indicative of a healthy business mix capable of offsetting certain divisional losses.