LG's wildly expensive new Signature Edition phone will only be sold in 300 units
4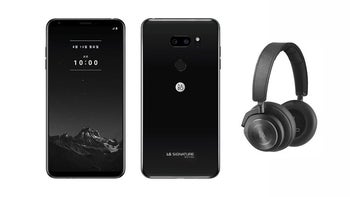 Well, that was fast. We only started hearing gossip of a new ultra-premium
LG Signature Edition smartphone
a few days ago, and the rebadged, repackaged V35 ThinQ is already official and up for pre-order.

That's because you can only buy 300 (three hundred) units of this bad boy in just one market – Korea. You also shouldn't pick this up even if you could, seeing as how it fetches a whopping 1,999,800 won, roughly equating to $1,780. That's more than double the recommended retail price of a "regular" LG V35, and it's significantly costlier than even Apple's top-tier iPhone X configuration.
Of course,
the second-generation
LG Signature Edition phone combines a hefty 6GB RAM with an outright colossal 256 gigs of internal storage space, while packing Qualcomm's very best processor available at the moment.

Then again, the Snapdragon 845 SoC has become standard fare in the mainstream high-end mobile arena, and the LG Signature Edition (2018) also borrows the rest of its specs from the V35 ThinQ. That includes dual 16MP rear-facing cameras, a single 8MP front shooter, 6-inch OLED screen with a 2:1 aspect ratio, razor-thin bezels and no notch, a 3300mAh battery, and DTS:X 3D stereo sound functionality.

Basically, LG expects 300 of its most hardcore fans to splash the cash on the extra storage space, and a luxury zirconium ceramic material employed on the phone's back to improve scratch resistance, overall durability, as well as the design's opulence. You can also have your name engraved on the new LG Signature Edition handset, and a pair of high-end B&O headphones worth around $600 is bundled in for free as an enticing deal sweetener. You know what, this might not be such a bad deal after all.