Check out which Pixel bugs Google killed with the January update
2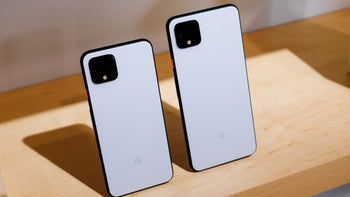 As expected, the January Android update has been disseminated to the Pixel 2 series, Pixel 3 series, Pixel 3a series and the Pixel 4 series. This consists of eight handsets in total and all of them received an update to fix the notification display in the UI. All eight also received a bug fix for a serious issue that caused Pixel units to get caught in a boot loop while on Android 10, and an update directed at the
Pixel 4
and
Pixel 4 XL
took care of an issue that prevented users from toggling on and off the flashlight on their phones.
These functional patches are different than the monthly security patches although they are packaged together in the monthly update. Other functional fixes sent by Google today include a patch to repair a Wi-Fi connectivity issue that some
Pixel 2
and
Pixel 2 XL
owners have been experiencing. As we told you in November,
the update to Android 10 back in September broke Wi-Fi
and Bluetooth for some with a Pixel 2 series model.
10 functional patches were sent to Pixel 2, Pixel 3, Pixel 3a and Pixel 4 units

January's update has many functional patches, so sit back and check out the remaining ones. The
Pixel 3
and Pixel 3 XL received a patch today that will improve the call quality of these phones. Believe it or not, this is an issue that has lingered for some time;
we first told you about this problem in December
. That is December
2018
. The same models received a patch to improve the audio recorded on videos.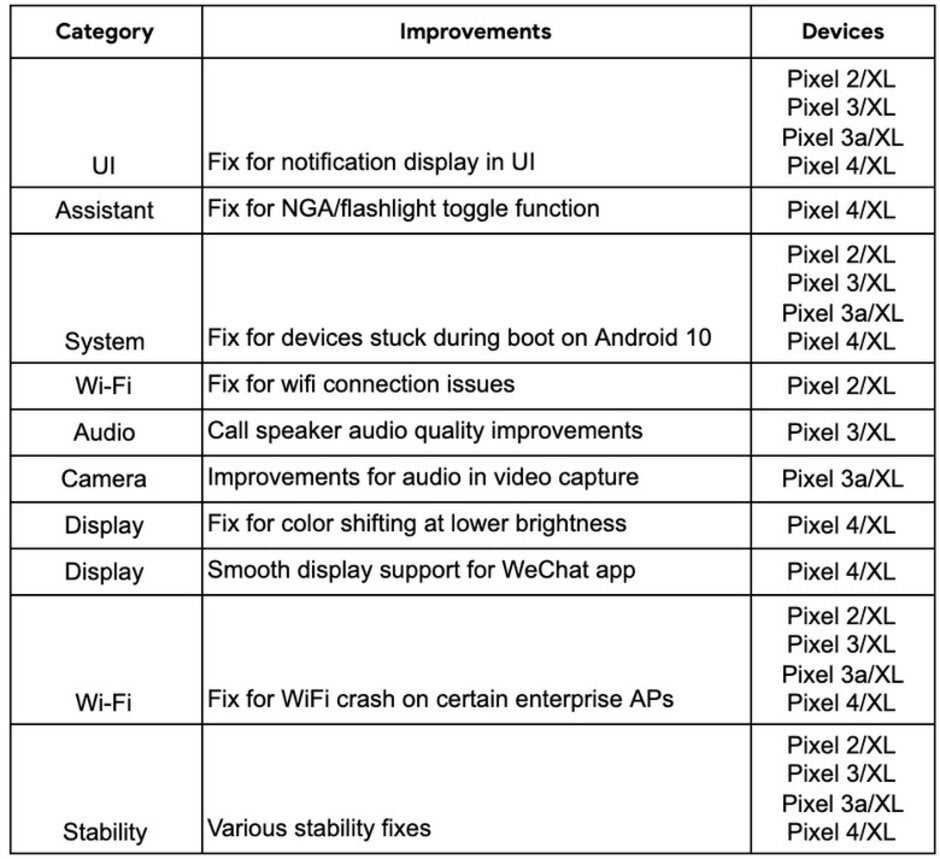 Functional patches for certain Pixel models was disseminated today by Google
Two more functional patches were sent to the latest models. The display on the Pixel 4 series should be improved now that the update has been sent to fix the color shifting on the screen that appears at lower brightness levels. And the 90Hz refresh rate on these same models, the feature that Google calls "Smooth Display," will now work with Chinese messaging app WeChat. All Pixel 2, Pixel 3 and Pixel 4 units received a patch to fix an issue causing Enterprise Wi-Fi access points to crash. Lastly, these same phones also were sent various stability fixes.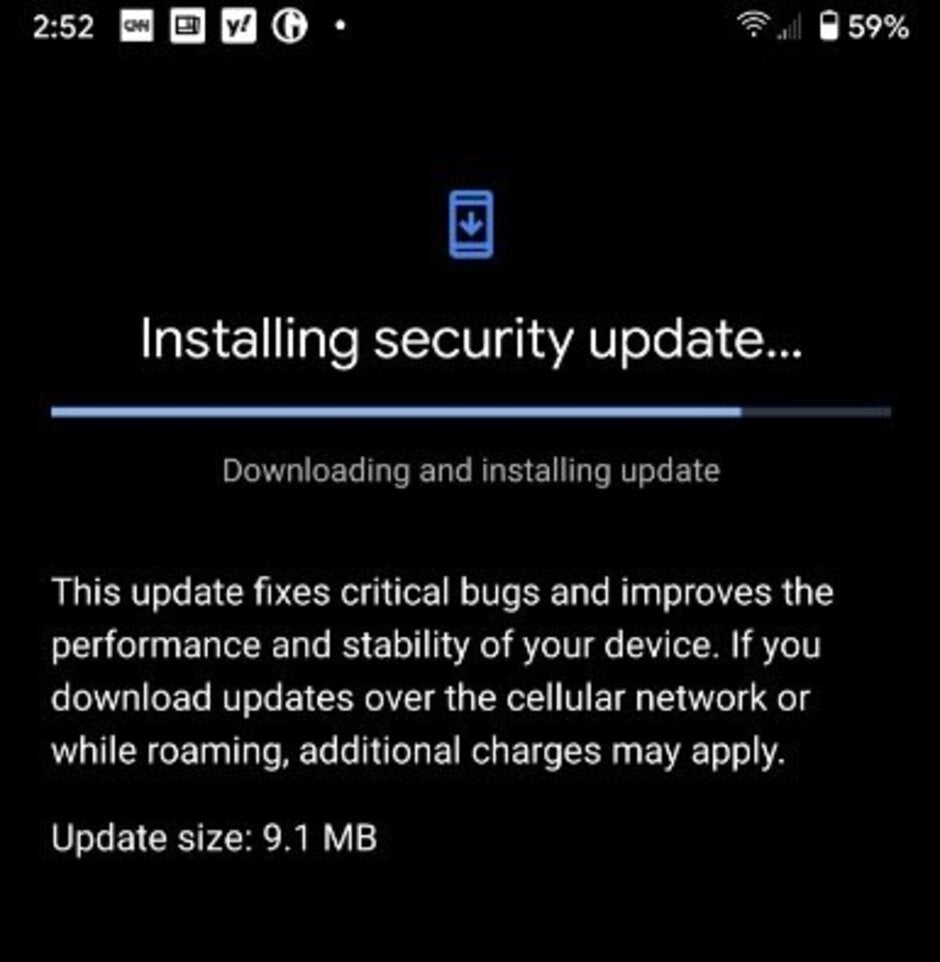 The January Android update was sent to Pixel 2, Pixel 3, Pixel 3a and Pixel 4 handsets today
As for the security updates, there are two; the one dated January 1st, 2020 fixes eight security issues ranging from moderate to critical. The January 5th, 2020 security update resolves 33 issues that were considered either critical or high. Some Pixel 3 and Pixel 4 users who did not receive the December update
are supposed to receive last month's patches together with January's fixes
. The next feature drop, which adds new capabilities to Pixel phones, should take place in March; these will be released quarterly.
It doesn't appear that Google has yet to push out the much-requested update giving Pixel 4 users the option of requiring that his or her eyes be open for Face Unlock to do its thing. Google had removed this for one reason or another from the final version of the Pixel 4 software thus leaving owners of the device vulnerable to a violent scenario. Let's say that a bad actor wants to open someone's Pixel 4. He can unlock it by rendering the phone's owner unconscious (a well-placed smack to the head with a
Pixel Slate
might do the trick) and putting the phone up to the face of its knocked out user. In the same vein, a bad actor could wait for the Pixel 4 owner to be sleeping before putting the phone up to his face and again, unlocking the handset without the owner's permission. While this might not seem like a serious issue, we're sure that some Pixel 4 users would breathe a little easier once this update has been released as promised by Google.