It's like Christmas all over again for buyers of Google's unlocked Pixel 7 and Pixel 7 Pro
7
We may earn a commission if you make a purchase from the links on this page.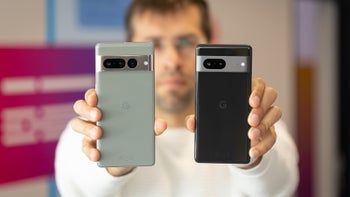 Can you remember the last time when Google's super-popular (
with carriers
) Pixel 7 and 7 Pro were significantly cheaper than usual sans any carrier strings? Yup, it was
December 24
, which means that most prospective buyers of the two stock Android-running powerhouses were probably too busy or cheerful to pay much attention to Best Buy's final killer deals of 2022.
But now the exact same unlocked discounts are available once again at both Best Buy and Amazon, and there's really no excuse to miss these latest opportunities to save up to a cool 150 bucks on an incredibly well-reviewed phone with otherworldly photography skills without jumping through any hoops whatsoever.
Just like pretty much all through December and the better part of November, the top $150 markdown applies to the jumbo-sized
Pixel 7 Pro
, while the "vanilla"
Pixel 7
is yet again sold at a solid $100 discount of its own.
If you hurry (or so we presume), you can choose your deeply discounted model from a full range of color and storage options. Keep in mind that the 6.3-inch
Pixel 7
is only available with 128 or 256 gigs of local digital hoarding room, whereas the 6.7-inch
Pixel 7 Pro
can also be had in a third 512GB configuration.
The non-Pro Pixel 7 normally starts at a very reasonable $599 with a more than decent 8GB RAM also on deck, while
Google
's most advanced and impressive in-house handset to date packs an extra 4 gigs of memory at regular prices of $899 and up.
There are obviously other key differences between the two devices to consider before making your final buying decision, including an extra camera on the back of the Pixel 7 Pro, an important battery size disparity, and a substantially sharper and smoother screen for the larger and costlier model. But all in all, you're definitely looking at absolute value champions here that should keep you satisfied on every level regardless of your choice.