Galaxy A24 specs leak suggests that it will be an upgrade after all
We may earn a commission if you make a purchase from the links on this page.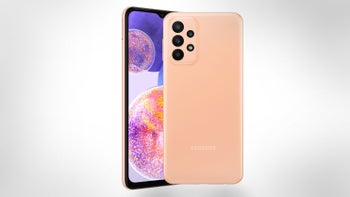 The image in the header is of the Galaxy A23 for illustrative purposes.

Back in October of 2022, a suspicious list of specs, allegedly pertaining to the Galaxy A24, had surfaced. It made no sense simply because it was a downgrade from
its predecessor, the Galaxy A23
, which isn't at all what Samsung is about in recent times. After all,
the Big S is about to announce the Galaxy S23
, which we're expecting
the S23 series to consist of powerful phones
.
Now, a new report from
GalaxyClub
(translated source) has helped set proper expectations for the Galaxy A24. The newly surfaced info seems much more fitting for a new A series phone, and as such is naturally an improvement, instead of a downgrade.
Galaxy A24 specs — what can we expect?
Let's start from the basics: the A24 will have a 5,000mAh battery, capable of 25W fast charging, which is quite the departure from the previous leak which had slashed the capacity down to 4,000mAh. This new spec reveal showcases that the A24 will be on par with the Galaxy A23 in terms of battery, and by that we mean identical.
But let's talk about upgrades. The Galaxy A23 had a 8MP selfie snapper, whereas its descendant the A24 will ramp that up to 12MP. The camera array of the A24 will be a triple one, as expected given recent Samsung releases. It will consist of a 50MP primary sensor, a 5MP ultra-wide lens and a 2MP macro camera, which is… in fact indistinguishable from that on the A23. Hmm.
Also, the Galaxy A24 is the second phone we've reported on recently —
the other being the Galaxy A34
— which will allegedly ditch the Exynos SoC in favor of another chip. While we know that the A34 may have placed its bet on the latest Dimensity 1080, the A24 hasn't had its processor leaked yet, so we'll have to wait this one out.
Another thing we don't know is anything related to the release date of the Galaxy A24. The report lists off a possible recent release, in India at least, and that the phone is likely to make its way to Europe soon after, maybe after a surprise-reveal at the Galaxy A event on January 18.
All that being said, this is your kind reminder that word on the web is that the Galaxy A24 may very well be the last of its kind, as Samsung is looking to simplify its midrange series of phones. If that is indeed the case, then it brings a whole new level of value to the upcoming Galaxy A24.