France instates stricter ban on smartphone and tablet use in schools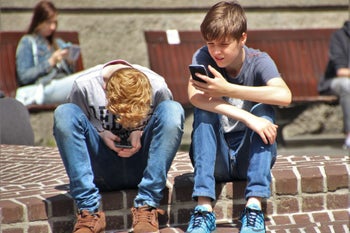 Every parent knows how hard it can be to get children of all ages to leave their phones aside for more than a few minutes at once, but starting this fall, French students will need to focus on educational activities while attending school.
After taking pretty drastic
measures against the texting and driving plague
back in February, French lawmakers passed a new piece of legislation earlier this week effectively banning both the use of smartphones and tablets in schools for pupils aged 3 to 15.

In fact, all types of Internet-connected devices, presumably including smartwatches and everything else, are prohibited on school premises. If students can't leave them at home for whatever reason, they'll have to keep them switched off at all times as protection against the so-called "screen addiction" phenomenon.

Technically, France already had a similar bill enacted a number of years ago, but the revised law is tougher and clearer, getting rid of ambiguous stipulations like smartphone use prohibition "during all teaching activity."

The only exceptions are disabled students, extra-curricular duties, as well as "pedagogical use", which also sounds fairly vague, but will most likely require the explicit approval of an educator. High school teachers and administrators are still offered the choice to adopt the ban themselves or opt for a less draconian method of keeping "bad mobile phone use" under control.

French president Emmanuel Macron had promised to institute stricter legislation of this nature while running for office last year, with a Parliament vote of 62 to 1 finally supporting the campaign pledge, although a number of elected political opponents chose to abstain from formally expressing their opinion.