France bans drivers from using a phone except in a designated spot, or for accidents and malfunctions
5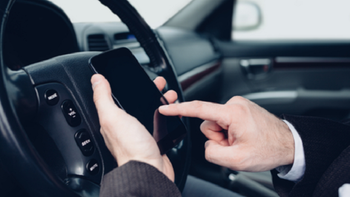 In France, a ruling made by the high court makes it illegal to use your smartphone to text or make a call while driving. Even if you pull over to the side of the road, which in the U.S. is considered to be the preferred option if a call needs to be answered or made, you could find yourself fined 135 euros ($167 USD) and have points added to your driving record. The country is a bit paranoid over a rise in fatal road accidents, and while smartphone use might not be the reason, a scapegoat was needed.
The ruling from the high court is the law of the land, and allows only those drivers involved in an accident or in a car that has mechanical problems, to use their handsets. The court made the ruling after hearing an appeal from a driver who received a ticket for using his phone while parked at a traffic circle. The ruling only pertains to phones being held by the driver of a car. Handsets that are placed in a hands-free car kit can be used by the person behind the wheel.
The French version of the AAA, the Automobile Club Association, weighed in on the ruling, and it believes that not allowing motorists to use their phone while pulled over to the side of the road might not be a good idea. Spokesman Yves Carras said that it would be better to encourage a driver to pull off to the side of the highway when he/she need to use the phone. Under the court ruling, doing that without a equipment malfunction or an accident could result in the driver getting fined.
source:
LeFigaro
(
translated
) via
TheLocal