Best Cyber Monday smartwatch deals: what to expect
We may earn a commission if you make a purchase from the links on this page.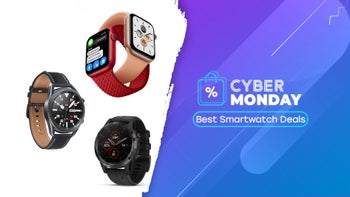 Black Friday is a couple of months away and so is Cyber Monday - we're seeing them on the horizon, and finally we can start planning for some shopping! During both events last year we saw some great deals on smartwatches, with price discounts in the vicinity of hundreds of dollars. No matter if you're an Apple fan or you prefer Samsung smartwatches (or something more focused on sports, like a Garmin), there were excellent deals out there.

While we wait for 2022's shopping event, we look at what we saw last year and what to expect this year, so you can plan ahead for your purchases.
Jump to:
Apple Watch deals
Apple Watch devices got some minor discounts both on Black Friday and Cyber Monday. Hotter deals were available on refurbished models. Now, we have the Apple Watch Series 8 and the Apple Watch Ultra, which will (hopefully!) join the sales as well with some discounts.
The Apple Watch Series 7 was at the time of last year's sale event the latest and greatest in Apple's wearable arsenal. Black Friday and Cyber Monday deals only saw a minor 5% decrease in Watch 7 prices, while the funny thing was that there were 12-15% off deals active after the event.

The Apple Watch Series 3 and the SE were the first to get Black Friday and Cyber Monday discounts - a couple of days before the event, actually. These models are the affordable way to get a taste of Apple's ecosystem. And some of them are still getting discounts, even now.


The Apple Watch Series 5 has been phased out by Apple to make room for the Watch 6 but we saw some very generous offers on this model at Best Buy and on Amazon.

Samsung Galaxy Watch deals

Samsung is Apple's biggest competitor not only in the smartphone business but also when we talk about wearables. All Galaxy Watch models were discounted for Cyber Monday, and the deals were epic!

The best options during the event were to be found on Samsung's own site, and they involved trading in an old device. We expect something similar this year - and, we have also the Galaxy Watch 5 and the Galaxy Watch 5 Pro that should also get discounted.

Garmin watch deals
Garmin is another great option, especially if you're into outdoor activities. The company started its business making navigation systems, and that's the reason Garmin smartwatches and bands have great GPS modules and software. During the last Cyber Monday Garmin devices were the ones that received the biggest discounts, especially on the premium models - Best Buy offered up to $300 off the price of some Fenix watches.
Fitbit is another very popular brand among fitness enthusiasts - during the last Black Friday and Cyber Monday events, Fitbit devices saw moderate discounts at all major online retailers - Best Buy, Amazon, and Walmart.

Smartwatch deals on other brands
Finally, you can go against the grain and search for your wearable happiness elsewhere. There are countless brands out there, and some of them are almost as good as the most popular ones we all know and love. Here are the deals on smartwatches from various other brands that can be found right now.