Best Smartwatch Cyber Monday deals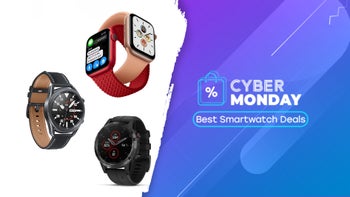 Cyber Monday is long gone, as is the Cyber Week that followed. These were great opportunities to get a smartwatch at a super nice price. We now have to wait until the next big shopping event, and while we do so, we can check how things went and try to predict what to expect for the next event.
Jump to:
Apple Watch deals

You were able save a considerable amount of cash on Apple Watches thanks to a bunch of good Cyber Monday deals that were live on many of the popular retailer websites. The Apple Watch Series 7 (GPS, 45MM), for example, was enjoying a big $120 discount at Target, while the OG Apple Watch SE (40mm) was $130 less than it usually costs!
Samsung Galaxy Watch deals

Samsung's Galaxy Watches were seeing some similar price cuts as the ones we saw for Apple's wearables. However, there were some even better, like the 57% discount on the Galaxy Watch 4 Classic (GPS, 42mm) at Walmart, which brought the price down to just $149! There were also really good trade-in offers at Samsung that shave $215 off the Galaxy Watch 5 (GPS, 40mm).
There were a ton of offers on Garmin's sports smartwatches during last Cyber Monday. Most of the discounts hovered around the $50 and $100 mark, but there were some models like the Garmin fēnix 6S Pro Solar, which was enjoying a 50% price cut!
Fitbit wearables are many, and almost all of them were down by more than 30% during last year's event! If you have your eyes set on one of these fitness and health trackers, Cyber Monday was the time to buy one!
Pixel Watch deals
Google's first attempt at a smartwatch, the Pixel Watch, was also discounted during Cyber Monday, despite being a really new model. It was $50 less than it would usually cost.
Smartwatch deals on other brands
Finally, you could've gone against the grain and search for your wearable happiness elsewhere. There are countless brands out there, and some of them are almost as good as the most popular ones we all know and love. And they were all discounted for the Cyber Monday event.
Which stores have the best deals on smartwatches during Cyber Monday?
The best deals on smartwatches during Cyber Monday usually pop up at Amazon, Best Buy, and Walmart. Although, you can also find good deals at Samsung, for example, which usually come in the form of trade-in offers that look quite appealing if you have an eligible device.
Is it worth buying a smartwatch on Cyber Monday?
Of course! Even though the finest bargains are often kept for Black Friday, there's a serious chance all those offers merge and transform into Cyber Monday deals. In this instance, purchasing a smartwatch during the Cyber Monday event makes great sense, especially if you missed the opportunity during the actual Friday event.