Best Galaxy Note 20 cases
5
We may earn a commission if you make a purchase from the links on this page.
The
Galaxy Note 20
and
Note 20 Ultra
could be the last models of the Note line. With the Galaxy S21 Ultra and its S-Pen capabilities, the Note line is in peril. It's a real shame, because these are great phones and many people truly love them. Being now 6+ months old, the Note 20 lineup is subject to various discounts and sales. You can check our
best Samsung Galaxy Note 20 Ultra 5G and Note 20 deals
and snatch one of these marvelous devices before it's too late.
The Galaxy Note 20 Ultra is wrapped in the newest Gorilla Glass Victus, but that doesn't mean that it won't crack when slammed into the pavement, while the Note 20 is built with the "3D glasstic" exterior borrowed from the Galaxy A71, for instance.
Should you decide to protect your $999+ wonder, we are compiling a list of the best Note 20 and Note 20 Ultra cases you can grab right now before the phones arrive at your doorstep
.
Jump to section:
Official Samsung Galaxy Note 20 and Ultra case prices
There are the all-time favorites to choose from, such as the S-View Flip Cover, Silicone Cover Case, LED View Cover Case, Leather Wallet, and Rugged Protective Cover Case but also the new fabric
Kvadrat
line that made a cameo with the S20 series. The LED Back Cover is also inherited from the Galaxy S20 trio, and brings a notification light to the Note 20 lineup.
Note 20 Ultra Leather Cover

If you are after adding not just protection, but also style, the Leather Cover is your best bet for the Note 20 Ultra. This case is elegant, thin, and extremely pleasant to the touch. Plus, you know that leather just gets better as it ages.
We have the black color here and while we can admit that it's not the most protective case (don't get it if you are afraid you can drop your phone), it will protect your Note from a light fall and from scratches.
Note 20 Ultra Silicone Cover
This silicone cover is all about the color and the rubberized feel makes the phone feel bounce and when protected should it fall. But it's the pure white that just shines at you and the nice silky, soft touch feel on the back that we find addictive.
The case is not too big and bulky, buttons remain clicky and it offers a decent amount of protection too, all for a very reasonable price.
Note 20 Ultra Clear Protective Cover
If you want to showcase that beautiful bronze color on the back of the Note 20 Ultra yet still want an excellent amount of protection from not just scratches, but also drops, this slightly bigger case will do the job just fine.
It's a clear case, but with rubber sides with added texture for a firm grip. The front of the phone is protected to and the camera is surrounded by a raised lip so it won't scratch when the phone is laying flat on its back.
Note 20 Ultra Kvadrat Cover
The most distinct case in this round-up is the one that will gather the most attention: with a cozy, carpet-like finish on the back, the Kvadrat case will add a bit of warmth to your everyday routine.
Get this case if you want to be different and if you like that distinct texture on the back of it, but keep in mind that there is rubber on the sides so this case does offer a reasonable amount of protection too. It's worth mentioning that the textile for the case is made entirely from recycled PET bottles. Good for the environment!
Note 20 Ultra Smart Clear View (LED) Cover
Another case that offers full protection from both the front and the back of the phone, is the Smart Clear View (LED) Cover. A tiny screen on the side will show you useful information such as time, date, battery level, all of that when the case is shut, and you can also pick up calls without opening the case as they appear with tiny icons that you can interact with.
The case features a pleasant textile finish and a reasonable amount of protection, and it fits the Note 20 Ultra perfectly.
Note 20 Ultra LED Wallet Cover Case
If you want a wallet type of a case which protects not just the back of the phone, but the front as well, the LED Wallet Cover Case is probably your best pick. When shut, it features an LED screen that will notify you about incoming notifications or calls, and for calls you can just slide on the icon and start talking without ever opening the case.
In addition, the case has a space for a credit card, and it even has some nice customization controls via a dedicated app that pops up automatically once you start using the case.
Note 20 Ultra Protective Standing Cover
If you need maximum protection, go for the "protective" cover of course! This big and bulky case will engulf your phone in its grip and will ensure it stays safe even if it falls from a distance. The added benefit here is convenience as the case comes with two kickstands for two different angles you can set your phone and enjoy watching videos without having to hold it all the time.
I love the kickstand, and this case definitely deserves your attention.
Best rugged Galaxy Note 20 and Note 20 Ultra cases


OtterBox Commuter Series for Galaxy Note 20 Ultra 5G
The most sought-after rugged case brand is already prepared with a brand new Commuter series of Note 20 and Note 20 Ultra cases. Tough, dual-layered, and offering ergonomic grip, the OtterBox Commuter case for Galaxy Note 20 Ultra is an exercise in rugged individualism, all for a fairly decent $39.95 price.
Spigen Tough Armor for Galaxy Note 20 or Note 20 Ultra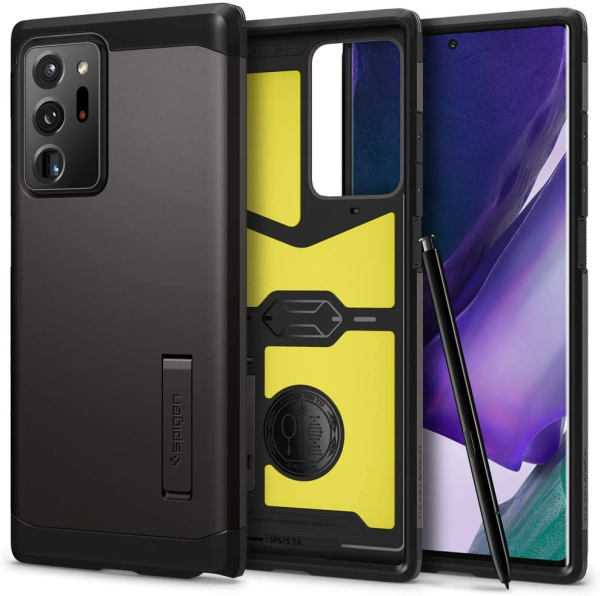 Just like the OtterBox wrapper, Spigen's Tough Armor case for the Galaxy Note 20 or Note 20 Ultra comes with a dual layer that provides Spigen's protective Air Cushion Technology upon drops. There is also a kickstand for YouTube-binging, and all that tough demeanor comes at a $17 price on Amazon, much lower than the official Spigen tag.
UAG Civilian Series for Samsung Galaxy Note 20 or Note 20 Ultra
Don't let the "civilian" term in the title fool you, this case is as tough as you can expect from UAG just slimmer and more elegant. Designed to be used with Samsung's Galaxy Note 20 or Ultra, this shell model is made from 70% TPU plastic and 30% polycarbonate, and features military-grade drop protection tech.
Best Galaxy Note 20 and Note 20 Ultra thin or clear cases
Spigen Galaxy Note 20 or Note 20 Ultra Hybrid S case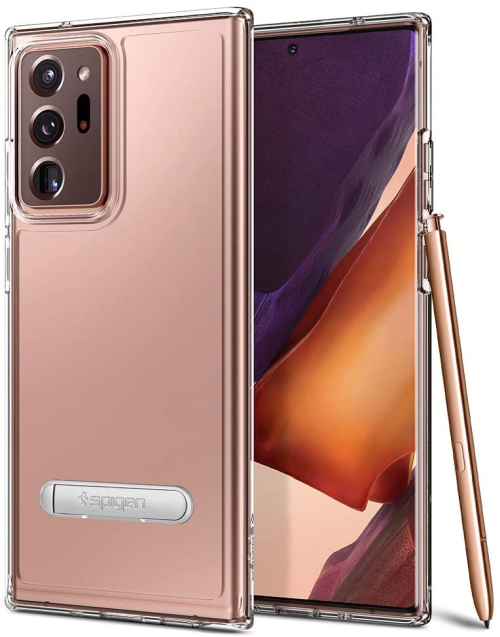 Well, well, look what we have here. Besides Samsung's undisputable thin and clear case price champ, Spigen's new Hybrid S case for Galaxy Note 20 or Note 20 Ultra is your best bet at affordable slim and transparent wrapping. The clear silicone reveals the colors of the Galaxy Note 20 itself, while the Hybrid S provides a metal kickstand with a magnetic fastener - the best of several worlds, all for just $12 off Amazon.
Anccer Slim Cover for Galaxy Note 20 or Note 20 Ultra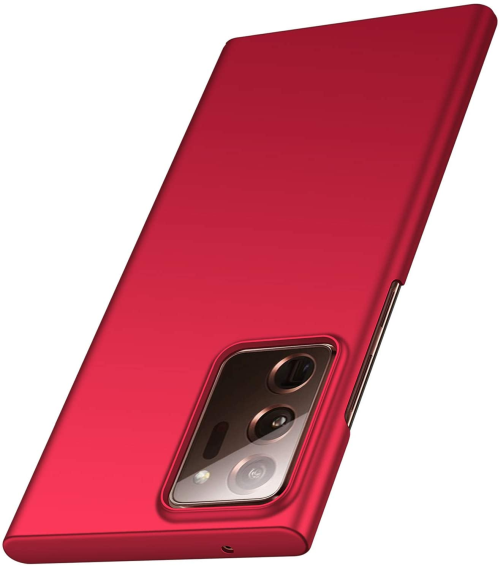 Made of durable yet elegant polycarbonate, Anccer's Slim Cover is just a fraction of an inch thick, and provides raised lips around the screen and camera island on the back. It's more elegant than sheer silicone Note 20 or Ultra cases, and is available in several colors that emphasize the original Note 20 series hues.
Insignia Hard Shell Case for Samsung Galaxy Note 20 Ultra
Designed for use with Samsung Galaxy Note 20 or the Note 20 Ultra, Insignia's clear cases fuse polycarbonate and thermoplastic polyurethane materials to arrive at six feet drop protection, a see-through design with raised edges to protect the display and camera island, as well as a scratch-proof, non-yellowing material, all for under twenty bucks.
Best Galaxy Note 20 and Note 20 Ultra stylish cases
kate spade new york - Hollyhock Protective Hardshell Case for Samsung Galaxy Note 20 Ultra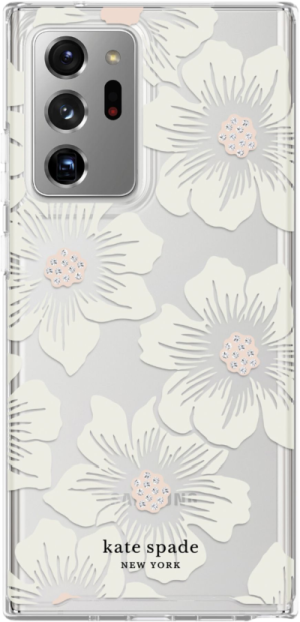 Show off your personal style with the playful sophistication of our Kate Spade New York Protective Hardshell Case for Samsung Galaxy Note 20 Ultra - Hollyhock Floral Clear/Cream with Stones. This case not only looks magnificent but will protect your phone from ]up to 6 ft. drops thanks to the special bumpers.
ArtsCase - StrongFit Designers Tough Case for Samsung Note 20 Ultra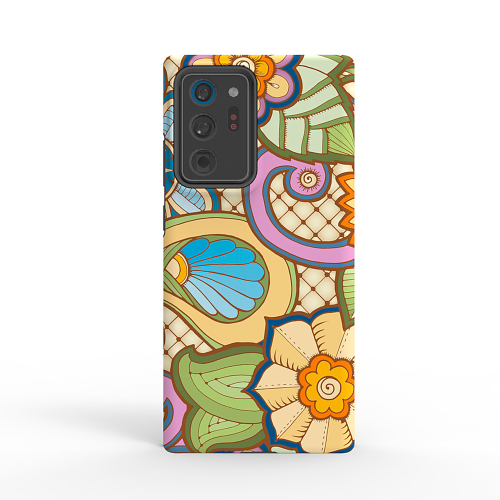 Optimize protection for your Samsung Galaxy Note 20 Ultra with this ArtsCase StrongFit Designers case. The dual-layer construction of hard rubber and TPU offers shock absorption to prevent damage from drops and bumps, while precise cutouts allow easy access to all phones functions. This ArtsCase StrongFit Designers case is wireless charging compatible for added convenience.
Best leather Galaxy Note 20 and Note 20 Ultra cases
Venito Lucca Leather Case Compatible with Samsung Galaxy Note 20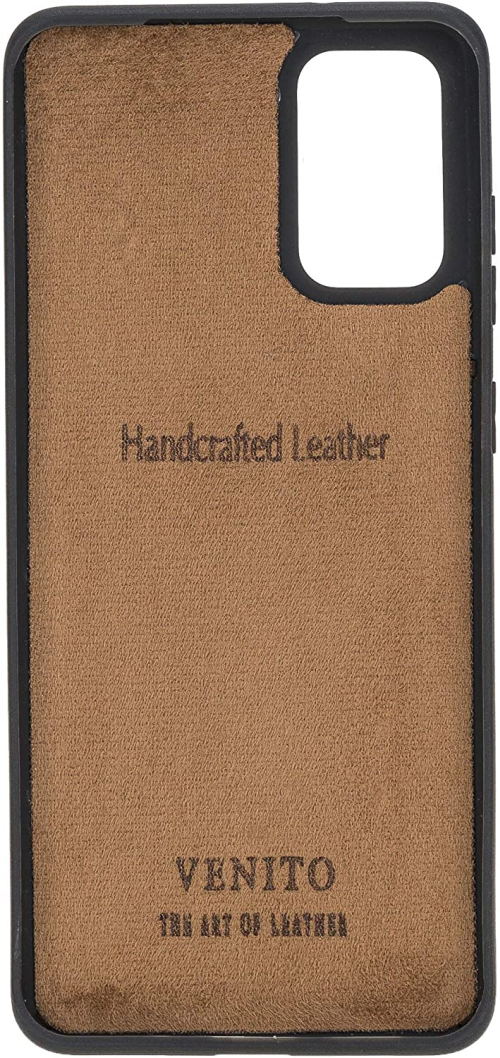 If you want something really exquisite for your Note 20, you can get a handcrafted cowhide full-grain leather case by Venito Lucca. It features a convenient ergonomic design with shock-absorbent padding on the back and full protection of your phone around all edges. You can get it in different flavors - from Black Crocodile to Nude Pink.
Best gaming Galaxy Note 20 and Note 20 Ultra cases
Razer Arctech Pro for Galaxy Note20 Ultra - Black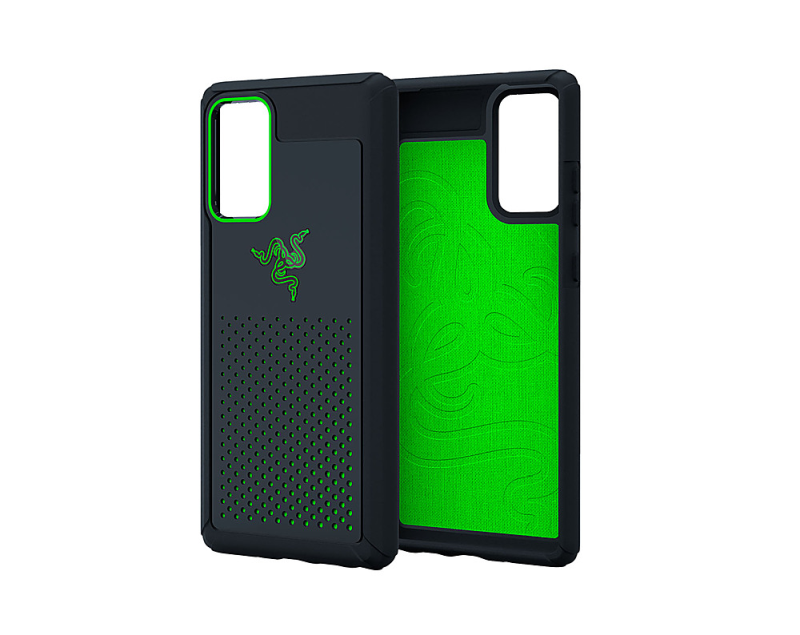 There's only one, actually. If you want to proudly show the world that you belong to the gaming herd, this Razer Note 20 case is the right for you. It not only looks cool, it will actually COOL down your phone - a thermally conductive layer redirects trapped heat through vented channels and is more effective at keeping your phone from overheating during intense use, preventing CPU slowdowns that may cause in-game lag or stutter. What's not to like?